How to buy bitcoin in France in 2023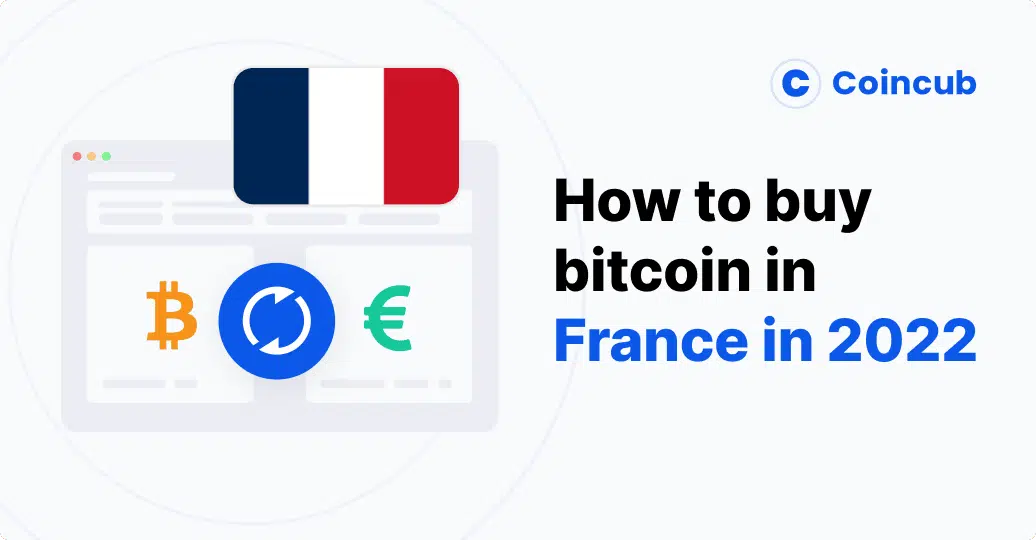 Bonjour! Find the best way to buy bitcoin in France with various methods. Read this guide now to find out where to buy bitcoin in France.
How to buy bitcoin in France in 2023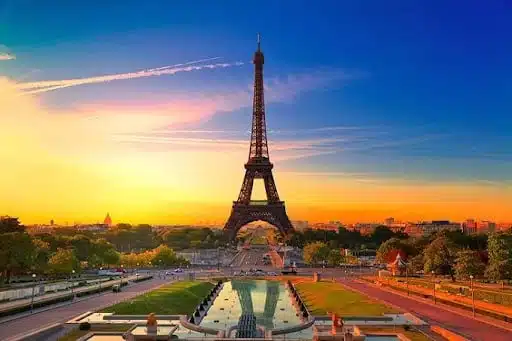 France is a leading European and global economy. You could say the country is well above its peers regarding food, fashion, or tourism. But those are not the only things France is good at. The country is also a fertile ground for cryptocurrency. Research shows more than 2 million French people used cryptocurrency in 2021. That is not a bad percentage in a country of around 67 million people.
France is one of the countries that are friendly to cryptocurrencies. Earlier this year, France became the first EU country to regulate crypto giant Binance. It permitted Binance to legally operate in its country by awarding it with the Digital Asset Service Provider (DASP) registration. No European country has been so welcoming to crypto as France. 
How can I buy bitcoin in France?
You can buy bitcoin in France using different methods. Buying bitcoin in France is easy and legal. This guide will show you how you buy bitcoin in France, the best app to buy bitcoin in France. Please bear in mind that none of the information is financial advice. The apps and websites listed are purely for educational purposes.
Where to buy bitcoin in France?
To buy bitcoin in France, you need to have these:
Some cash or money in your account.

A debit or credit card. 

A means of identification like your passport or National ID.

A crypto wallet: For the purpose of this guide, however, you will not need a separate BTC wallet.
The best place to buy bitcoin in France depends on your preference. You can choose to use different apps or websites to get BTC. However, if you do not want to do online transactions and prefer physical transactions, you can always head to a Bitcoin ATM to buy bitcoin directly at a machine. We will talk about this later, but first, we will show you how to buy bitcoin with websites or apps in France.
Comparing Crypto Exchanges
Choosing a crypto exchange that suits your needs is essential in buying bitcoin. Consider security, ease of use, fees, available cryptocurrencies, customer support, and payment methods. We have provided a comparison table of recommended exchanges to help you make this crucial decision.
Best crypto exchanges to buy bitcoin in France
Using exchanges to buy bitcoin tends to be safer than using an app because it reduces your risk of downloading malicious software from companies pretending to be genuine. However, you still have to be careful of the sites you visit. Phishing scams exist even in the crypto world, so always verify that you are carrying out transactions on the company's official website ONLY.
That being said, here are five crypto exchanges where you can buy bitcoin in France online. They are all centralized exchanges. We chose centralized exchanges because these are easier to use and mostly come with good BTC to EUR rates.
Binance is the first exchange fully regulated in France, so you can be at peace using it. The exchange allows you to buy over 600 cryptocurrencies with your credit card. Plus, you can trade crypto here, as it has some of the most reasonable fees.
2. Coinbase
Coinbase is another top cryptocurrency exchange globally. Compared to Binance, it is easier to use. This exchange supports bank transfers, credit and debit cards. You cannot use Paypal to buy crypto on Coinbase, a feature that Binance does not have.
3. Kraken
This exchange is present in 190 countries, making it one of the most popular crypto exchanges in the world. To use Kraken, you must sign up, verify your identity, and then buy BTC. You can also stake other cryptocurrencies here and earn some extra Euros.
4. eToro
As one of the most regulated exchanges worldwide, eToro is a leading social trading platform that offers investment services for stocks and cryptocurrencies and trades CFDs with different underlying assets. So, it is a one-stop shop if you are thinking of buying stocks also in the same time while having a go at copy-trading. The catch is that you can't export crypto to your wallet from eToro. Well, nobody's perfect.
Buying bitcoin offline in France
Buying Bitcoin doesn't have to be an online-only affair. You can purchase bitcoin offline through Bitcoin ATMs or peer-to-peer trading in France. Bitcoin ATMs work similarly to regular ATMs but allow you to buy bitcoin directly using cash or a debit card.
Peer-to-peer trading involves buying bitcoin from other individuals, usually through a secure platform. So while there might be a possibility to buy bitcoin offline from your peers and people you have known and trust for years, we do recommend going through one of the main secured platforms like Binance if you want to do P2P for the first time.
As always, whether you're buying Bitcoin online or offline, remember to prioritize security. Ensure you deal with trustworthy individuals or platforms; always protect your private keys.
Investing in Bitcoin and other cryptocurrencies comes with its unique challenges and risks, but with careful planning, thorough research, and the right security practices, you can navigate the crypto space with confidence.
How to use a bitcoin ATM in France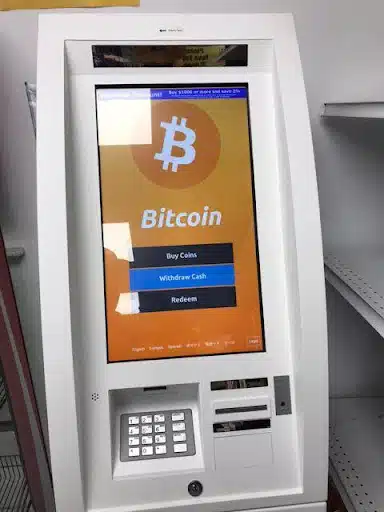 A bitcoin ATM. Image credit: Bitcoin.com
If you prefer an ATM to buy bitcoin in France, you can use this link to find Bitcoin ATMs around you. Currently (September 2023), there are only 14 Bitcoin ATMs in France: 12 in Paris, 1 in Lyon, and 1 in Mulhouse. So, if you are not close to these cities, you should buy your BTC online.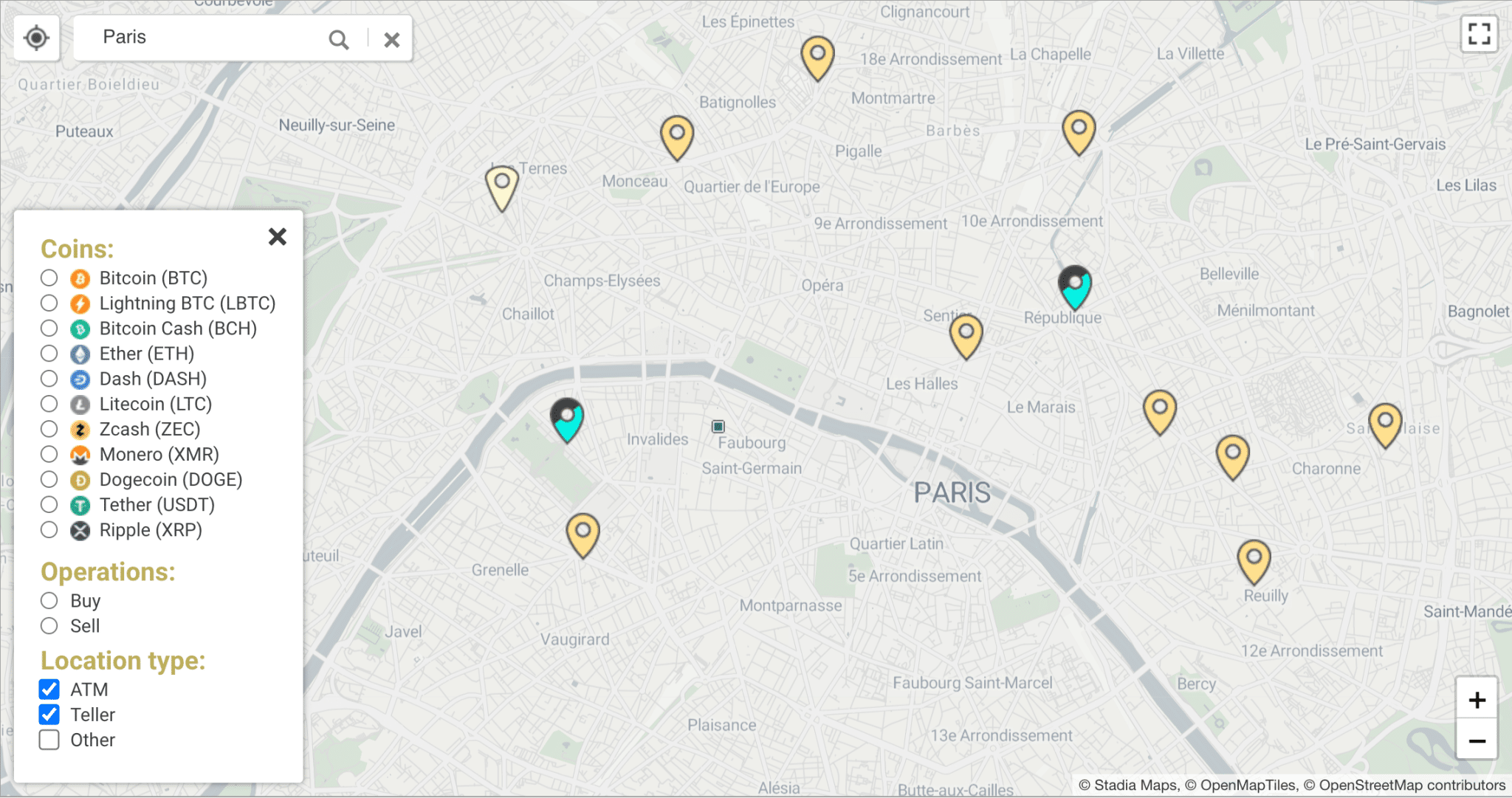 To use a bitcoin ATM, you would need:
Phone number

ID

Crypto wallet 

Cash, of course
You must input your phone number and scan your ID sometimes. Once this is done, you type in the number of Euros you want to use for the transaction, enter your BTC wallet address and insert the cash into the ATM.
You should be credited with bitcoin in a few minutes. Just like depositing to your bank account with Euro, your wallet will get credited with bitcoin. But there is a caveat also here. Bitcoin ATMs have historically very high fees, around 10% on average. You might get a little bit more privacy, but would the price justify it? For you to know. 
Security measures: protecting your bitcoin
As with any digital asset, security is paramount when dealing with bitcoin. While the blockchain technology underlying bitcoin is secure, individual bitcoin wallets and exchanges can be vulnerable to hacking.
The best way to protect your Bitcoin is to use a secure wallet, regularly update your software, use strong and unique passwords, and consider using two-factor authentication for added security. You should also be wary of phishing attempts and never share your private keys with anyone.
Bitcoin wallets: what you need to know
A bitcoin wallet is a secure place to store your bitcoin. Wallets can be software-based (on your computer or mobile device) or hardware-based (physical devices that store your bitcoin offline). Each type of wallet has advantages and disadvantages regarding security, convenience, and control. We've compiled a comprehensive guide on different types of bitcoin wallets, their pros and cons, and how to set them up.
Implementing a Euro-Cost Averaging (ECA) Strategy in France
Euro-cost averaging comes from Dollar-cost averaging (DCA) and is a popular investment strategy that involves purchasing a fixed dollar amount of an asset at regular intervals, regardless of the asset's price at that time. This strategy can be an excellent way for individuals to start investing in bitcoin in France or any asset, including stocks and other cryptocurrencies.
The main advantage of ECA is that it mitigates the risk of investing a large amount in a single transaction at an unfavorable price. Instead, by spreading out purchases over time, an investor can average out their entry price. This approach can be particularly beneficial in volatile markets, such as those for cryptocurrencies, where prices can fluctuate widely in short periods.
Here are the top 10 reasons why dollar-cost averaging is an effective strategy:
Simplicity: ECA is straightforward to implement and doesn't require advanced investment knowledge.
Risk Reduction: By spreading out your investments over time, you reduce the risk of buying at a peak price.
Emotion-Free Investing: ECA removes the emotional aspect of trying to time the market.
Affordability: It allows you to invest smaller amounts of money regularly.
Flexibility: You can adjust your contribution amounts as your financial situation changes.
Discipline: It encourages regular savings and investment habits without you needing to do something regularly.
Compounding: Small regular investments can grow significantly over time due to compound interest.
Market Fluctuations: ECA takes advantage of market fluctuations by buying more when prices are low and less when prices are high.
Long-Term Strategy: It encourages a long-term investment perspective and is generally considered a more reliable way to grow wealth.
Suitability: It's suitable for both conservative and aggressive investors.
Let's simulate how this might work for an investor in France who invests in bitcoin using an ECA strategy.
Scenario 1: Investing €100 per week
If you invest €100 weekly in bitcoin, you'll invest €5,200 over a year. If bitcoin prices fluctuate between €30,000 and €60,000 during that year, you'll accumulate more bitcoin when prices are low and less when prices are high, resulting in an average purchase price.
Scenario 2: Investing €300 per week
With a higher weekly investment of €300, the total invested over a year will be €15,600 or about half BTC at 2023 prices. The same principle applies: you'll acquire more bitcoin when the price dips and less when it surges.
In both scenarios, the ECA strategy shields you from the impact of short-term price volatility. It's important to remember that while DCA can be a more conservative investment approach, it doesn't guarantee profits or protect entirely against losses, especially in volatile markets.
Set up recurring buys: Navigate to the bitcoin page of your crypto exchange, then click on the "Buy/Sell" button. Enter the amount you wish to buy, then select "Bitcoin" and your Euro wallet. Finally, click the "Repeat this buy" option and select your preferred frequency (daily, weekly, monthly, etc.). Confirm the information and click on "Schedule Buy."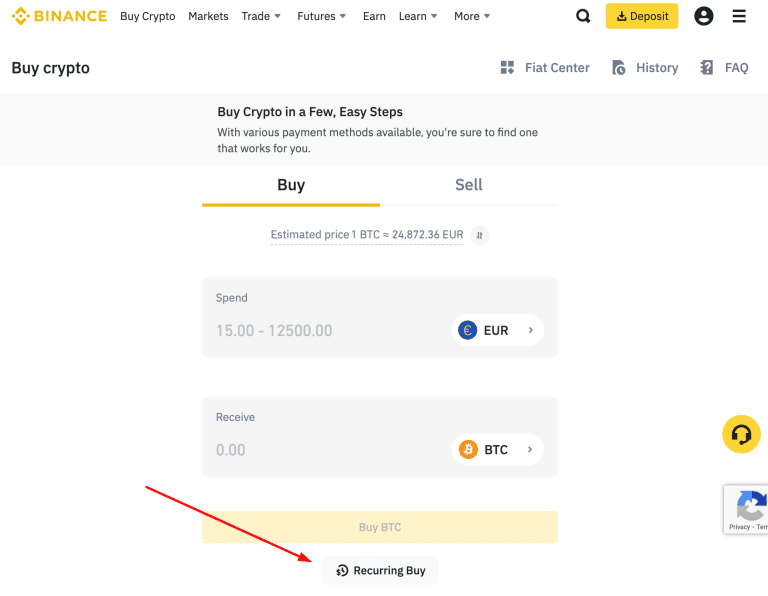 By setting up these recurring purchases, you will effectively implement an ECA strategy, buying a fixed Euro amount of Bitcoin at regular intervals, regardless of the price. You don't have to check the bitcoin price again. You are done!
Leveraging Bitcoin for Cross-Border Transactions
One of Bitcoin's biggest advantages is its potential for seamless cross-border transactions. Because Bitcoin operates on a decentralized network, it's not subject to the same fees and restrictions as traditional international money transfers.
If you have friends or family abroad or do business internationally, you might find Bitcoin a convenient and cost-effective way to send money across borders. However, knowing international Bitcoin transactions' legal and tax implications is important. Europe has implemented the travel rule to diminish money laundering. You might want to look at that before hitting the send button.
Considering Bitcoin Mining
Many beginners in the world of bitcoin are curious about mining. Simply put, bitcoin mining involves using computers to solve complex mathematical problems, which helps keep the Bitcoin network secure. In return, miners are rewarded with new bitcoin – an enticing prospect for many.
However, it's worth noting that Bitcoin mining requires specialized equipment and significant amounts of electricity. In France, where electricity prices are relatively high, mining may not be the most cost-effective way to acquire bitcoin.
Understanding the risks: security and scams
Security should be your top priority when dealing with bitcoin and other cryptocurrencies. Due to the irreversible nature of crypto transactions, falling victim to a scam could result in a total loss.
Always ensure the platforms you're using are official and trustworthy.
Double-check URLs to avoid phishing scams, which mimic real websites to steal your login credentials and other sensitive information.
Never share your private keys with anyone, as they give full access to your bitcoin.
Consider using a hardware wallet, which stores your private keys offline on a physical device, providing an extra layer of security against online threats.
Remember, the safety of your Bitcoin is largely in your hands. France is not in last year's top countries for crypto fraud. But although not a hot place for crypto fraud activity, that does not mean you need security lightly. There is no telephone number to call when your bitcoin is gone, so please be vigilant.
Legal and tax implications for bitcoin in France
Cryptocurrencies, including bitcoin, are legal in France and are considered taxable property. You may be subject to capital gains tax when you sell bitcoin or use it to purchase goods or services. The rate can vary depending on your total income, so consulting a tax advisor or visiting the official government tax website for the most accurate information is advisable.
According to a recent report done in partnership with Glassnode, France's crypto tax is 30% after a very low threshold of just 305 euros in one financial year. Countries like Belgium and Germany have implemented more favorable taxes for bitcoin. Together with Switzerland, Monaco or Luxembourg, they have a zero tax rate for bitcoin held for more than a year. France still has to catch up with that trend, unfortunately.
Remember to keep records of all your transactions. While exchanges often provide transaction history reports, it's good practice to keep your records for tax reporting and in case of disputes. If you want to have a deep dive in legal and tax implications, have a look at the Franch Country Guide.
Investing in bitcoin in France: market trends
Investing in Bitcoin can be profitable, but it's not without risks. The price of Bitcoin is known for its volatility, often experiencing significant price changes in short periods. It's important to stay informed about market trends and news that could impact the price of Bitcoin.
While we do not provide financial advice, we encourage our readers to do their due diligence and possibly seek advice from financial professionals before investing significant amounts.
Dipping your toes into bitcoin futures and options
Once you're comfortable with buying and holding Bitcoin, you might want to consider more advanced investment strategies. Bitcoin futures and options are financial contracts allowing you to profit from Bitcoin's price movements without owning any Bitcoin. They can be a useful tool for hedging against price volatility or making speculative bets on the future price of Bitcoin.
However, Bitcoin futures and options can also be risky and complex, so they're not recommended for beginners. Before you dive in, make sure you understand how these contracts work and the risks involved. You may want to consider seeking advice from a financial advisor or taking a course to learn more. According to eToro, most retail investors loose money trading, so the odds are not in your favour. A better strategy is just bitcoin and hold it. It's just that easy.
Participating in the bitcoin community
Being a part of the bitcoin community can be a rewarding experience and a great way to learn more about the cryptocurrency ecosystem.
The Bitcoin community is a global network of enthusiasts, developers, investors, and entrepreneurs passionate about this transformative technology's potential. They often engage in discussions, debates, and collaborative projects to promote and improve Bitcoin. Key figures in the international Bitcoin scene include Jack Dorsey, the co-founder of Twitter and Square, and Michael Saylor, the CEO of MicroStrategy.
Jack Dorsey has been an avid supporter of Bitcoin, integrating Bitcoin payments into Square, his mobile payment company, and frequently discussing the cryptocurrency on his social media platforms. He believes in the potential of Bitcoin to become the native currency of the internet, driving financial inclusivity and innovation.
Michael Saylor, meanwhile, has made headlines for his company's substantial investments in Bitcoin. Under Saylor's leadership, MicroStrategy has amassed a significant Bitcoin treasury, demonstrating a strong institutional belief in the asset's value. Saylor is an articulate and passionate advocate for Bitcoin, often sharing his views on its economic implications and future prospects.
France also has its own set of influencers in the cryptocurrency space. Pierre Noizat co-founded Paymium, a Paris-based Bitcoin exchange and payment service provider. Noizat regularly speaks at Bitcoin and blockchain events in France and internationally. He's a vocal advocate for cryptocurrencies, contributing to their growing acceptance in France.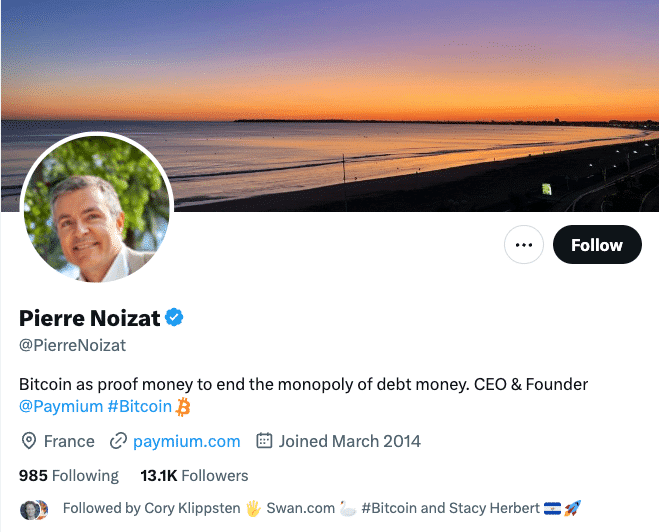 Another noteworthy individual is Gilles Fedak, a French computer scientist and the co-founder of iExec, a blockchain-based decentralized cloud computing platform. While not exclusively focused on Bitcoin, Fedak's work contributes to the broader blockchain ecosystem in which Bitcoin plays a pivotal role.
Being part of the Bitcoin community, whether globally or locally, offers the opportunity to engage in meaningful discussions, stay abreast of the latest developments, and network with like-minded individuals. Whether you're a newbie looking to learn the basics or a seasoned investor seeking deeper insights, these communities can provide valuable resources and perspectives.
By keeping up with the thoughts and actions of industry leaders like Dorsey, Saylor, Noizat, and Fedak, you can better understand the trends and forces shaping the Bitcoin landscape. As you delve deeper into the Bitcoin community, remember that while the opinions of these influential figures can be insightful, it's essential to do your own research and make informed decisions that align with your financial goals and risk tolerance.
There are several online forums and social media groups where you can connect with other bitcoin enthusiasts. In France, there are also local meetups and events where you can meet other Bitcoin users and learn from their experiences.
Keeping up with bitcoin news and updates
In the dynamic world of cryptocurrencies, things can change rapidly. It's crucial to keep up with the latest Bitcoin news and updates to stay ahead of the curve. From regulatory changes to technological advancements, staying informed will help you make better investment decisions.
Several online platforms provide regular updates on Bitcoin and other cryptocurrencies. These include dedicated cryptocurrency news sites, social media platforms, and online forums. In France, various local sources offer news and updates in French, making it easier for local residents to stay informed.
Educating yourself
Knowledge is power, especially in the world of bitcoin. If you're serious about investing in Bitcoin, it's worth educating yourself further. This could involve reading books about bitcoin, taking online courses, or even attending seminars and workshops.
Remember, while buying bitcoin can be relatively simple, understanding the technology behind it and navigating the cryptocurrency market can be complex. The more you learn, the better equipped you'll be to make informed decisions.
In conclusion, buying bitcoin in France is a journey beyond just making a purchase. It involves understanding the technology, the market, and the regulations. It's a continuous learning experience that can be both challenging and rewarding. With the right knowledge and approach, you can navigate the world of bitcoin confidently and safely. We have shown you how to buy bitcoin with a credit card in France and where to buy bitcoin in France offline or online.
Buying bitcoin in France is easy, but you must also understand that bitcoin investing comes with serious risks. Make sure you always do your research and potentially wait for the right time to buy bitcoin, you implement something like a daily cost average and buy every week just a little bit, so you don't buy at the top and sell at the bottom.
Au revoir!
Want to find out more about buying bitcoin in France? Read our France country review and find out why France is a top crypto country: France Country Guide 2023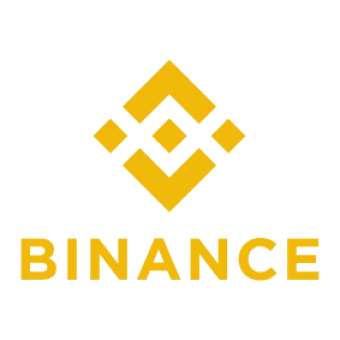 Binance
Want to buy bitcoin right now? Why not go to one of the regulated exchanges that have a registered license in France, and happens to be the biggest exchange in the world? Here is your registration link: https://accounts.binance.com/en/register?ref=W31GUYAB
Bonjour! Find the best way to buy bitcoin in France with various methods. Read this guide now to find out where to buy bitcoin in France. How to buy b...
Sometimes when things come along that are brand new and generating quite a buzz, like the metaverse, it's often as useful to know what they aren't...
Sponsored
Decentralized Finance, also known as DeFi, has experienced rapid growth in recent years. This innovation combines the best of blockchain techno...