Blockchain jobs worldwide decline in 2023, despite growth in overall activity
Bitcoin and cryptocurrencies may or may not be the flavor of the month across the world's economies – but the activity of the blockchain industry continues to gain pace.
The geography of blockchain jobs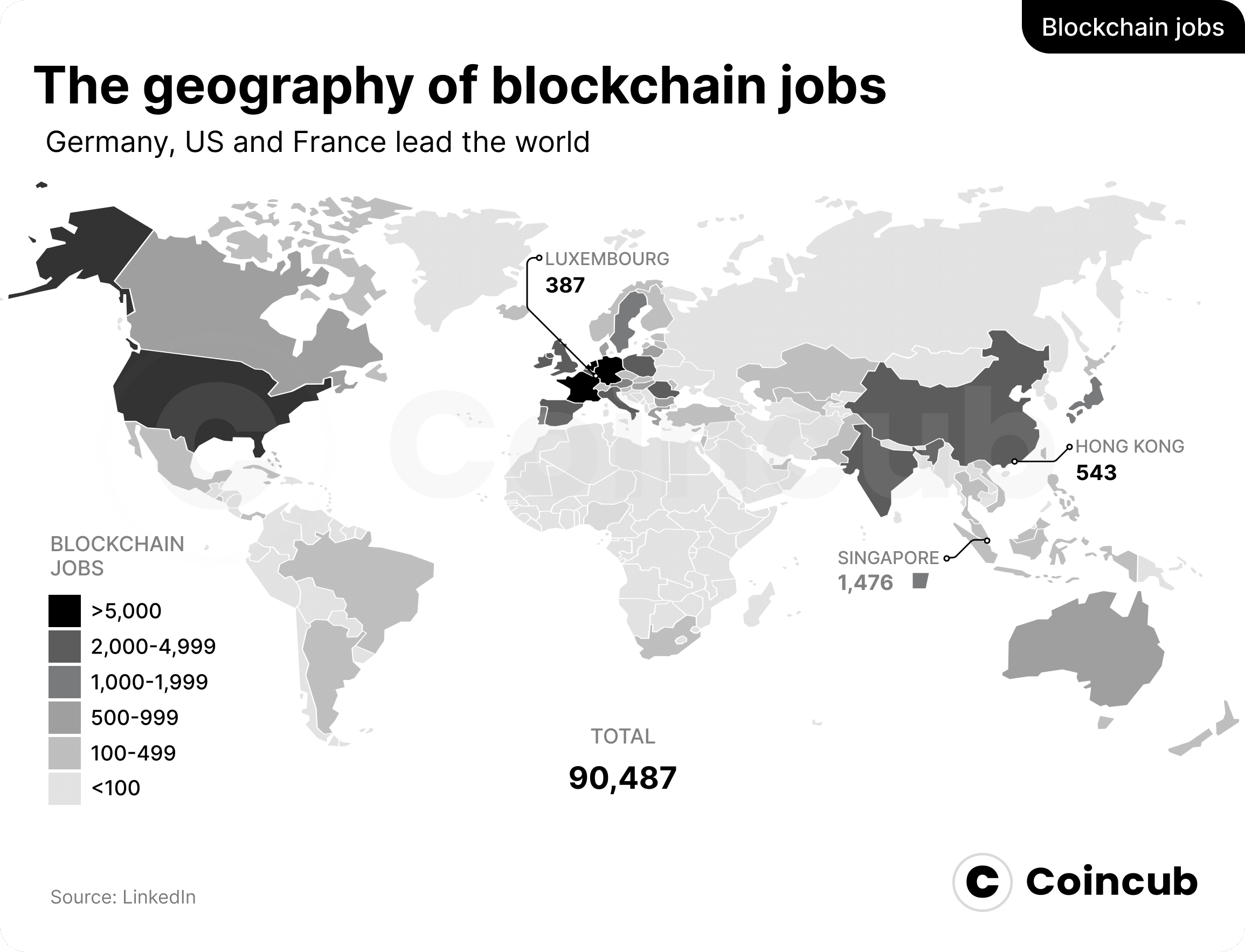 At present, blockchain-related industries are growing, without exception, around the globe. Along with this growth is the increasing demand for blockchain technology and Web3 specialist workers.
Whilst this job surge may be unsurprising in countries that have very positive crypto and blockchain outlooks, such as Singapore, Switzerland, Germany, and many others, the same trend also applies to countries that have full or partial bans on aspects of crypto trading.
China and Russia, for example, have burgeoning blockchain communities with China in advanced stages of inflicting a not very popular CBDC on its working population.
Europe is the blockchain jobs hotspot, as reflected also by the data on Crypto Banking and Virtual Asset Service Provider registration.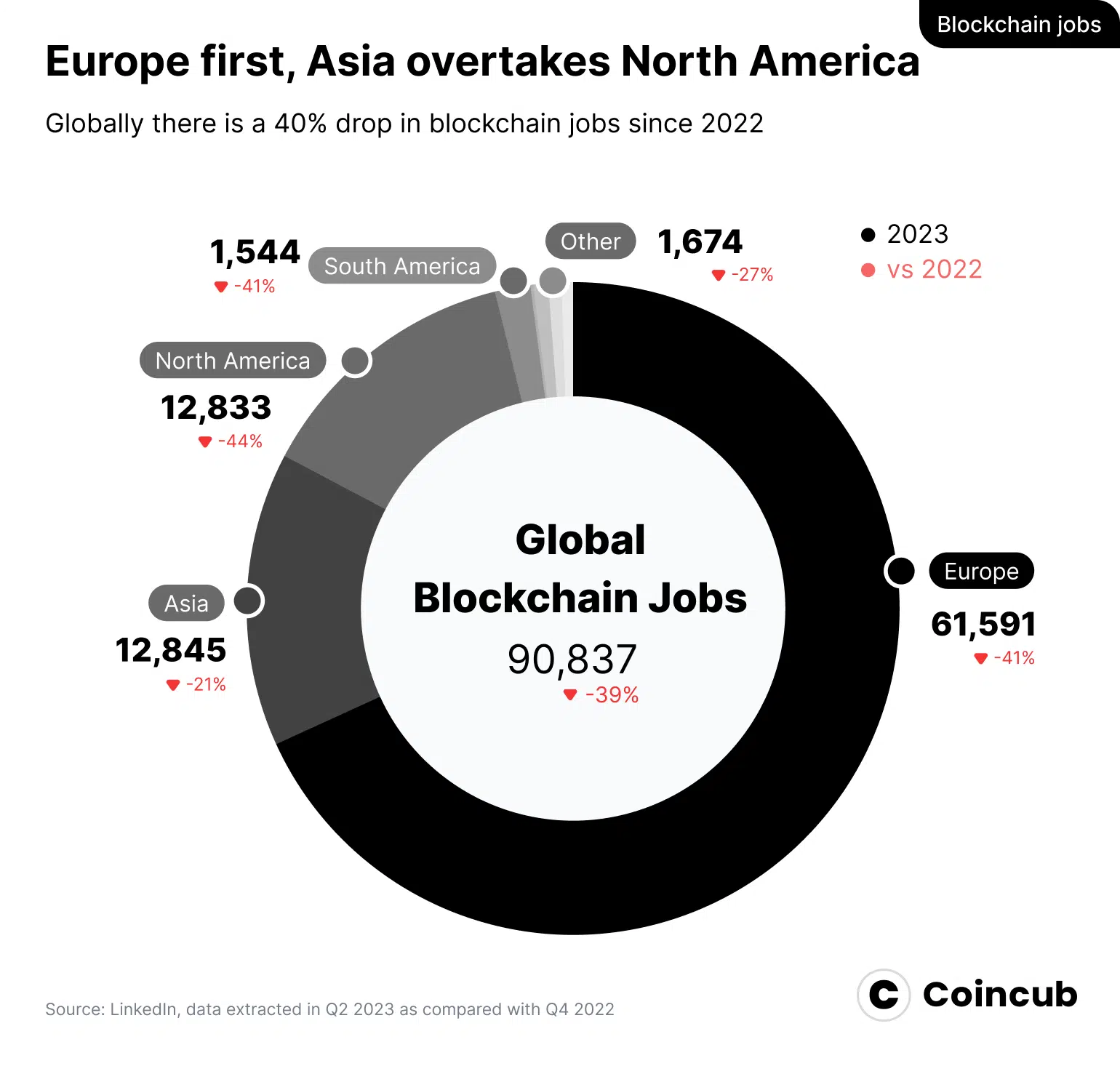 Perhaps of a surprise to casual crypto observers, to date in 2023 Europe leads the world having 67.8% of the global total of blockchain jobs.
North America and Asia follow up – but not closely – with around 14% of the world's blockchain jobs apiece. In numbers this equates to some 60, 000 blockchain jobs for Europe as a whole, and around 13k each for North America and Asia.
The above figures are even more remarkable coming off the back of a dip in blockchain job numbers which took place during 2022 when, for example, both Germany and the US lost some 9,000 jobs apiece.
This jobs dip was noticeable in other crypto/blockchain progressive countries such as Poland, France and the Netherlands which each lost some 8,000, 6,000 and 5,000 jobs respectively in 2022.
Worldwide, most regions lost about 40% of blockchain jobs between 2022 and 2023 except for Asia, which lost 20%, and Australia which saw a slight increase.
Generally speaking, blockchain jobs have performed slightly better than the overall tech and engineering jobs, which saw a decline of about 50% since 2022 – a decrease in alignment with a sharp falling out of favor in technology and Fintech shares on world stock markets.
The world of blockchain jobs led by Germany, US and France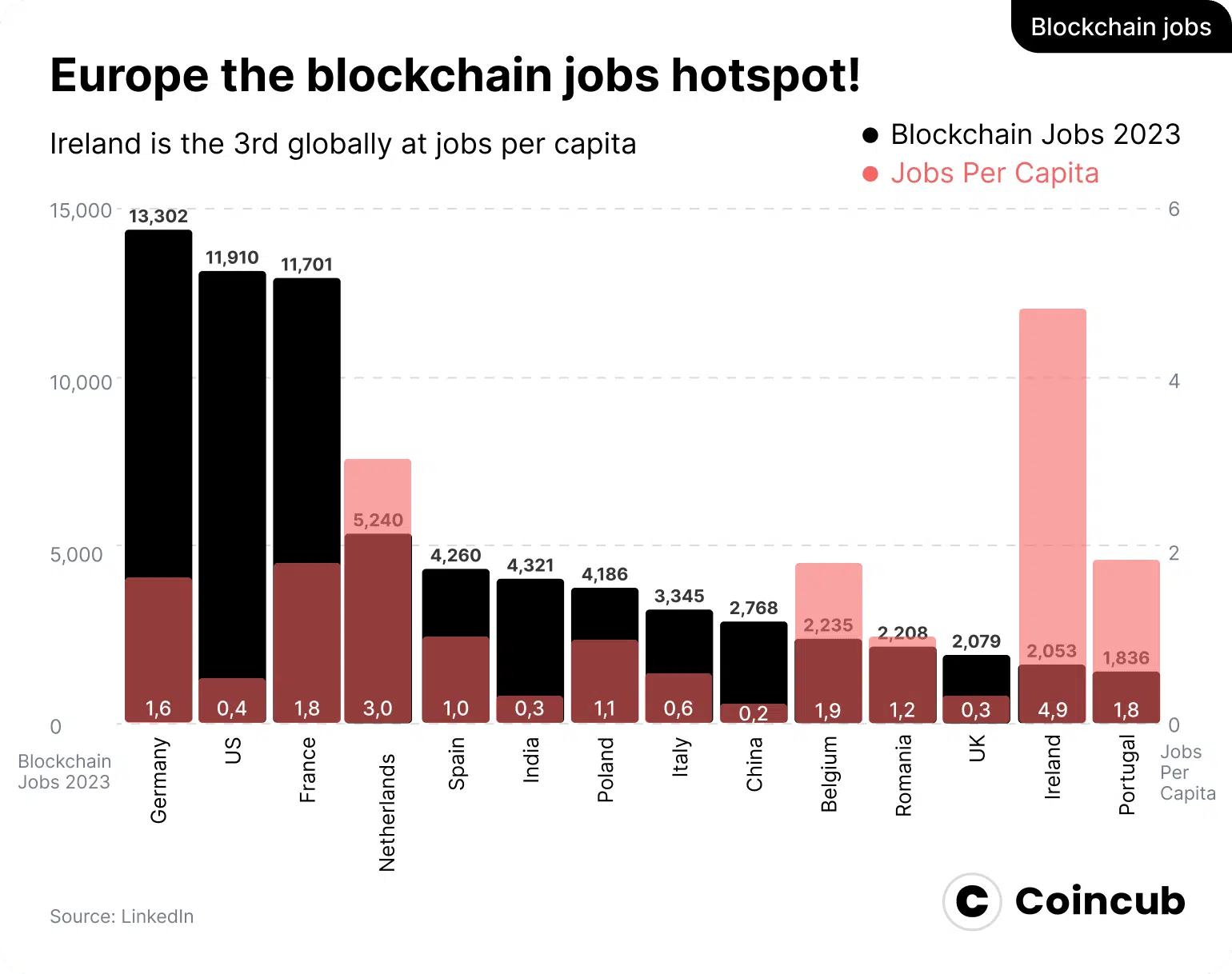 Despite the dip since 2022, the demand for new jobs has recovered and actual figures still exceed many projections by leading reports for 2023 and beyond which were made during 2022 (such as the Chaise Annual Blockchain Skills Forecast May 2022).
Leading the way in Europe for blockchain jobs in 2023 is Germany with 13,302, closely followed by France with 11,701.
Nb – For comparison, the UK stands at 2,079 and Ireland – with its well-established blockchain credentials – at 2,053.
Several countries lead the pack when it comes to blockchain jobs per head of population, small economies, and crypto hotspots, including Liechtenstein, Malta, and Luxembourg. These scores are also influenced by the fact that these countries have relatively small populations.
Who is adding blockchain jobs?
In 2023, despite a global reduction of about 40% in blockchain jobs in North America and Europe, Japan, Uzbekistan, and Australia saw a significant increase in blockchain-related jobs. The reasons behind this vary for each country but largely involve a combination of national policy shifts, increased adoption of blockchain technology, and strategic investments in blockchain infrastructure.
🇯🇵 Japan (+681 jobs)
A major factor contributing to the increase in blockchain jobs in Japan was the effort by a group of Japanese companies, including Mitsubishi UFJ Financial Group, the largest bank in Japan, to bring interoperability to the Progmat Coin, a yen-backed stablecoin. This project aimed to improve settlement times, reduce fees, and enable interoperability between different types of digital currencies, primarily those used in Japan. The development of Progmat Coin and the underlying platform, which could potentially facilitate transactions involving security tokens and NFTs, required significant investment in blockchain technology and expertise, likely leading to the creation of many new jobs in this sector​.
🇺🇿 Uzbekistan (+371 jobs)
Uzbekistan saw a significant increase in blockchain jobs following a series of regulatory changes designed to promote the development of a local cryptocurrency industry. The National Agency of Perspective Projects (NAPP), the industry regulator in Uzbekistan, introduced regulations requiring foreign platforms offering crypto services to obtain a service provider license to operate in the nation. This led to an increase in demand for blockchain expertise within the country, as the only exchange to have received a license was a local one, UzNEX. Furthermore, starting from 2023, citizens and legal entities were required to conduct cryptocurrency transactions exclusively through local service providers, indicating a strategic focus on building a robust national blockchain infrastructure and industry​.
🇦🇺 Australia (+151 jobs)
In Australia, the National Australia Bank Ltd. created its own stablecoin pegged to the Australian dollar, a move intended to facilitate transactions using blockchain technology for large institutional customers. This project likely necessitated the hiring of additional blockchain experts to develop, test, and manage the new stablecoin. It's worth noting that this initiative followed the unveiling of a stablecoin by the Australia & New Zealand Banking Group Ltd the previous year, indicating a broader trend of major financial institutions in Australia turning to blockchain technology to enhance their services.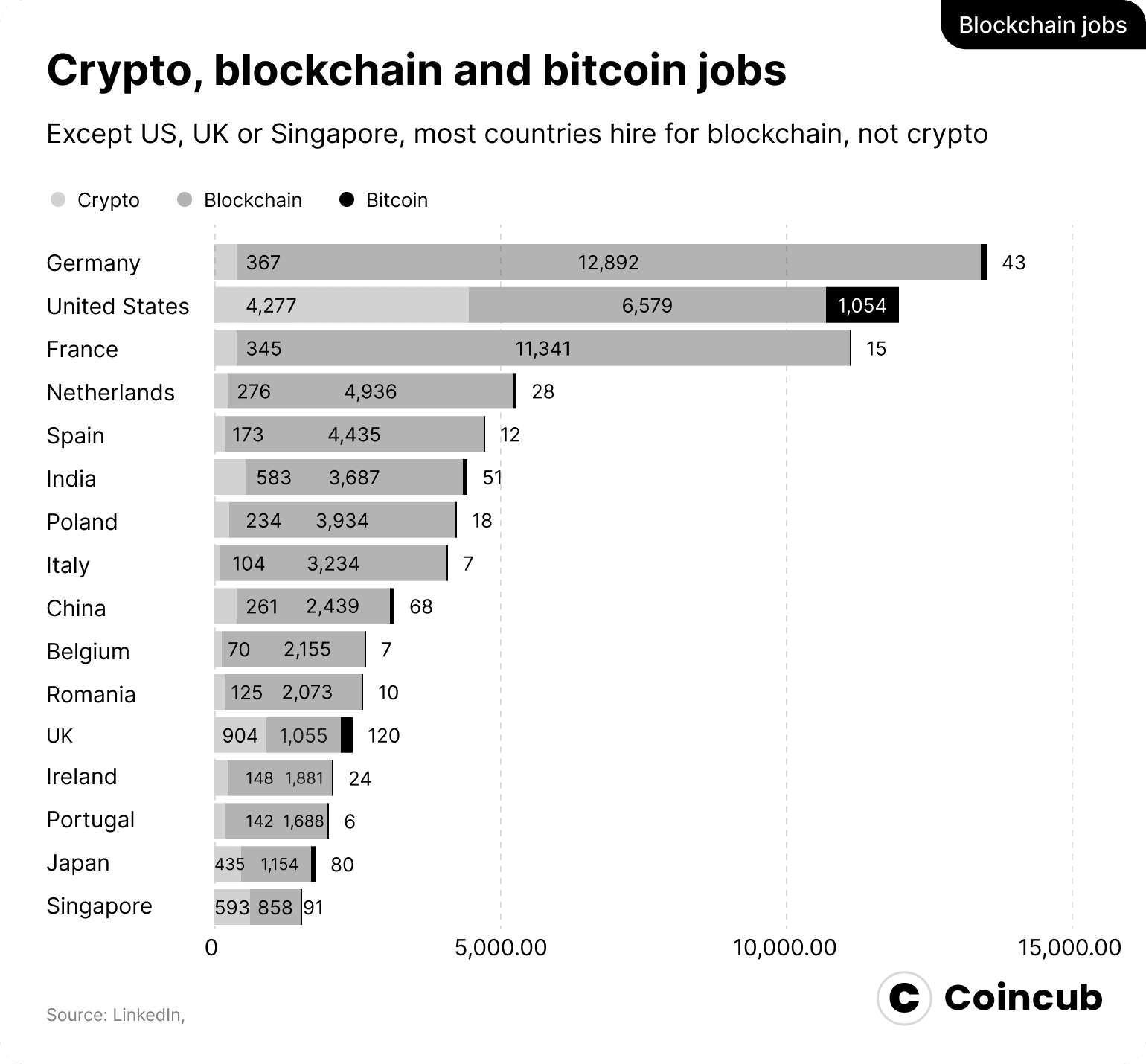 Blockchain, not Crypto
It's worth mentioning that the percentage of jobs directly involved with cryptocurrencies, as distinct from wider blockchain-related technologies, are small.
Within Germany's total of 13,302 jobs, for example, less than 10% are directly related to the trading of cryptocurrencies. Likewise, France, Netherlands and Italy all have less than 10%.
With 11,910 jobs total for web3, cryptocurrency mentioning jobs account for 40% of all jobs in the US, the highest percentage among all countries. It's also worth noting that the U.S is the only country having over 1,000 jobs mentioning bitcoin, with Canada coming second at 400 jobs.
Other notable countries where cryptocurrency jobs are present to some extent are UK (904), Japan (435) and Singapore (593).
Ireland is in top three for blockchain jobs per capita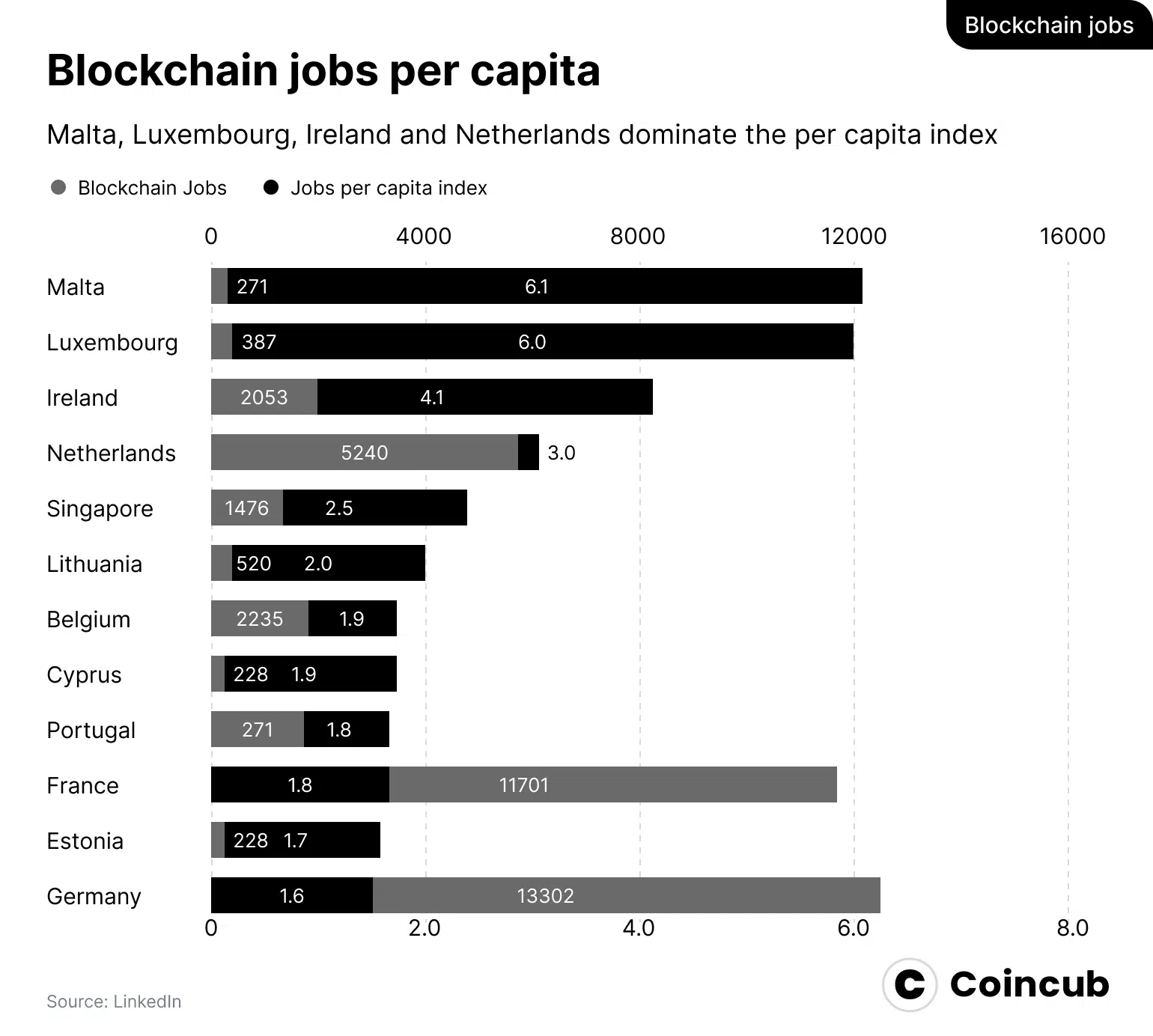 Blockchain jobs may expand out of all proportion to expectations as new realizations for what the technology can achieve are explored. It may be that demand and jobs explode exponentially – as was the case with the Internet and social media.
To date, however, Ireland is 3rd in the world for per capita jobs in Blockchain, after Malta and Luxembourg.  Based on LinkedIn data, in Q1 2023, there are around 2053 blockchain jobs in Ireland putting it at number 14 overall in the ranking of world countries for combined blockchain and cryptocurrency jobs.
Growth in blockchain jobs worldwide exceeds projections (over the long term)
Previous forecasts regarding the projected need for blockchain workers and the likely number of vacancies have consistently been underestimated. Indeed the expansion of both jobs and demands has far exceeded expectations to date.
Much of the underestimation of blockchain-related jobs may have been influenced directly or indirectly by the travails of the wider cryptocurrency industry during 2022. The FTX collapse and other negative stories have certainly brought about an intense wave of regulatory commitment and vigor, not least in the USA and the UK, and a curbing of the crypto industry.
Looking at 2020 results, Ireland, for example, projected a need for 846 blockchain jobs per year, and a demand for 371 jobs for graduates. But in 2022 the job market for blockchain jobs in Ireland was about 3.000 jobs. And while in 2023 it has reduced to about 2000 jobs this is still an increase on the 2020 projections, leading some reports to conclude that there is an undersupply of talent.
For comparison, in Ireland, Italy, Portugal, and Spain, the total demand for blockchain skills has considerably exceeded projections. That said, the demand for blockchain graduates compared to the supply is less dramatic with Ireland, Italy and Spain, more or less meeting demand.
Blockchain technology jobs, despite not being directly related to crypto trading, still tend to build around bull markets – and also tend to remain once the market subsides or falls into bear territory. This is in line with research from a16z, CryptoSlate and Developer Report.
Report Methodology
The data for this report was extracted from LinkedIn and focuses on job postings that mention blockchain, cryptocurrency, and Bitcoin. The dataset comprises postings for the year 2022, gathered in Q4 of the same year, and data for 2023 collected in May. After cleaning the dataset by removing duplicates and irrelevant postings, descriptive statistics were employed to summarize the information. Additionally, time series and geographical analyses were performed to identify trends in the number of postings over time and across different countries. The data was visually represented through bar graphs, line charts, and maps for clarity and engagement.
Disclaimers and Limitations
The data, sourced exclusively from LinkedIn, may not represent the complete landscape of job opportunities in the blockchain, cryptocurrency, and bitcoin sectors. There is potential geographical bias, as LinkedIn is more popular in certain countries. The data is also time-sensitive and doesn't reflect changes post-May 2023. Keyword limitations, the subjectivity in job title categorizations, and the exclusion of external factors like economic changes or regulations also pose constraints on the data. Finally, the report offers descriptive and trend analysis, but it doesn't establish causal relationships, and findings should not be generalized without context.
Database

Full free PDF ranking
Blockchain Jobs Report 2023