Ireland and the World – a crypto and blockchain assessment
Blockchain development continues strongly around the world
Much has happened in the crypto space over the past three years. Including serious bitcoin price falls (notably during 2022), easing of crypto expectations, greater understanding of crypto from governments, continuing crypto fraud stories, exchange negligence, and lack of consumer regulation continue to be a brake on the industry, FTX is probably the most high profile case.
Despite the bad press of crypto generally, Bitcoin most notably has recovered somewhat from lows of $15k to at present $28k at the end of April, a 90%+ increase YOY.
Whilst bitcoin and other cryptocurrencies have seen intermittent growth, the development of blockchain and companies using blockchain-related technology has continued unabated.
NB – In countries such as China, and Russia, which has in place full or partial bans on aspects of cryptocurrency trading or spending, the adoption of blockchain technology and blockchain-related companies continues unabated.
Ireland and Crypto Regulation
A 'country-specific' crypto and blockchain regulatory environment increasing pace around the world.
VASP registration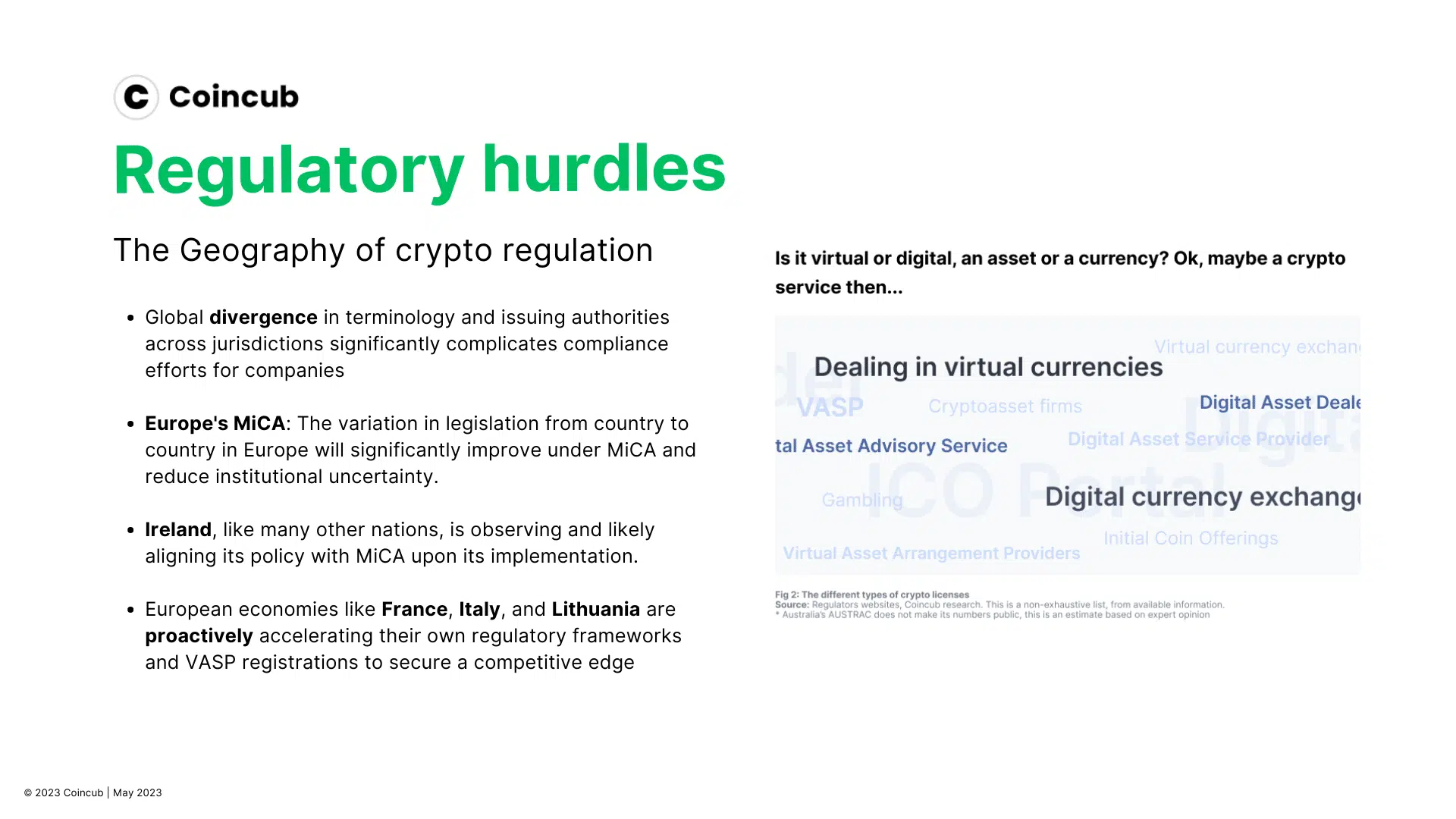 The much-talked-about and much-needed Marketing in Crypto Activity legislation (MiCA) has had a drastic – and not altogether predictable – effect on the blockchain ambitions of EU members. 
With the imminent (in political timescales) introduction of MiCA, common sense would suggest that most EU countries would play wait-and-see, to align their own national crypto policies with MiCA.
To an extent, this is the position of countries such as Austria, Belgium, and Ireland.
In reality, what has been and is happening is that leading EU economies such as Germany, France, Spain, Italy, and Switzerland (although not an EU member) are intensifying and speeding up their own crypto regulatory positions before MiCA is formally introduced.
Such nationalistic approaches appear to be being taken before MiCA levels the playing field somewhat.
Ireland, at present, appears to fall within the 'wait and see' camp.
European countries gaining a jump on MiCA – but not Ireland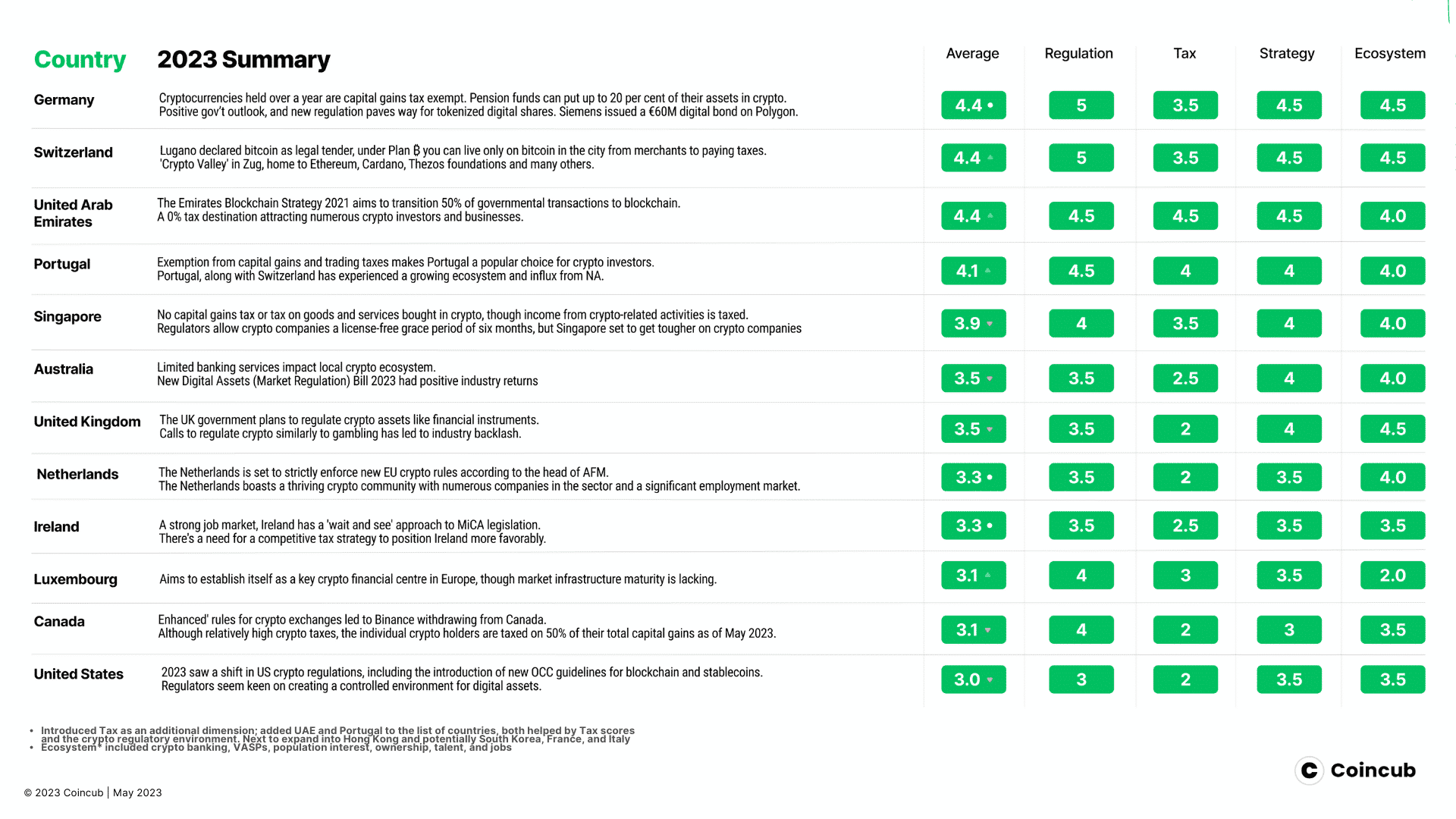 From the beginning of 2021 when Coincub began producing quarterly crypto rankings Ireland was placed at Number 7 in its overall index of crypto-friendly countries. Ireland has been slowly losing ground and today stands at a not-proactive 51 in 2023. (Data to be released soon).
From being a leading top ten crypto and blockchain progressive country, Ireland finds itself, not so much falling behind, as being overtaken by other more crypto-active and progressive 'like sized' economies. Including 
At Present Leading European blockchain and crypto economies overall are: 
Germany

France

Switzerland

Italy

UK
Ireland appears to have lacked the firmer, more committed policies that other ambitious and progressive countries have adopted in matters of regulation, taxation, and promotion of their respective crypto and blockchain communities.
STOP PRESS – Latest from the Central Bank of Ireland
Central Bank governor Gabriel Makhlouf, a long-time critic of the industry, said regulators were concerned about the potential for crypto to cause consumer harm.
Mr. Makhlouf said the Central Bank was discouraging the marketing of cryptocurrencies to the public because of its poorly understood risks and "aggressive advertising".
Mr. Makhlouf made a distinction, however, between the majority of crypto assets and tokens that are backed by reserves and capital controls, saying the Central Bank "remained open" to backed crypto.
However, he signaled that regulators in Ireland and the EU would be tightening controls on the industry following the "crypto winter" which saw the collapse of the TerraUSD stablecoin and crypto exchange FTX.
He said crypto would be supervised like any other financial market in proportion to the risks it posed, adding that crypto firms would eventually have to protect client funds, maintain high standards of governance and disclose relevant information just like mainstream financial firms.
Fintech firms, including some that deal in crypto, are now being forced to submit special audits detailing how they segregate client funds and prevent money laundering.
Regulators have warned chief executives that if they don't fix the problems, they could face enforcement action, steep fines, and costly risk mitigation programs.
Blockchain Education
Ireland punches slightly above its weight in the realm of Blockchain education compared with other medium-sized economies.
Ireland with 2 Universities offering advanced blockchain education/training and gains a strong overall score in the Education and TALENT.
The latest position for the top 50 Blockchain Universities, Trinity College Dublin Ireland now sits at number 44 against a no-show in the top 50 in 2021.
Nb Hong Kong leads the way with no less than five Universities and Polytechnics in the top 50 – with the Hong Kong Polytechnic University holding the number one position.
Source: Coindesk's Best Universities for Blockchain Studies 2022.
Blockchain and Crypto Jobs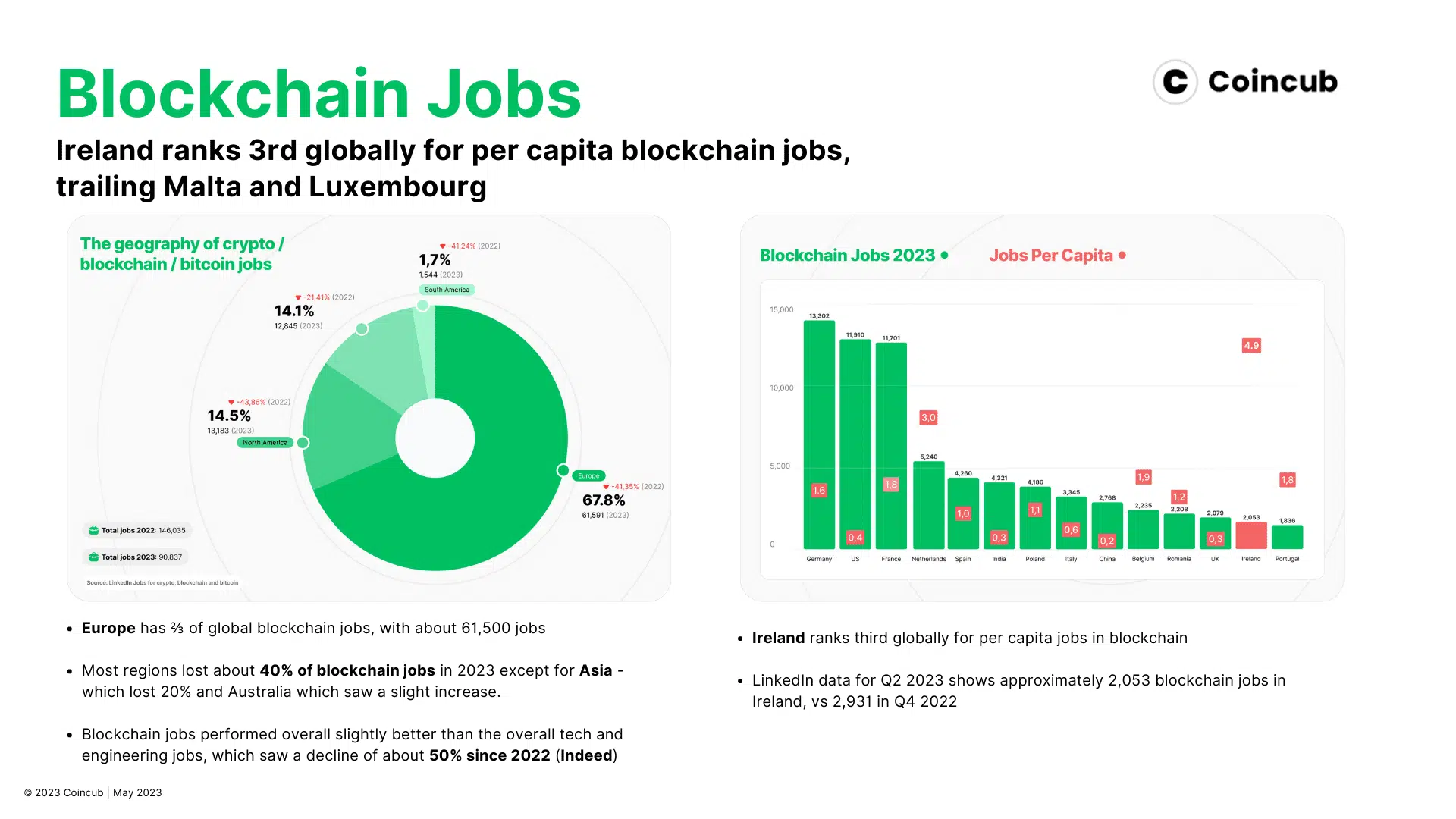 Once again Europe leads the way – by far – in the number of jobs in the blockchain and crypto space. 
In the top fifteen countries in the world for combined crypto and Blockchain jobs – Ireland stands at 14.
Like-sized economies in job creation sitting above Ireland include Netherlands, Poland, Belgium and Romania. 
Leading the way in 2023 in blockchain jobs are 
Germany

13302

USA

11910

France

11701

Netherlands

5240

India

4620

Spain

I4321

Poland

4186

Italy

3345

China

2768

Belgium

2235

Romania

2208

UK

2079

Ireland

2053

Portugal

1836
Source: Linkedin
Nb – All countries have seen a reduction in jobs, Germany losing 9170 and Ireland 878.
Taxation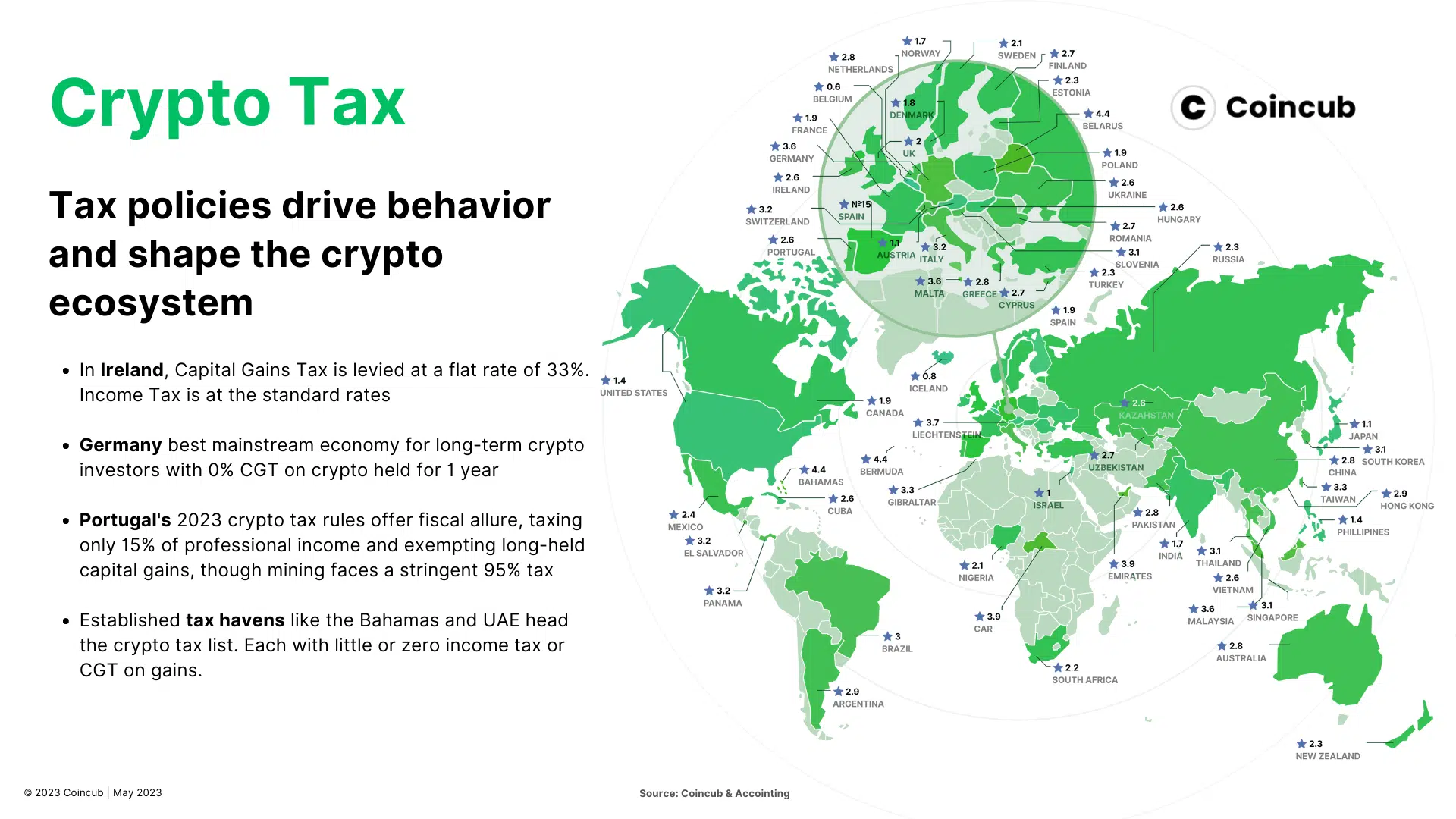 Taxation of crypto around the world is, as one would expect, a moveable feast and highly dependent upon the national culture and political ambition.
Belgium is the worst mainstream economy for crypto income taxation.

Germany's best mainstream economy for long-term crypto investors.

Bahamas, Bermuda, and Belarus are top of the list of crypto havens.

 

Ireland is at 34 on the crypto taxation index.
Top Ten lowest crypto taxation locations 
The latest index of taxation for 2023 runs from the lowest to the highest taxation countries and, again, as you would expect, established tax havens head the list. Each with little or zero income tax or CGT on gains.
Bahamas

Bermuda

Belarus

UAE

CAR

Liechtenstein

Germany

Malta

Malaysia

Gibraltar 
Unexpectedly, Germany is the only major traditional tax-based economy in the top ten. This is due in large part to the zero CGT on crypto held for over a year.
This index obviously favors tax havens – although many of them score much lower in the overall Index, for having undeveloped blockchain-based economies outside of their pure tax advantages
Ireland sits at a lowly 34 with similar economies above it including the likes of Switzerland, Greece, Romania, and Hungary.
Ireland offers little to excite crypto investors

Ireland offers very little in the way of taxation encouragement for the crypto and blockchain community. Dealings are subject to Income Tax and Capital Gains Tax. 
Corporation Tax may also apply for companies dealing in cryptocurrency transactions and also a possible Capital Acquisitions Tax may also apply. Transactions eligible for Income Tax fall within the standard 20% or 40% and on those transactions eligible for Capital Gains Tax – a flat rate of 33% applies.
Source: https://koinly.io/guides/crypto-tax-ireland/
Many countries have, naturally, adopted a nationalistic approach to the taxation of crypto – even in Europe. Across the world, however, El Salvador famously declared Bitcoin as a legal tender, it will almost certainly move higher on the taxation Index following its very recent intention to waive taxes on all businesses operating in the blockchain space. Hungary, in order to up its receipts from tax-shy crypto investors initiated a flat rate of 15% tax on all crypto gains. India, of course, initiated a highly unpopular (at least to crypto investors) crypto transaction tax of 1% on crypto transactions exceeding 50,000 INR (approx $600) in a financial year – a pretty low threshold for regular investors. There is also a flat rate tax of 30% on all profits or income from cryptocurrency to boot. Many countries, The Phillippines among them, are watching to see if this stifles the cryptocurrency industry.
Ireland is at No. 34 in the crypto taxation index. See the full ranking here.
Crypto Banking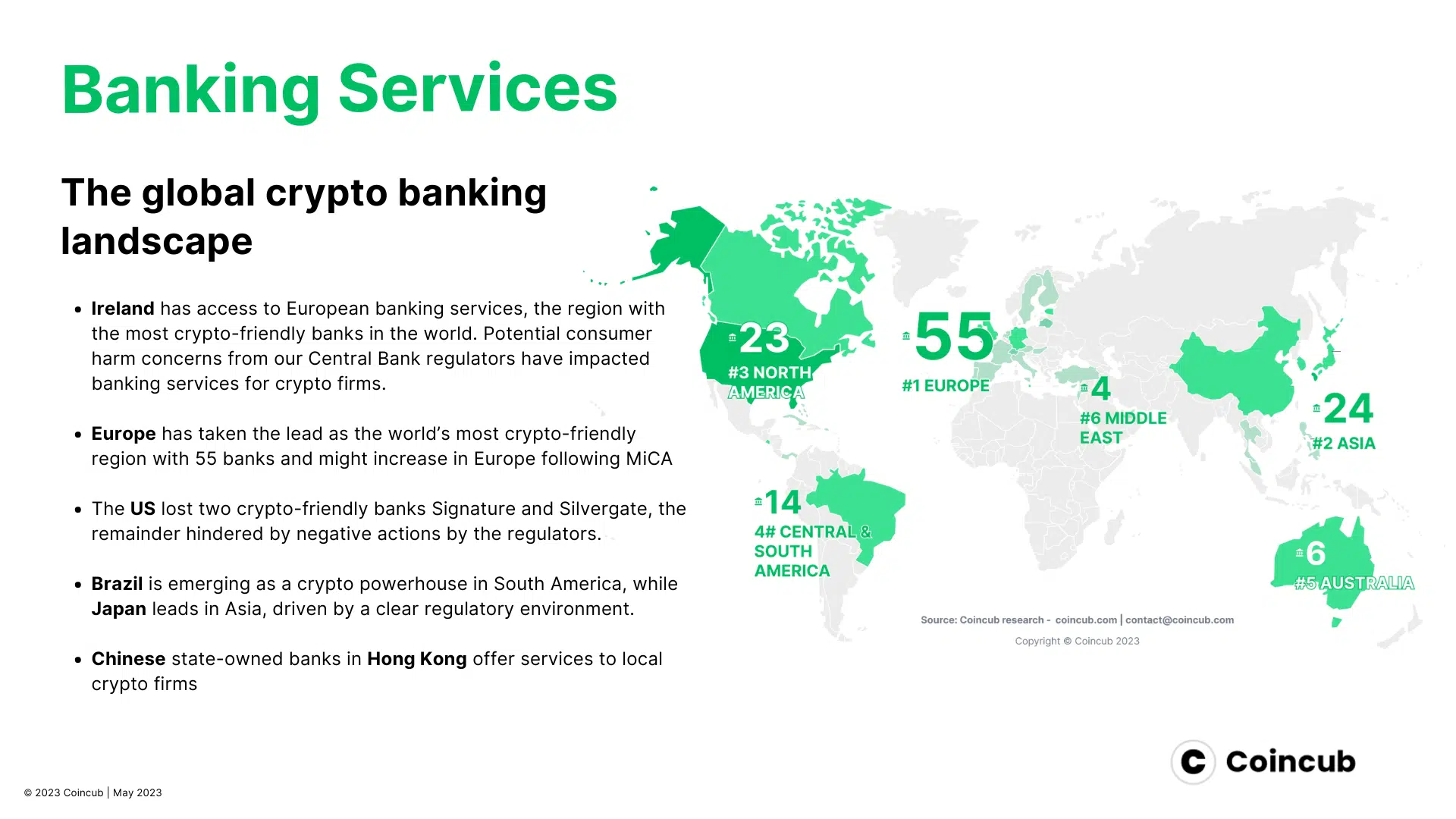 In Europe, major proposals are coming with the Markets in Crypto Assets (MiCA) regulation. Many banks positioning themselves to take advantage of a positive and coherent regulatory regime for crypto businesses with France, Switzerland, Germany, and the UK leading the way.
French banking authorities want to establish comprehensive crypto licensing before the 2024 start date of MiCA. In 2022, a French bank, Delubac & Cie, became the first in the country to offer regulated crypto services to crypto businesses looking for a banking partner.
Germany too is moving swiftly forward. Its highly attractive 0% CGT on year-long crypto holdings is supported by the highest number of crypto-friendly banks in the EU. Institutional giants getting in on the action including DZ Bank partnering with crypto firm Metaco.
Crypto-friendly banking is on the increase around the world, and not just in the low-tax hot sports such as Lichtenstein, Malta, Bermuda, and Dubai. 
Switzerland, Hong Kong, Singapore, Japan, and South Korea all have crypto-friendly banks offering a mix of crypto custody services and partnerships with crypto exchanges and services.
Ireland – 'no showing' on crypto-compatible banking
On the Crypto banking Index we can see that, at present, Ireland has no showing on our crypto-friendly banks per country list.
Better regulation will allow banks to participate more widely in the crypto and blockchain community. At present companies within the blockchain space are often unable to obtain the required levels of transactional banking for their operation 
Lack of VASP Licensing putting a brake on the development of blockchain 
Major VASPs have wide reach yet still have limited licensing agreements around the world. 
Over 3000 companies have a crypto license and 64 companies have crypto licenses in two or more countries. However, only 9 companies are registered in five or more countries with a crypto license.
Ireland failing to attract VASPs through increasingly negative crypto stance? 
The lack of consistent clear legal definitions worldwide makes it difficult for regulatory bodies to impose strict guidelines on exchanges. 
In Europe, already the continent with the largest number of licensed VASPs with 1,577, regulation was left to independent countries to decide. 
This however is changing with the advent of MiCA (Markets in Crypto Assets) – something which is certain to boost licensing and the crypto economy generally.
Europe dominates global crypto licensing with 1577 licenses granted across 20 countries

Canada has the highest number of crypto-licensed companies, followed by Lithuania

39 countries provide a specific crypto license (VASP or DASP)

Only two main VASPs, Coinbase and Gemini, are licensed in Ireland
Mainstream economies as locations for the licensing of major VASPs include: Italy, Canada, Japan, France, USA, UK and Australia
It's of increasing concern that while banks and other financial services embrace regulation, many crypto service providers stay sidelined, putting user funds at risk. Why so many crypto exchanges have been slow to follow suit, even as regulatory options become available is a continuing problem for the crypto industry.
The top five VASP licensing countries are currently Canada (1.254), Lithuania (694), Australia (400+)*, Italy (97), Bulgaria (84), and Spain (64) – France comes in at a close seventh place with 60. 
Yet despite these apparently high numbers, the licensing and registration of VASPs around the world have been erratic and uneven with many countries either slow to license VASPs or awaiting direction from new and updated legislation from their respective governments.  
Nb – Companies known as Money Transmitters, some of which are able to transmit crypto, are not strictly speaking VASPs.
Canada outstrips the US and many other leading crypto economies such as Switzerland, France, Japan, and Dubai with a total of 1.254 to date. Coming second in the Index of Crypto Licensed countries is Lithuania with 694.
Whilst the US is becoming increasingly ambivalent towards crypto and is toughening its regulatory stance, registering in Canada appears to offer a number of advantages. These include swiftness of registration, no requirements for authorized capital – contrasting with countries in the EU – and also lower registration fees. 
While obtaining an MTL allowed crypto companies to legally operate in the US and provide services related to cryptocurrencies like storage and exchange, it is not a specific license for crypto-related activities. The New York Department of Financial Services (DFS) is the only state agency in the United States that offers a specific Virtual Currency Business License, also known as a BitLicense.
In the top five regions for the licensing of VASPs, the Caribbean punches well above its weight and sits at number five in the Crypto Licensing Index with 85 licensed VASPs just behind Europe, North America, Australia and Asia at number one, two, three and four respectively.
Europe as a whole is one of the most buoyant regions overall for the licensing of VASPs and is projected to become more so when the dust settles on the EU's upcoming MiCA (Markets in Crypto Assets) regulations. 
VASPs – held back from the financial mainstream by regulatory uncertainty?
Cryptocurrencies will always appear outside of the financial mainstream until regulatory policies become more cohesive – and widespread. 
But what is to blame – government indecision – or companies wishing to skirt firm regulations?
Binance holds 14 crypto licenses as a VASP (or DASP), depending on the jurisdiction. According to its website, Binance supports 44 countries and provides services in over 100+ locations. In some of the countries where Binance operates, it does not have a specific crypto license.
As a US-listed company, Coinbase may face more stringent regulatory requirements and may prioritize compliance in countries with more established regulatory frameworks. Coinbase and Binance share crypto licenses in several countries, including Australia, Japan, Canada, Italy, and Bulgaria. 
It's of increasing concern that while banks and other financial services embrace regulation, many crypto service providers stay sidelined, putting user funds at risk. Why so many crypto exchanges have been slow to follow suit, even as regulatory options become available is a continuing problem for the crypto industry.
Regulating VASPs and crypto exchanges – driving out those that purely seek light touch regulation – can provide numerous benefits, such as protecting consumers, preventing money laundering, and ensuring a degree of financial control – if not price stability. A generous interpretation towards VASPs may be therefore that lack of regulation in many countries reflects the disruptive nature of the crypto industry, rather than an inherent problem with cryptocurrencies or exchanges themselves.
As the industry matures, it's likely that more countries will establish regulatory frameworks to oversee VASPs and crypto exchanges, ultimately promoting the adoption and growth. 
The report gathered data on VASP and DASP licenses from public websites of financial regulators between March and April 2023, with the exception of Australia where 2020 data, VASPs' public websites, and expert opinions were used to estimate the total number of licenses.
Initial Coin Offerings by Country and the Green Energy agenda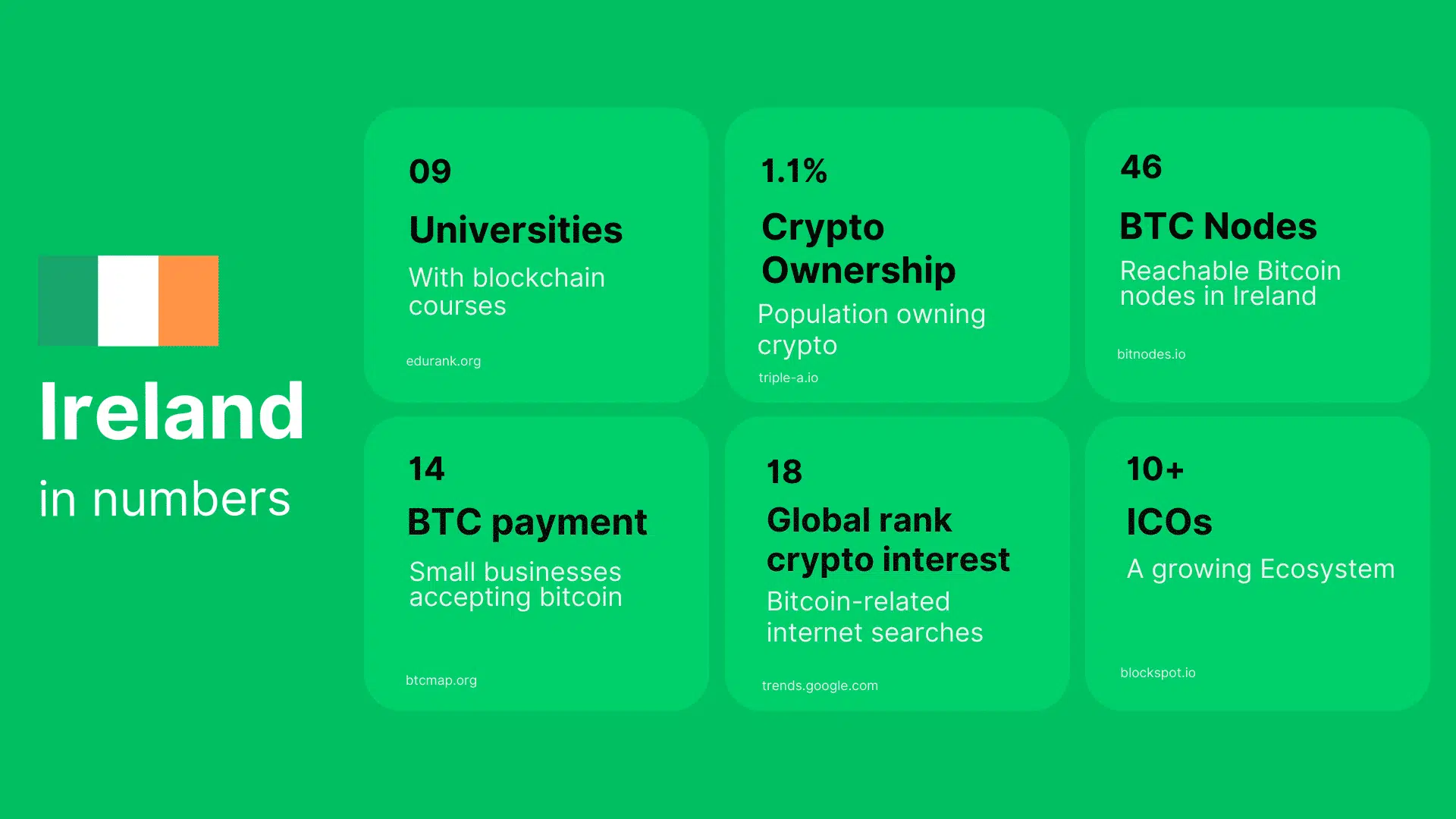 Regulations for the safety and security of ICO fundraising is happening at pace across the globe.
But ICO funding is far from mainstream across many economies. 
We include on the right the total of ICOs for companies related to or in some way connected with environmental projects or causes.
Ireland sits at a respectable 22nd place. Once again, like-sized economies including Netherlands, Romania, and Estonia sit above it – whilst crypto-rivals Poland and Portugal sit below it.
Editors note: We are providing this forward-looking guidance in anticipation of a series of comprehensive reports and databases that are soon to be launched on Coincub. These materials will offer valuable insights into the world of blockchain and cryptocurrency. Many of the key points we've discussed will be featured in our presentation at the upcoming Blockchain Ireland Conference 2023. We look forward to sharing these findings and sparking informed discussions around these important topics.
Bonjour! Find the best way to buy bitcoin in France with various methods. Read this guide now to find out where to buy bitcoin in France. How to buy b...
Sometimes when things come along that are brand new and generating quite a buzz, like the metaverse, it's often as useful to know what they aren't...
Sponsored
Decentralized Finance, also known as DeFi, has experienced rapid growth in recent years. This innovation combines the best of blockchain techno...