Love them, hate them, or simply don't understand them – whatever your stance is, cryptocurrencies and the blockchain technologies that support them are here to stay.
Countries are well aware of the booming crypto economy's potential. Governments are making legal provisions for consumers looking to invest above ground and cracking down on those trying to use crypto to dodge tax. Most legislation is geared towards regulation, tax compliance, and fraud prevention.
The number of consumers hungry for crypto and institutions that want to service them is growing – everyone is eager to harness potential business streams. People who want to buy and sell crypto include casual, non-professional types looking for a long-term investment and professional investors looking to earn regular income.
In some countries where a traditional bank account is only for the relatively wealthy, cryptocurrencies are seen as a practical option. In countries such as Denmark, the UK, and Germany, it's seen as more of an investment, often fueled by the expectation of significant gains. For some individuals, crypto is a way of life. Governments around the world are assessing the potential of the crypto economy in their own way. France, for example, has a number of high-profile crypto companies lobbying the government to open its doors to blockchain technology.1 While crypto legislation across the globe is increasingly comprehensive, the strategies countries adopt are far from consistent. Even the regulatory definitions as to what a bitcoin is are many and varied. Bitcoin is referred to by different governments as property, private money, a personal asset, and a digital exchange token. As of 2021, only El Salvador accepts bitcoin as legal tender.2
As a result, many governments and institutions are cautious and issue conservative advice to companies and individuals alike on the perceived risk of crypto investment. Outlooks on crypto around the globe are diverse. Some countries are resistant to crypto, some are indifferent, and others are open and progressive. Which countries are moving to embrace the crypto craze, for better or for worse?
Global Crypto Ranking Top 20
This list is subject to multiple ever-changing factors. Over time, we expect that the positions and placement of countries on this list will change. That said, the 2021 top 20 list is based on in-depth research and, we hope, accurately reflects the real world. In this list, we take a look at the countries that show the highest levels of crypto acceptance and activity.
| | | |
| --- | --- | --- |
| Country | Global Rank* | Coincub score |
| 🇺🇸 United States | #1 | 196,5 |
| 🇨🇦 Canada | #2 | 164,6 |
| 🇸🇬 Singapore | #3 | 161,4 |
| 🇩🇪 Germany | #4 | 160,3 |
| 🇬🇧 United Kingdom | #5 | 146,6 |
| 🇦🇺 Australia | #6 | 146,4 |
| 🇮🇪 Ireland | #7 | 143,0 |
| 🇸🇪 Sweden | #8 | 139,8 |
| 🇫🇷 France | #9 | 137,3 |
| 🇧🇪 Belgium | #10 | 135,3 |
| 🇭🇰 Hong Kong | #11 | 133,8 |
| 🇯🇵 Japan | #12 | 131,4 |
| 🇳🇱 The Netherlands | #13 | 130,8 |
| 🇭🇺 Hungary | #14 | 126,1 |
| 🇪🇸 Spain | #15 | 122,4 |
| 🇮🇳 India | #16 | 120,8 |
| 🇵🇱 Poland | #17 | 119,1 |
| 🇷🇴 Romania | #18 | 117,7 |
| 🇲🇽 Mexico | #19 | 116,6 |
| 🇳🇿 New Zealand | #20 | 110,3 |
Country score
Crypto is borderless and has amassed a huge following around the world. With that in mind, it was difficult to choose the top 20 countries. Over the course of two months we combed through a wealth of primary and secondary sources to arrive at these conclusions. Of course, things are constantly changing, and there might be something you think we've missed. We're already refining our methodology for the next global crypto ranking, but we'd love your feedback. What do you think? Share, comment, or take us to task for not including Switzerland.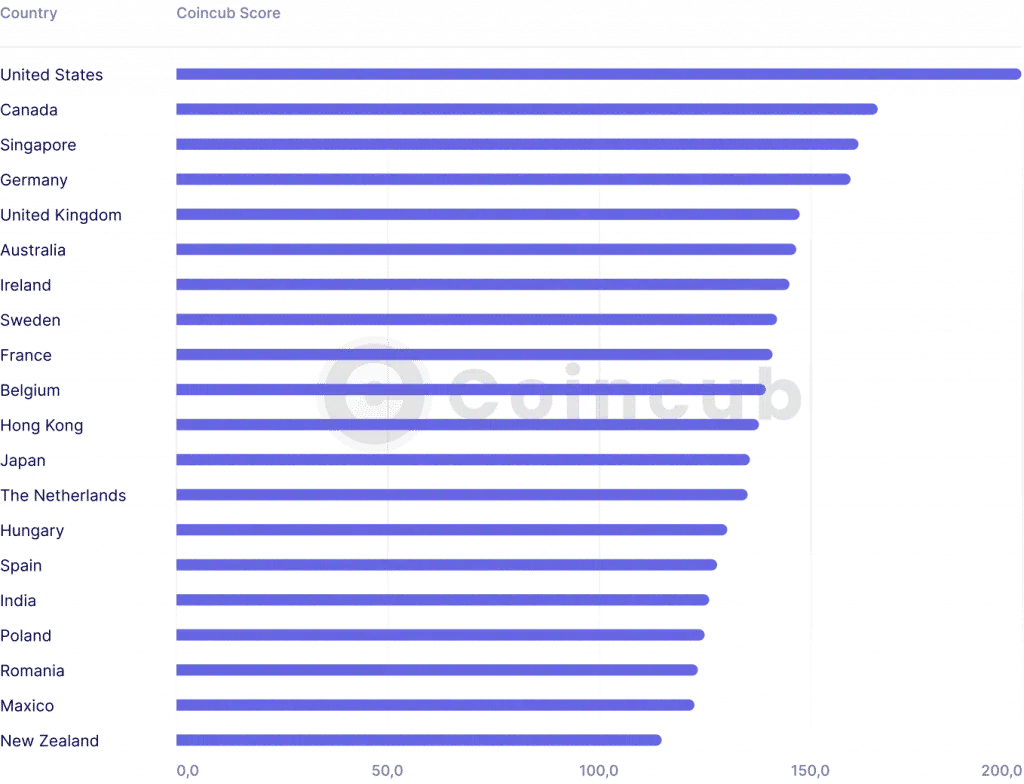 1. USA – 196.5 Coincub points
The US leads the way in overall crypto friendliness – but not by as much as you may think. Across all our criteria, some countries perform better on certain aspects such as institutional acceptance and regulation. However, in the US a high percentage of the population owns crypto. The US is also home to Coinbase, the world's first stock market listed crypto exchange 3 – which also happens to be one of the biggest. The US has the highest number of bitcoin ATMs per capita.4 Tax is not particularly high but you do have to pay. The IRS will want an account of your activity for tax records. Investing in bitcoin for retirement purposes is acceptable, but carries high fees due to the volatility and risk involved.
2. Canada – 164.6 Coincub points
Canada started off very cautiously a few years back with bans on banks participating in crypto trading. Things have changed dramatically since, and now Canada is a leader in institutional acceptance for blockchain technology and cryptocurrency.5 Large, well-known exchanges and wallets are almost always available to Canadian consumers. The country also scores high on the number of bitcoin ATMs per capita.
Trading volumes are high, and a significant percentage of the population owns crypto. The country's leading banks seem to be getting in on the act. When it comes to the integration of crypto into traditional investing, Canada has shown enthusiasm by sanctioning bitcoin (BTC) and ether (ETH) exchange-traded funds, allowing investors to have crypto within investment accounts and retirement savings plans (RRSPs).
3. Singapore – 161.4 Coincub points
Singapore is taking a lead in crypto regulation. It has become Asia's leader in many ways by providing a more open environment for the growth of cryptocurrency and blockchain technology. Singapore's regulatory and legal environment for cryptocurrency includes the Monetary Authority of Singapore (MAS). While regulation and compliance are strict, it offers reassurance for investors. The MAS has also been working to regulate cryptocurrency exchanges in Singapore and is currently looking for new ways to introduce digital payments. These include financial institutions using blockchain technology for inter-bank payments. There are high volumes of reported trading, possibly because tax rates, the responsibility of The Inland Revenue Authority of Singapore (IRAS), are relatively attractive, with gains subject to tax (17%).
4. Germany – 160.3 Coincub points
Germany is a prominent crypto player with a progressive government outlook for the crypto space.6 Crypto assets were recognized in the 2020 Banking Act. The German Federal Financial Supervisory Authority has recognized the use of bitcoin for payments and as a means of exchange for fiat currency. Since January 1, 2020, Germany expanded on the 5th AMLD by identifying crypto assets in its Banking Act.7
Increasingly digital tokens are recognized as financially viable assets. Germany has a high percentage of people owning crypto and places to spend it. Custodial services are regulated, which means that banks are able to facilitate the selling and safeguarding of cryptocurrency for clients.
5. UK – 146.6 Coincub points
The UK comes in as the fifth most crypto-friendly country. A significant number of major crypto exchanges are based there, and a high percentage of the population owns crypto. As a recent former member of the EU, it implemented the latest (5th) Anti Money Laundering Directive. The Financial Conduct Authority (FCA) plays a supervisory role for the UK crypto-asset businesses in terms of oversight. Buying and selling crypto assets is legal, but the FCA prohibits the sale of specialized and complex crypto-based products for retail investors.8 This particular prohibition – like many things in the crypto space – is under constant review. Income tax applies to gains from buying and selling and currently the gains and expenses through mining and staking are income tax allowable.9
6. Australia – 146.6 Coincub points
From a slow start, Australia has now established a pattern of proactive cryptocurrency regulation, demonstrating its enthusiasm for providing a clear operational framework for crypto businesses. However, the country is aware that future compliance enforcement will lead to deeper scrutiny and a tightening of regulatory controls across the board. That said, the country scores highly on our rankings. A healthy number of exchanges are based in Australia – as opposed to merely offering their services there. There are also numbers of crypto owners and volumes of trading generally. Government regulation is firm and likely to become more so, but as we have said before, this can be a good thing for increasing the number of mainstream investors outside of professional investment bodies. 10
7. Ireland – 143.0 Coincub points
Ireland has long been known as an ambitious finance hub and tax-generous location for overseas companies. It aims to take a leading role in the crypto space. Almost all of the leading exchanges are available, and there is active interest from the financial sector, especially concerning blockchain technology. Ireland also scores highly due to the number of residents owning crypto and high online search numbers. Cryptoassets are income-taxable only when traded for gain, and any losses and gains will also be subject to the prevailing Capital Gains Tax (CGT) allowances and considerations.11
8. Sweden – 139.8 Coincub points
Sweden is some way ahead in the possibilities of spending cryptocurrency. Crypto is recognized as a form of payment and capital investment, and can also be spent in numerous retail outlets. Sweden is also considering a move to a digital currency and its central bank is trialing a pilot project to introduce an electronic Krona based on the same blockchain technology that underpins digital currencies like bitcoin.12 Sweden has a high percentage of the population holding crypto and high trading volumes along with all the leading exchanges being available. Crypto is treated as capital property and the gains and losses on it are either income taxable or deductible, though the Swedish income tax rate is notoriously high at 32%.13 The Swedish Enforcement Agency even auctioned out some bitcoin it had seized from a resident as compensation for a tax debt – now that's institutional acceptance.14
9. France – 143.0 Coincub points
France is increasingly at the vanguard of financial innovation, with eyes very much fixed on the business lost by London due to Brexit. Not surprisingly, many thought leaders and lobby groups within the financial sector view blockchain and crypto very enthusiastically. The county's banks are playing an increasingly active part in the crypto space and regulation is high.15 France makes the list thanks to a high number of crypto-owning residents as well as a high trading volume. France has strong legislation against money laundering but has a generously low flat rate of tax for cryptocurrency gains, with sales of crypto under 305€ per year completely tax-exempt.
10. Belgium – 135.3 Coincub points
Belgium is ambivalent about the growth and development of digital currency, but the leading crypto exchanges that operate there are required to abide by the regulations that apply to the financial sector generally. The government's more recent regulations on private individuals as well as businesses operating in the crypto space look to achieve a stricter regulatory framework. This is often a good thing as experience shows that regulation promotes interest and attracts trade. Trading is eligible for income tax – the Special Tax Inspectorate (STI) classifies gains on crypto as miscellaneous income and is subject to an income tax of 33%.16 Capital gains are exempt from tax when derived from the management of the private estate, but taxable at 33% when gained from business or speculative activities such as crypto trading. Belgium has healthy consumer interest in crypto and one of its leading financial institutions, KBC, announced a proposal to launch its own cryptocurrency as a form of reward token, albeit for internal use between itself and its customers. 17
11. Hong Kong – 133.8 Coincub points
Hong Kong officially recognizes bitcoin and other cryptocurrencies, describing them as 'virtual commodities' or 'virtual currencies'. Buying bitcoin with Hong Kong Dollars is straightforward. Hong Kong-based exchanges support local payment methods. The SFC (Securities and Futures Commission) is bringing in a new regulatory regime around crypto exchanges and their offerings to retail traders.18 If the proposed regulatory regime is made law, retail investors will no longer be allowed to buy bitcoin in Hong Kong from cryptocurrency exchanges and other points of sale of the "virtual commodity", such as bitcoin ATMs. Trading as a non-professional offers a means of avoiding or reducing tax and as professional trading is tax allowable, so the expense in buying or mining them – and losses – can be offset.19 There is also no capital gains tax on buying and selling them – only income tax. At present, a high percentage of the population holds crypto, and there are good volumes of crypto trading. Keep an eye out for our next ranking – it looks like things are about to change big time.
12. Japan – 131.4 Coincub points
Spending crypto in Japan is growing in acceptance with e-commerce organizations springing up along with thousands of outlets that accept cryptocurrencies, ranging from consumer goods to bars, restaurants, café's, online shops, and nightclubs. Crypto is recognized as legal property and new laws are in place to make exchanges less vulnerable to hacking. While there is increased regulatory requirement, there is also much consolidation and reorganization going on within the crypto industry as large global exchanges enter the marketplace. There are a high number of crypto exchanges and a high level of institutional acceptance. Japan is seen as a growth area and, paradoxically, its tighter regulatory framework is seen as offering many attractions, especially to institutional investors. Taxes are hefty – up to 55% – but this is an upper limit across all income, and so reduces for low earnings. 20
13. The Netherlands – 130.8 Coincub points
The Netherlands has a spot on our crypto-friendly list because of a relatively high institutional acceptance score and a high percentage of the population owning crypto assets. It is also home to many leading exchanges. The Netherlands shows one of the highest search numbers of people looking online for crypto information. The Central Bank of the Netherlands (De Nederlandsche Bank, DNB), in compliance with its "DNBCoin" project started in 2015, regulates companies offering cryptocurrency services. 21
14. Hungary – 126.1 Coincub points
Coming up on the outside is Hungary, often overlooked as a crypto leader. Cryptocurrency, for a long time seen as risky by the Hungarian government, has now become much more acceptable, and spending all that lovely bitcoin is a lot easier than you might think. Bitcoin ATMs are springing up all over the country and spending directly in hotels, jewelers, bars, and cafes – even some taxis – is now trivially easy. As measures to streamline the tax system continue, cutting tax levies on crypto trading is expected to increase tax revenues overall.22 Hungary could become a much more attractive place to deal in crypto. These measures are still in the proposal stage and if approved by the Hungarian parliament will take effect in 2022 – so watch this space.
15. Spain – 122.4 Coincub points
Spain is part of the EU and abides by many of its directives on financial conduct. Like most leading European countries, it has its individual interpretations and guides for the defining of cryptocurrency and its approach to taxation. Several Mediterranean countries including Spain aimed to centralize efforts regarding cryptocurrency and hammer out a single strategy. Spain gets onto our list for having a high number of crypto owners, plus 71 Bitcoin nodes located in the country. All the major exchanges are available and there are a high search number of people looking for crypto information online. Generally, In the EU, cryptocurrencies are generally, cryptocurrencies and cryptoassets are classified as qualified financial instruments (QFI's) and banks, credit, or investment firms can hold or offer services in crypto assets or cryptocurrencies.
16. India – 120.8 Coincub points
The bitcoin phenomenon has been growing in India for some time and investing in crypto for gain, as opposed to using it as a payment facilitator, is riding a wave of enthusiasm. Cryptocurrency trading is legal and acceptable. Huge regulatory changes are being discussed, one of which is the Cryptocurrency and Regulation of Official Digital Currency Bill, 2021.23 This was scheduled to be tabled in the budget session of Parliament in March but was deferred at the last minute. Meanwhile, a fairly high percentage of residents holding crypto, moderate tax on gains, and exchange availability all put India on our list.
17. Poland – 119.1 Coincub points
Poland gets onto our list for the high percentage of the population holding crypto and the volumes traded. It also has 89 bitcoin ATMs around the country, making for a large number per capita.24 There are a growing number of bars, restaurants, and retailers that will accept it, as well as the Polish national airline, Lot. Crypto is monitored by the Central Statistical Office, which reports directly to the Polish Prime Minister's office. Income tax is payable at just 19% on income over expenses. However, for big league investors, if gains go over 1 million PLN, tax is bumped up an extra 4%. For private transactions, revenue is regulated as income from property rights, and the gain is taxed progressively at rates between 18% and 32%. Profits from business activities are taxed at a flat rate of 19%.25 The Polish Financial Supervision Authority (KNF) granted licenses to two crypto startups, Coinquista and Bitclude, as payment providers.
18. Romania – 119.1 Coincub points
While Romania is not a crypto powerhouse, it does have retailers across most of its cities that accept bitcoin as a payment, led by the capital, Bucharest. bitcoin-accepting outlets range from large stores to small online outlets, including beauty salons, car rentals, and travel. Although bitcoin and other cryptocurrencies are not considered legal tender or fiat currency, Romania considers crypto a moveable asset that can be bartered and exchanged. It even had some of the first bitcoin ATMs to be opened up in Europe.
A high percentage of the Romanian population own cryptocurrency, due in no small part to the publicity of its usage by celebrities and media figures. The way one invests in crypto largely affects its qualification for income tax purposes, but its special status as a non-currency makes it at present not eligible for VAT. 26
19. Mexico – 116.6 Coincub points
In Mexico, crypto is often used for day-to-day purposes as a high proportion of people do not have access to bank accounts. As a result, there are plenty of places to spend and lots of bitcoin ATMs. As crypto's popularity grows it could fulfill some important roles in the country's burgeoning fintech industry.27 Regulations apply for organizations, but there is no centralized and structured approach to crypto and no detailed and consolidated strategy on how crypto is taxed and regulated. There are strict fintech licensing requirements and crypto firms must report transactions over a certain amount, but tax issues have not been firmly pinned down in crypto activities and appear to be dealt with on a case-by-case basis. In the case of individuals, depending on their accruable income, they can be subject to income tax of 1.92% to 35%.28 A high percentage of the population holding crypto and a high number of available exchanges, along with the government actively looking to harness the wave of interest, puts Mexico on our list.
20. New Zealand – 110.3 Coincub points
Crypto trading in New Zealand relies on guidance provided by the Financial Markets Authority (FMA) which, broadly speaking, views the activity in the same way as it views traditional financial services. For example, cryptocurrency exchanges are subject to New Zealand's Anti-Money Laundering and Counter-Terrorism Financing Act.29 Government regulation is low, and most major exchanges and wallets can offer their services. The percentage of the population holding crypto for investment is relatively modest, but there are a high number of well-established crypto exchanges to choose from that make it straightforward to trade. Adding to that, a high volume of trading online and a high number of online searches push New Zealand's score up and earn it a spot on this list.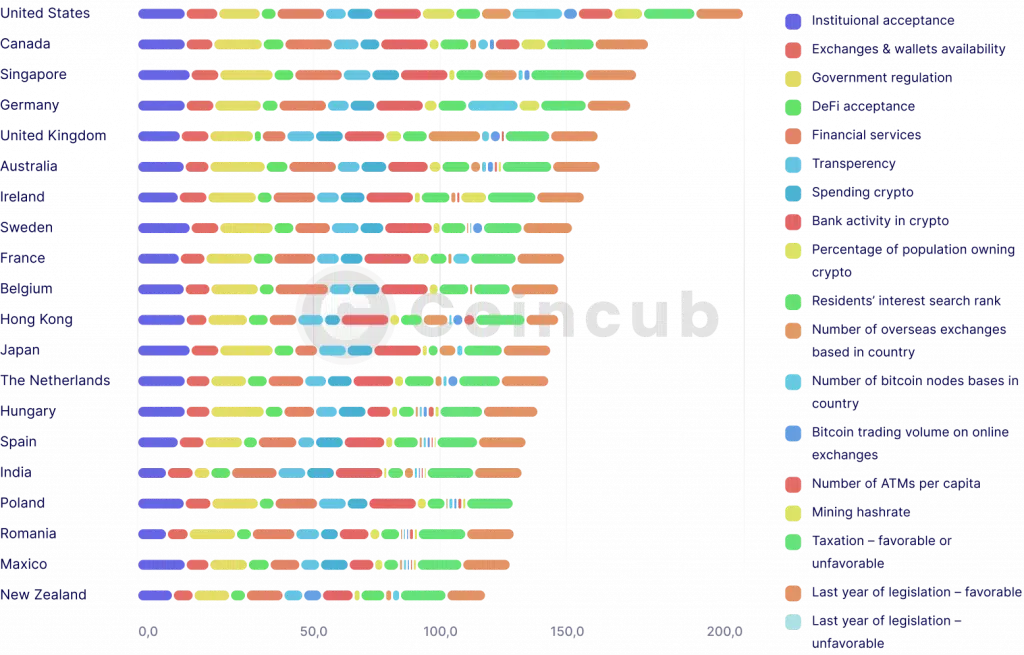 Criteria & Methodology
Let it never be said we do things haphazardly at Coincub. After a lot of agonizing, we've come up with 18 separate criteria to determine how crypto-friendly a country is. We've tried to combine hard data and critical analysis of current trends to create an in-depth overview. Above all, we wanted to create reviews that are meaningful for residents looking to puzzle out byzantine tax laws and financial regulations.
Criteria
Institutional acceptance
Exchanges & wallets availability
Government regulation
DeFi acceptance
Financial services
Transparency
Spending crypto
Banks' activity in crypto
Percentage of the population owning crypto
Residents' interest search rank
Number of overseas exchanges based in the country
Number of bitcoin nodes based in the country
Bitcoin trading volume on online exchanges in 2020
Number of ATMs per capita
Mining hashrate
Taxation – favorable or unfavorable
Last year of legislation – favorable
Last year of legislation – unfavorable
Methodology
We sift through the white noise of the crypto space and use both qualitative and quantitative categories to produce well-rounded country ratings. Qualitative parameters cover the general level of institutional acceptance and openness to cryptocurrency within a country. We include a government's openness to crypto trading, the levels of legislation it has produced, and its acceptance of digital currencies generally when calculating our ratings.
A sample of quantitative data used for rating purposes includes the percentage of population trading or owning cryptocurrency, the number of bitcoin ATMs available, and the trade volume of crypto over time. While the overall amount will be greater in a developed country, the actual number of transactions could be greater in a developing country. Both of these are reflected in our ranking.
Categories we view as more important are weighted accordingly – and we try to keep this weighting as simple as possible. While most of our categories carry a 0-10 ranking, the level of a country's institutional acceptance is extremely important and we provide a 0-20 scale for ranking this. When the overall total is compiled, the institutional acceptance score contributes more heavily to the overall total and thus the country's ranking position.
Definitions and Limitations
Institutional acceptance 0-20
What establishments support cryptocurrencies? Central government? Regional government? Financial regulatory agencies? Are major institutions investing in crypto? Drawbacks: it can be difficult to predict what certain pieces of legislation can mean for crypto; institutions such as banks can be secretive about intent, the most accurate information may not be available. Also, there are often conflicts between what legislators want and what banks are willing to risk.
Exchanges and wallets availability 0-10
Are there any exchanges located in the country? Are there economic sanctions against the country that prevent exchanges from offering service there? The presence of exchanges within a country – and the overall trading volumes – is a good guide as to any country's crypto acceptance, at least on a consumer level. Likewise, we also take notice of any wallets or exchanges that aren't allowed.
Government regulation 0-20
Is crypto legal? Who can access it? How highly is it regulated? What kind of regulations do exchanges need to adhere to? How closely do governments adhere to anti-terrorist financing? How much oversight does the government have over crypto? The drawbacks of this parameter are that it can be difficult to predict what regulations can mean, regulation is not static and conditions are constantly changing. In most countries, crypto legislation is evolving, often to increase surveillance, effectively bringing it within the mainstream of taxable investment activity.
DeFi acceptance 0-10
Decentralized finance is a buzzy topic. To some, it undermines the whole concept of transacting and recording money. Most of the debate on decentralized finance is led by opinion and speculation. DeFi acceptance on the one hand shows governments' openness to looking at new financial concepts, but a lack of this does not inhibit crypto activity at present – so it gets a low weighting score of 0-10
Financial services 0-20
What kind of financial services can exchanges allow? Is crypto traded in financial markets? What about crypto derivatives? Can exchanges offer different kinds of trades (i.e. margin trading, derivatives, futures, etc.). Increasingly, institutions around the world wish to harness some of the demand for crypto and bring it within the mainstream of investment products. Many of the more complex products are banned by governments, but financial sectors still offer advice, tax planning, and legitimate ways to make crypto part of investment and retirement planning.
Transparency 0-10
– Transparency relates to ID requirements for individuals wishing to trade on exchanges. Nearly all major exchanges require some form of ID in adherence to anti money laundering and Know Your Customer regulations.
Spending crypto 0-10
How easy is it to spend crypto? Are there retailers that sell gift cards? What about places where customers can buy directly with crypto? Is there a crypto scene? Are there meetups? Are there crypto hubs? Drawbacks to this parameter are that not every locale accepting cryptocurrency is findable online, we are liable to underreport the amount of activity.
Banks' activity in crypto 0-20
Are banks investing in cryptocurrency? Are central and private banks issuing guidance to customers about crypto, and if so is it positive or negative? Investment banks are specialist banks that deal in wealth generation for the very rich and that is not our interest here. We concentrate upon the mainstream, consumer banks. These are the banks that, up until recently, viewed crypto as high risk and advised their customers accordingly. Having consumer banks be able to provide custodial services would be a big step forward for potential investors. This level of service is growing in many countries and is a good guide as to crypto-friendliness overall – we rate it highly where it is happening.
Percentage of the population owning crypto (The % number x 2)
This metric is used in order to show interest from the population. It sheds insight on whether or not crypto is seen as appealing, whether that's because the population is largely unbanked or because there is a wealthy population with plenty of investors looking to engage with speculative assets. Numbers available online may not always be accurate, which is a possible drawback for this parameter.
Residents' interest search rank 0-10
This parameter is used to determine intent towards crypto. What are users in countries looking up? Searches don't necessarily indicate intent to invest. In order to account for idle searching, we have given this a 0-10 ranking.
Number of overseas exchanges based in country 0-20
This is a solid metric for seeing how favorable a country's legislation is to crypto. Crypto acolytes and exchanges can be nomadic, moving from country to country depending on tax laws and prevailing attitudes. The migration of exchanges over time can show how laws around crypto evolve. Where exchanges go, crypto nomads frequently follow. Exchanges move frequently; while we attempt to update our ratings as often as possible, they may not always be correct.
Number of bitcoin nodes based in country 0-10
This metric provides a handy measure of economic activity, providing an indicator of the level of interest in bitcoin (and by extension crypto) in a country. Running a node takes dedication, and usually points to the existence of a strong bitcoin community.
Bitcoin Trading Volume on Online Exchanges 0-20
How much are people spending on an exchange? How big is crypto trading in a given country? The volume of trading is an invaluable guide to crypto activity, although pertinent information may not always be available.
Number of ATMs per capita (per capita % number x 2)
What is the state of crypto infrastructure? Has crypto been integrated into daily life enough that people are using it as a currency?
Mining hashrate per country 0-10
The mining hashrate refers to the amount of computing power spent on bitcoin's proof of work in order to mine bitcoins. Some countries have a larger proportion of miners than others. This usually reflects the country's electricity cost and where mining pool infrastructure is physically located. As a result, we give this information a lower weighting.
Taxation – favorable or unfavorable 0-20
Crypto taxation guidelines are constantly evolving as governments come to the realization that a valuable source of revenue has been left untapped. Some governments have punitive tax schedules, while others are very lenient in hopes of attracting tech talent and boosting crypto tax-take revenues. The trend overall is for governments to keep crypto gains within their incumbent tax system and make no special provisions for trading gains.
Last year of legislation – favorable update 0-20
The way that governments legislate and regulate crypto is one of the most important factors in a country's crypto ranking, earning it a higher weighting. When countries enact favorable legislation it can spark innovation and create a boom in the local crypto economy.
Last year of legislation – unfavorable 0 to -20
On the other end of the spectrum, unfavorable legislation can completely crush a country's crypto sector. Anti-crypto legislation can force investors, miners, and traders out of action or underground.
So why a Global Crypto Ranking?
Why rank countries when crypto is a global phenomenon? Cryptocurrency might be borderless, but people sure aren't. As regulators close in on cryptocurrencies and devise frameworks that enable surveillance and control of digital assets, location has become a vital factor for crypto users. Bitcoin's borderless promise is going unfulfilled for users that want to access centralized exchanges and services.
Of course, users who want to escape the long arm of the law can look at privacy-preserving tokens like Monero, or use unregulated and unregistered exchanges. However, bitcoin's traceability (it is based, after all, on a public ledger) means that law enforcement and tax agencies will have a head start on users that try to dodge tax.
Country and location are now one of the first things to consider while investing in cryptocurrency. Wouldn't it be nice if someone had already done most of the research for you? For the Global Ranking, we didn't rely solely on quantitative metrics like bitcoin ATMs, mining hashrates, or trade volumes. There's a lot of information there, but it doesn't tell you everything. At Coincub, we take a rigorous approach, with 18 separate parameters that cover every pertinent metric we could think of.
Compiling the Global Crypto Ranking
Which countries are you most likely to find a secure place to buy and invest crypto? Where will you pay more tax, who's got the most bitcoin ATMs, and where's the best place to spend it? We rank countries around the world for their crypto-friendliness according to a set of multi-dimensional, weighted criteria.
For example, a higher number of reputable crypto exchanges that operate in any country mean more choices for consumers and a better chance of being able to buy and sell crypto easily. If spending is your thing, you'll want to know where; if investing, which countries have institutions that offer custodial services to facilitate your activity. One of the most important factors is how accepting a government is towards crypto. No matter how cheap the electricity is, if the government bans crypto you're going to find yourself in a difficult situation.
Our Coincub Global Crypto Ranking takes into account several aspects to determine what constitutes a crypto-friendly country. Our criteria range from tax rates on crypto gains to ownership per capita and institutional acceptance.
For example, favorable legislation towards crypto earns a higher score, as does a policy of low taxation on crypto gains. Unfavorable legislation earns a negative score.
Currently, most existing legislation seeks to tax, regulate, and deanonymize crypto. There's no telling what the future holds – while most countries are looking to seize control of internal crypto markets, some may ban it altogether.
Our analysis takes both qualitative and quantitative measures into account. Quantitative criteria include the number of bitcoin ATMs, the overall volume of crypto traded. Qualitative criteria give an overview of less definite but equally important factors, such as the acceptance of crypto by regulators or central and retail banks.
Conclusion
Congrats, you've reached the end of the Coincub global country ranking! The US came in first due to widespread adoption and institutional acceptance. Canada, Singapore, Germany and the UK round out the top five list.
If you're interested in learning more about any of the countries listed, you can find in-depth reviews in the Coincub country review section. We regularly update these rankings, so be sure to check back or sign up for our mailing list for updates.
Do you have something to add to the list? Leave a comment below. Thanks for reading!