Germany's crypto scene is on fire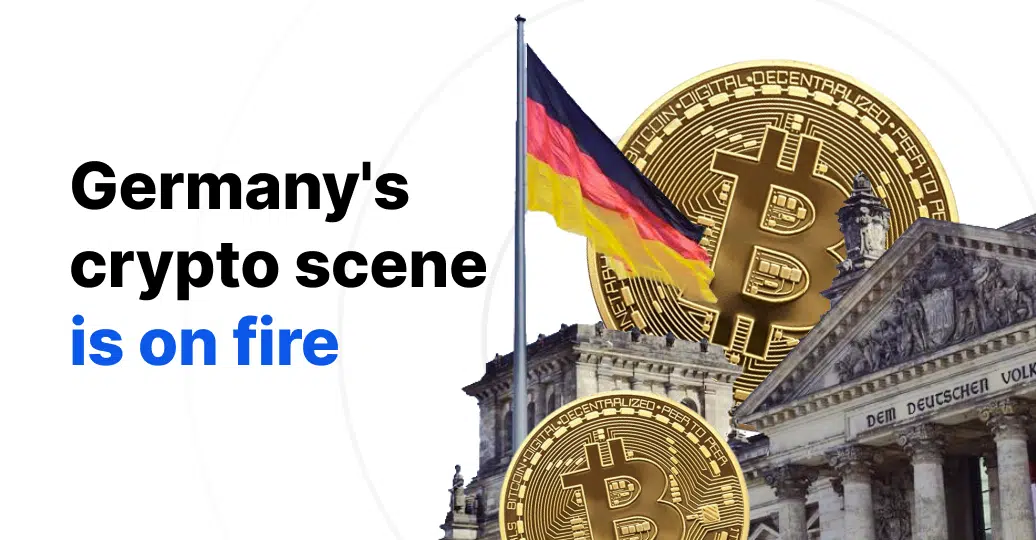 Despite a fast-paced economy and well-thought financial regulations, Germany had previously dawdled around crypto regulations until recently. However, the shift from crypto cynicism to a thriving gusto did not come overnight. Instead, it has been a whirlwind of activities through several challenges as the fourth-largest economy in the world bent some rules. Thanks to recent tax changes, Germany now takes a leading position among the most crypto-friendly nations in Q1 2022. It only comes second after the United States in the number of Ethereum and Bitcoin nodes. In addition, Deutsche Boerse, a stock market operator, currently lists over 20 cryptos traded products on Xetra.
On the other hand, Sparkasse (local banks) ferociously fight for clients' direct access to bitcoin trading from checking accounts. Altogether, with inflation hitting hard, Spezialfonds, a new rule set to take effect, may allow traders to enjoy better interest rates on crypto and Bitcoin assets.
As crypto-frenzy comes on strong across the globe, there is no doubt that the booming German environment, based on several factors, might make defining milestones soonest.
Germany smashes Singapore for the most crypto-friendly country slot
There is no doubt that the new decision by Germany to embrace crypto investments and cryptocurrency played a huge role in propelling the nation to the top on Coincub's ranking list for Q1 2022. Singapore, the previous number one in Q4 2021, plunged to the second position, followed by the US, Australia, and Switzerland. However, it has not been a smooth sailing process with the biting inflation and the Ukraine turmoil, which destabilized the world market. Above all, Singapore, a motivating force in the industry, is in a neck-to-neck race to reclaim its glory. 
There is a huge possibility that Germany's steady climb to the top originates from its exceptional institutional standpoint of crypto as a lasting investment plan for savers. Based on this information, Germany may blaze a trail as the most likely winner in Q2 2022 because this is an area that most nations have failed to incorporate. What's more, Sparkasse is on the brink of allowing enhanced crypto transactions. That boils down to a more convenient and friendly environment likely to keep Germany on the top.
Binance seeks regulatory approval
Binance, one of the world's successful crypto exchanges, is on a mission to expand its global reach. As a result, they seek regulatory consent to operate in Germany, the Company Founder Changpeng Zhao announced at an event recently. Currently operating in Dubai, Abu Dhabi, Bahrain, and France, Binance now targets larger global marketplaces. 
An earlier collaboration with AMF (Autorité des Marchés Financiers) as a digital asset service provider in France put Binance on the map. Still, a license with one of Europe's robust economies could open doors for the brand in other parts of the continent. Meanwhile, Changpeng highlights that the team is still negotiating with regulators. However, even before the head-on, Binance is optimistic and has already started recruitment for the compliance team in Germany.
No tax on Ethereum and Bitcoin sold one year after possession
Barely a month ago, the BMF (Federal Finance Ministry) issued the first guidelines on new crypto income tax rules and blockchain tokens. The document applies to several aspects of crypto issues concerning the country's income law tax. The most favorable facet of the document is that the sale of attained cryptocurrencies (for more than a year) is now tax-free.
Katja Hessel, the parliamentary State Secretary, sensitized that the guidance also covers digital assets used in lending and staking protocols. In the past, investors had to hold on to staking cryptocurrencies for more than a decade before tax exemption. That's a thing of the past with the new BMF laws.
Sparkassen set to launch a Bitcoin trading feature
Sparkassen is a prominent market leader in the country's financial institutions running for centuries. Currently, they boast over 50 million clients and 370 branches across Germany. Stakes are high that Sparkassen may introduce a bitcoin trading feature before the end of the year. The novel idea may slash down intermediaries in the industry. Moreover, Sparkasse customers may finally trade from personal checking accounts. A report made on Finance Forward indicates that Sparkasse is in its final stages before implementing the new service. More on this, a devoted team put the last pieces together at the Deutsche Sparkassenverlag, the center for DSV Group. The team focuses on developing payment solutions for corporate and private customers in the interim.
Stern, a popular news outlet, reports that the entrance of financial institutions in the Bitcoin market targets a broader audience ever reached in the nascent sector. If approved, Sparkasse investors would instantly access bitcoin trading straight from their checking accounts. Furthermore, with fraud and custody issues hampering crypto adoption in most counties, Sparkasse customers may not have to undergo rigorous processes when authenticating for a crypto wallet. Even more impressive is that Sparkasse is also weighing options on providing custodial services through cryptocurrency wallets. Offering such essential services is a considerable landmark that places Germany way above the rest.
FAQ Germany's crypto scene
How safe is Bitcoin trading in Germany?
The financial services industry in Germany recognizes wallet providers and approved cryptocurrency exchanges. The German Banking Act permits financial institutions to have crypto custody even with no specific regulations. The easiest way to trade Bitcoin is by cryptocurrency exchanges. Germany offers several exchanges based on clients' preferences and requirements.
What is the best app to buy Bitcoin within Germany?
Paxful enables users to buy bitcoin with over 300 different payment methods. The most preferred options include PayPal, Sofort, GooglePay, ApplePay, bank transfers, and Skrill.
How safe is Binance?
Binance guarantees safe exchanges through two-factor authentication. They also offer reduced transaction rates, which magnetizes high volumes of crypto traders.
Bonjour! Find the best way to buy bitcoin in France with various methods. Read this guide now to find out where to buy bitcoin in France. How to buy b...
Sometimes when things come along that are brand new and generating quite a buzz, like the metaverse, it's often as useful to know what they aren't...
Sponsored
Decentralized Finance, also known as DeFi, has experienced rapid growth in recent years. This innovation combines the best of blockchain techno...