Crypto communism – Not for the people?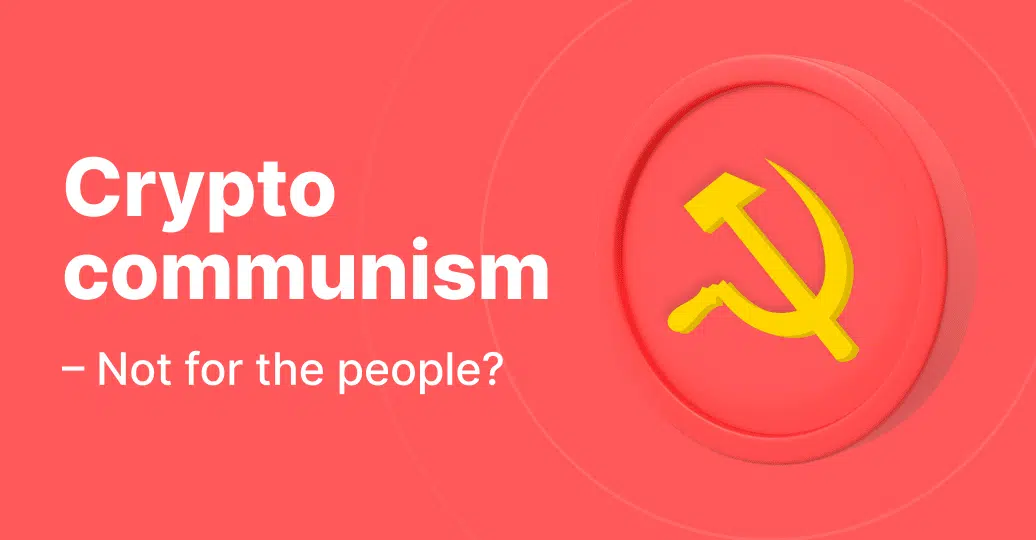 In many countries, the uptake of cryptocurrency and the Blockchain has been fast and extremely popular. Around the world, the increase in crypto adoption between 2012 and 2021 was considerable, sending the price of Bitcoin up by 540,000% in this time period. However, the same has not been true in communist countries, such as Russia and China. 
In recent months, as China tightens crypto sales laws in the aftermath of the Terra, a new blockchain protocol that promised financial innovation, yet fell at the first hurdle, the country took a hard line and started a new crackdown. This comes in the context of Terra's companion token falling from $80 to just a few cents in May and tighter global scrutiny on crypto. 
Meanwhile, draft legislation in Russia to allow a year-long amnesty on crypto taxes and customs regulation was recently scrapped in the country, in favor of stringent regulation on crypto mining. 
However, as Russia, in part due to sanctions for their assault on Ukraine and subsequent war, is short on options for international payments, whether they like it or not, crypto may be their answer. Back in March, Russia was cut out of the SWIFT international payments system. SWIFT, the Society for Worldwide Interbank Financial Telecommunication, left the country with little means of international payment, besides crypto which doesn't have borders. 
In fact, the respective governments in several of these countries have said that while they are open to the use of crypto, this may be limited. This, to those who have already seen the adoption of crypto in some other countries, indicates a preference for CBDCs or Central Bank Digital Currencies. 
Central Bank Digital Currencies, such as the e-Naira (the CBDC of Nigeria), are not cryptocurrencies, however, can be traded against stablecoins, such as USDC or USDT. They allow countries to keep control of a digital currency while hosting it on the blockchain, the same system that many cryptocurrencies are traded on. 
Why only allow citizens to use CBDCs?
Many of the countries looking to restrict their citizens to CBDCs are communist countries. Given that an element of communism is to control wealth and property, the idea of a decentralized network where no one is in control is directly in contravention with their ideals. The way that countries following this ideology can control digital currency is through CBDCs. 
Previously, Russia attempted to launch the digital rubel (just before invading Ukraine) and China has been trialing a Digital Yuan wallet since 2020. Both seemingly launched these currencies in the middle of major crises in their countries, perhaps in an attempt to either distract from problems or an attempt at creating stability. Otherwise, to provide some control over digital currency. The US sanctioned Russian crypto miners early on in the Ukraine conflict. 
Nevertheless, neither seem keen on the wider blockchain, with China's crypto crackdown resulting in a mass emigration of those running mining operations to parts of the US. 
So it's not like these countries haven't already tried to produce a viable digital currency besides their national legal tender. However, they are still to adopt the wider blockchain ecosystem, something which it looks unlikely that they will do any time soon. Here are some more examples of communist countries and their attitudes to digital currencies.
North Korea
A country famed for its hacking of crypto wallets in order to fund its nuclear missile program, North Korea came top in Coincub's countries with the most crypto crime recently. Given that much of this crime is state-sponsored, this makes their ranking appear much worse.
Their neighbors, South Korea, while not communist themselves, have launched a CBDC, however, North Korea seems more focused on taking advantage of crypto for fraud and funding their nuclear ambitions. 
However, a common pattern is that their use of crypto is far from the benefit of their own citizens, focused rather on using blockchain technology to further the agenda of the government.
Cuba
Cuba, however, has been far more open to the use of cryptocurrency in the country. While businesses wanting to transact in cryptocurrency do need a license, there has been an increase in the use of cryptos for everyday payment, despite its tendency to change price drastically from minute to minute. This is largely due to the embargo placed on Cuba by the US during Trump's presidency.
The sanctions have stopped many Cubans from processing regular transactions on e-commerce websites, such as eBay or Amazon, while also placing a ban on international money transfers using services like Western Union. As such, citizens of Cuba have resorted to using cryptocurrency for the transfer of funds to others internationally, while also having to do much the same for global business transactions. 
The central bank in the country has licensed some crypto services since April of this year. Giving out one-year licenses, subjecting those who are licensed to certain regulations from May. However, as of yet, there is no CBDC in sight. Unlike other communist countries, their approach seems to be crypto first, rather than a CBDC, however, it could be argued that they have bigger issues to deal with currently. 
Laos
Laos's central bank is partnering with Soramitsu, a Japanese blockchain provider, to carry out a study to work out the potential and viability for a CBDC in the country. The Japan International Co-operation Agency is working with Laos's central bank, Bank of the Lao P.D.R, along with Soramitsu, to develop the project, however, whether the country can produce a viable CBDC is still uncertain. 
In regards to cryptocurrency, Bank of the Lao P.D.R has licensed two cryptocurrency exchanges in the country in early 2022. The first is Laos Digital Assets Exchange. This is a joint venture between the AIF Group and the Phongsupthavy Group and the AIF Group. Meanwhile, Bitqik is the second licensed exchange in Laos, a subsidiary of Simuong Group. Nevertheless, a fairly limited choice for citizens of Laos. 
A permanent CBDC may be established in the future but for now, they are just testing it out with the help of commercial partners. Neither is there a great choice for cryptocurrency, however, there may be more choices in the future.
Vietnam
In July 2021, it was reported that the Vietnamese government instructed its central bank, the State Bank of Vietnam, to conduct a trial for a CBDC, over the following two years. As part of a strategy to create a "digital government" by 2025, they want to develop their own CBDC and have enlisted the help of Soramitsu, the same company used in Laos, to do this, according to Ledger Insights. 
Soramitsu, in fact, is supporting studies in a number of different countries, including Laos, Vietnam and the Philippines, to launch CBDCs. 
Vietnam, however, has had a steep adoption of crypto. Being ranked second in the world for value of all cryptocurrency transactions, while 6.1% of the country's population (around 5.9 million people) own cryptocurrency. Meanwhile, 59% of the country's citizens say they are interested in cryptocurrency investment. 31% say they would use them for retail payments, so would likely be open to a CBDC.
So, what next?
The introduction of CBDCs in communist countries is equivalent to dipping their toes in the blockchain waters while maintaining control, a key element of communism. For crypto enthusiasts, this could be disappointing but nevertheless, blockchain technology does seem to advance in this particular use case. Some of the countries discussed above are more open to crypto, perhaps indicating a quicker path to a viable CBDC but this is no guarantee. 
CBDCs are most appropriate for countries that have barriers solved by the blockchain in their own financial systems, however, as an introduction to the blockchain in communist systems, CBDCs may just be the way.
Bonjour! Find the best way to buy bitcoin in France with various methods. Read this guide now to find out where to buy bitcoin in France. How to buy b...
Sometimes when things come along that are brand new and generating quite a buzz, like the metaverse, it's often as useful to know what they aren't...
Sponsored
Decentralized Finance, also known as DeFi, has experienced rapid growth in recent years. This innovation combines the best of blockchain techno...