Brazil leads the way in bitcoin adoption: government approves comprehensive regulatory framework for virtual assets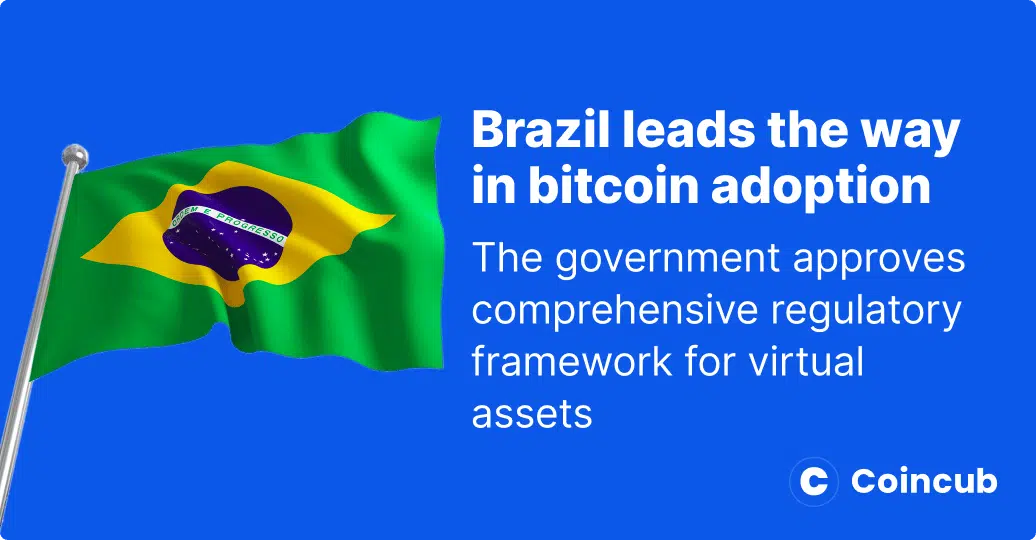 Hey Coincubs!
Ah, the dreaded bitcoin winter. The time of the bitcoin halving cycle when the bitcoin world supposedly freezes over and all hope is lost. Or at least, that's what the naysayers would have you believe. But fear not, dear Cubs, because it turns out that most countries, including Brazil, are not at all banning bitcoin or shying away from it. In fact, they're embracing it and strengthening regulation, which will only serve to make bitcoin and other virtual assets even stronger. So pour yourself a hot cup of cocoa, curl up by the fireplace (or radiator) and let's take a closer look at what just happened in Brazil this week.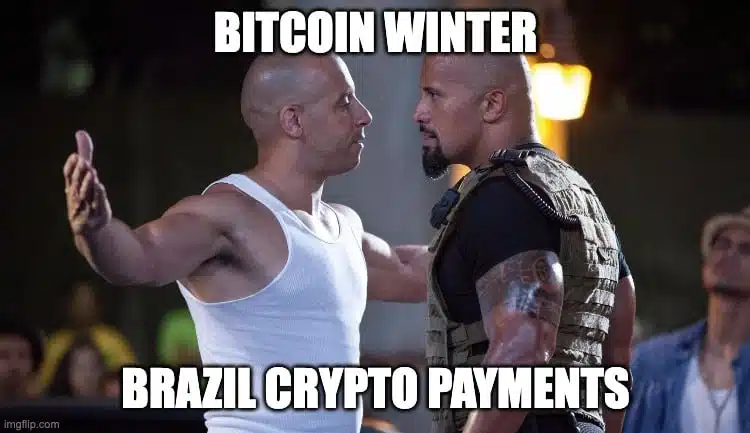 Get ready, Brazil: cryptocurrency is officially a 'thing' in the South American nation
Brazil is officially going deeper into the bitcoin rabbit hole! On Tuesday evening, Brazilian lawmakers voted to approve a complete regulatory framework for the trading and use of cryptocurrencies in the country. The Brazilian President, Jair Bolsonaro, has officially signed a bill into law that regulates the cryptocurrency industry in the country. This means that bitcoin and other virtual assets can now be used as a means of payment and as investment assets in Brazil.
While the new rules don't make bitcoin or any cryptocurrency a legal tender in the country, they do set the stage for more day-to-day usage in financial transactions. In fact, Brazil has already seen more of its citizens trade coins like bitcoin than invest in the stock market.
Under the new regulations, service providers like exchanges will be required to follow specific rules to operate in Brazil. These entities, which are defined as those who provide cryptocurrency trading, transfer, custody, administration, or sale on behalf of a third party, will need explicit authorization from the government to operate in the country.
Brazil is not so hot on bitcoin mining though
But it's not all good news for the cryptocurrency market in Brazil. During Tuesday's vote, a clause that would have cut some state and federal taxes on purchases of bitcoin mining machines was rejected. And a provision that would have required cryptocurrency service providers to separate their own funds from those of their customers (to prevent situations like the one that occurred with FTX, where user funds were mixed with the company's funds) was also rejected.
So what does the future hold for cryptocurrency in Brazil? The Central Bank of Brazil has announced plans to launch a central bank digital currency (CBDC) in 2024, following a closed pilot program. The CBDC is expected to encourage banks to tokenize their assets, resulting in efficiency gains and potentially improving settlement, auditing, and funding costs. The International Monetary Fund has given feedback on the proposed CBDC model and noted its ease of implementation.
It's an exciting time for cryptocurrency in Brazil, and the new regulations provide a solid foundation for the market to continue growing and evolving. Whether you're a seasoned crypto pro or a complete beginner, it's worth keeping an eye on developments in the South American nation as it continues to embrace this innovative technology.
Brazil's new crypto regulations provide a solid foundation for the market to grow and evolve
It's worth noting that the new legislation in Brazil recognizes bitcoin and other virtual assets as a means of payment and investment. It also tasks the executive branch with selecting government bodies to oversee the market. The Central Bank of Brazil (BCB) is expected to take charge when bitcoin is used as payment, while the country's securities and exchange commission (CVM) will act as a watchdog when it is used as an investment asset.
Brazilian President @JairBolsonaro has signed into law a bill regulating the crypto industry in the South American country.@RodrigoTolotti reportshttps://t.co/UTUX3jui2r

— CoinDesk (@CoinDesk) December 22, 2022
It's clear that Brazil is taking a proactive approach to regulating the cryptocurrency market within its borders. By establishing rules and guidelines for the use and trading of virtual assets, the country is setting the stage for further adoption and integration of cryptocurrency into its financial system.
But it's not just the government that's getting involved in the crypto scene. Brazil has a vibrant cryptocurrency economy, and it's likely that the new legislation will only serve to further stimulate growth and development in the sector. With more and more people using bitcoin and other virtual assets for everyday financial transactions, it's likely that we'll see an increase in the number of businesses and merchants accepting cryptocurrency as a form of payment.
Looking to get into crypto or set up a web3 business? Brazil might be a good place to be, with clear regulations and a central bank digital currency on the horizon
So what does this all mean for the average person on the street? Well, if you're a Brazilian resident and you're interested in getting involved in the cryptocurrency world, now is the time to do it. With the government's blessing and a clear regulatory framework, it's easier to buy, sell, and use bitcoin and other virtual assets in Brazil.
And even if you're not a Brazilian resident, the country's embrace of cryptocurrency is definitely worth keeping an eye on. As one of South America's largest and most influential economies, Brazil's adoption of virtual assets could serve as a blueprint for other countries looking to follow suit.
In the end, it's clear that Brazil is taking a big step forward in the world of cryptocurrency. With new legislation in place and plans for a central bank digital currency on the horizon, the country is well-positioned to continue leading the way in adopting and integrating this innovative technology.
Sometimes when things come along that are brand new and generating quite a buzz, like the metaverse, it's often as useful to know what they aren't...
Which continents lead the way in crypto adoptions, and which are falling behind? Do continents display individual traits and characteristics? And is ...
In this book, we've cautioned against holding large amounts of money in online exchanges. The reasoning behind that has a long and storied history o...