Why crypto market is down today: August 2022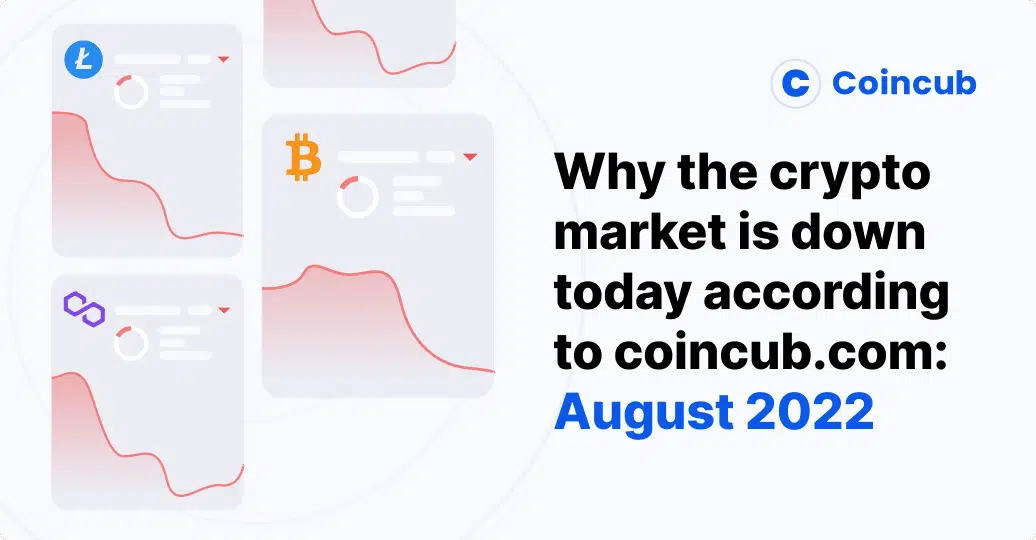 It is not only in the crypto scene that things look wobbly. The world is in dire straits as inflation soars, recession looms, interest rate spikes, stock markets collapse, and living costs bite hard. All this adds up to a full-fledged bear market, marred with declining economic growth and continuous crypto market crashing. 
Why is the crypto market down despite several attempts to save the day? According to experts, the meltdown is one of the negative consequences of the bear year. The fall has not only thrown millions of die-hards into a frenzy but has also stifled global economic growth. Unfortunately, with stablecoins like Bitcoin now skating on thin ice, is there any hope for a quick recovery? Let's dig deeper into why the crypto market is down today.
What happened to the crypto market?
Most cryptocurrency investors were ecstatic last year when Bitcoin reached its all-time high of $69,000 in November 2021. In general, the year 2021 reflects a fantastic trading season. Aside from Bitcoin's success, Ethereum launched the famous EIP-1559, which revolutionized the estimation of gas and transaction fees. New DeFi 2.0 protocols and the increased popularity of NFTs pushed the tide higher. The season's apex was increased regulation as several crypto lobbyists entered the market. 
In September 2021, Gary Gensler, Chairman of the Securities and Exchange Commission (SEC), delivered a speech on the subject. He announced an initiative by the agency to regulate and register more cryptocurrency exchanges. Moreover, he mentioned an upcoming collaboration with the Commodity Futures Trading Commission to reduce cryptocurrency scams. These regulations are undoubtedly critical in increasing market stability, protecting investors, and discouraging fraudulent activities. More importantly, they provide clear guidance on how crypto companies can innovate more in the industry. 
Sadly, the crypto market fell below the $2 trillion mark at the start of 2022. Even after a modest recovery in April, the industry continued to plummet, with Bitcoin losing 70% of its value by June 2022. Some tokens, such as Avalanche, Solana, and Dogecoin, also experienced an almost 90% drop. Above all, Luna and Terra's capitalists watched their investments fade over the horizon around the same time. 
A CNBC report on 3rd August further gives a bleak picture of the current situation. Here, we learn about the fall of Nomad, a crypto startup where hackers stole approximately $200 million. Another setback struck the industry in August when unknown scammers siphoned more than $5.2 million in digital coins from wallets linked to the Solana blockchain. The company confirmed the attack, stating that nearly 8000 wallets suffered the fate.
These unfortunate incidents instill great fear in investors as they assess the market's safety. It is important to note that crypto held in wallets and exchanges does not have the benefit of FDIC insurance. As a result, traders should only trade on platforms with reliable safety protocols. With this in mind, there is no doubt that the industry struggles between a rock and a hard place. After all, staying afloat in the face of hacking possibilities and numerous uncertainties is not easy. 
Whatever the case, a lot has happened in the crypto corridors in the last few months. Experts attribute the massive drop to commodity lockdowns, rising inflation, elevated interest rates, supply chain disruptions, and the ongoing conflict in Ukraine.
How long the crypto market will be down?
As the Federal Reserve plus other central banks implement new monetary policies, the future of cryptocurrency remains uncertain. The stakes are so high that the crypto market crash could last long. Early in the month, Sir Jon Cunliffe, Deputy Governor (Financial Stability) at the Bank of England, warned of difficult times ahead through Reuters. Jay Powell, Chairman of the Federal Reserve, also applauded the policies since they provide convincing evidence of falling inflation. 
All in all, if the world manages to combat inflation, crypto may be able to pull through after all. Some coins may vanish into thin air, while others may dominate the industry and provide impressive returns to early adopters. More on this, the European Central Bank calls for more regulations if the industry aspires to stand on its feet again.
In a May Bloomberg African Edition, the bank stated that the drastic crypto growth might dictate an incoming financial stability risk. Also, the bank suggests that the European Union should urgently approve one of its regulations known as MiCA. Christine Lagarde, the Bank president, added, "Although some crypto promises are merely illusions, the industry should take additional steps to mitigate financial stability risks through regulatory measures".
When Moon – hmm when will the crypto market go up again?
Industry professionals determine the market value of cryptocurrency based on demand and supply. As a result, if demand exceeds supply, the price and value may escalate. Nonetheless, some industry maestros disagree on when crypto, particularly Bitcoin, will rise again. Despite the ups and downs, there is a chance that Bitcoin will reach $100,000 before the end of the year. According to the Labor Department's Consumer Price Index, soaring inflation fell by 8% in July, causing Bitcoin's price to rise to more than $24,000 in minutes.  "With these figures, Bitcoin may break out of its current league sooner than expected," said Edward Moya, a senior market analyst. 
Do not, however, count the chickens before they hatch. Since cryptocurrency has a history of frequent volatility and uncertainty, the war is far from over. This is no news for a relatively new industry without specific user sentiments or government regulations.
Crypto's future is still bright
While some experts swear that crypto may bounce back by the end of the year, others believe it will recover sooner. In a nutshell, don't lose faith in the process but start it on the right note. Investing in Bitcoin is one of the easiest ways to increase your winning chances. Thanks to its high liquidity, you can switch it for money or assets such as gold at an incredibly low fee.However, the United States Federal Reserve has a huge role to play during the next meeting in September. The idea is to find a way around inflation by creating strategies that plunge the world towards the bear market and a better trading environment.
Bonjour! Find the best way to buy bitcoin in France with various methods. Read this guide now to find out where to buy bitcoin in France. How to buy b...
Sometimes when things come along that are brand new and generating quite a buzz, like the metaverse, it's often as useful to know what they aren't...
Sponsored
Decentralized Finance, also known as DeFi, has experienced rapid growth in recent years. This innovation combines the best of blockchain techno...