The Coincub's crypto continent ranking for 2022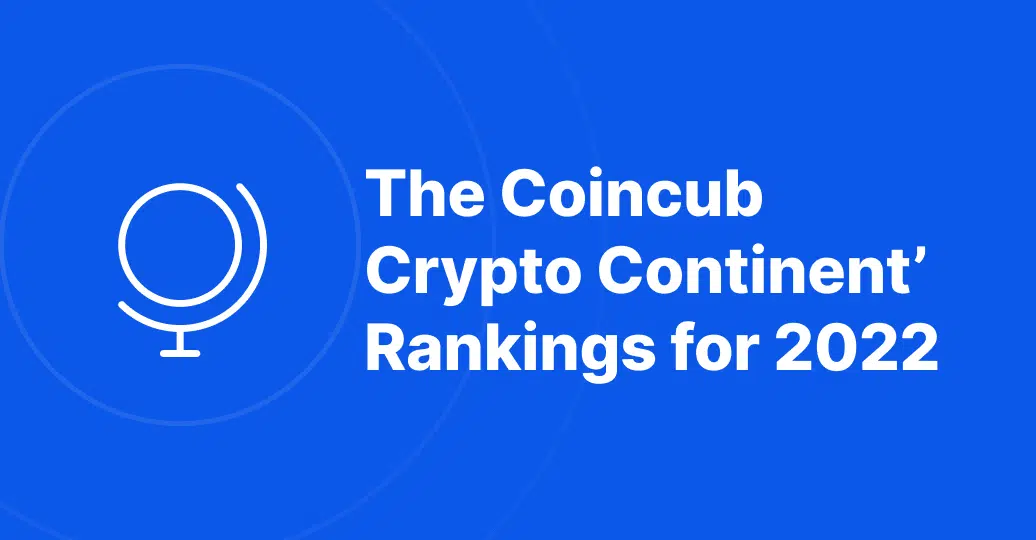 Which continents lead the way in crypto adoptions, and which are falling behind? Do continents display individual traits and characteristics? And is China pulling down Asia in the crypto race?
North America is the world's top crypto continent
North America takes the top spot as the leading crypto continent in the latest 2022 Coincub world crypto rankings with a score of 7.8. North America accumulates its score for the overall wide adoption of cryptocurrency, along with broadly complementary legislation and high scores for trading volumes and Bitcoin nodes within both the USA and Canada.
Moving America upward is the announcement by President Biden of a series of measures to strengthen consumer protection along with cohesive anti-money laundering legislation. Canada is also a top ten crypto-ranking country with a keen interest in promoting blockchain technologies. Gaining extra scores for America is the fact that Fidelity, a world-leading pensions and savings group has recently taken the huge step of allowing cryptocurrency to form a hefty (25%) part of the investment planning for the numerous company pension plans it manages. Having a leading investment institution allowing crypto as part of retirement planning gains high scores in the Coincub ranking.
The second place goes jointly to Oceana and The Middle East with 6.5 apiece. However, as with North America, Oceana and the Middle East have far fewer countries to skew their ranking scores. Australia has a highly enthusiastic crypto population as well as a positive government strategy that feels it important to take the lead over crypto and blockchain development in order to give itself, some form of independence over its payments systems. In joint second place is the Middle East, largely led by the belated crypto enthusiasm of UAE which has overturned its previous reticence about cryptocurrency and is now positioning itself to become the Middle East's leading crypto and blockchain economy. A number of progressive measures include widespread promotion of blockchain companies and a potential zero tax policy on gains.
Why Europe is only fourth?
Next comes Europe in third place, which may surprise people, but the European continent has to take into account a far higher number of relevant countries contributing to its overall scores, each at its own stage of crypto adoption and most with established financial sectors and governments each looking to proceed at different speeds and with lesser or greater degrees of enthusiasm. In most European countries, prevailing tax laws are inadequate or unclear and central banks are far from happy with unregulated crypto growth. (Unbridled crypto enthusiasm tens to manifest itself in African or South American countries which see cryptocurrency – as a panacea to persistent problems such as low banking affordability and, in the case of Argentina, high inflation.) Also, whilst, the EU has issued community-wide Directive 5 to deal with money laundering fraud, countries in Europe also have conflicting or unharmonized crypto strategies, or consolidated consumer protection policies. Euro-wide regulation over exchanges and virtual asset services providers tends to center purely on concerns over money laundering and fraud.
Crypto tax havens
Europe also contains a number of small so called 'crypto-tax havens', namely, Malta, Cyprus and Portugal, which would suggest that these countries are booming crypto economies, but in reality, tax advantages do not rate very highly in the Coincub rankings. Very often such tax breaks are incentives only to professional investors or wealthy businessmen and do not spread through to the economy as a whole. Clear regulation and progressive policies, such as those apparent in Germany, for example, lead to investor confidence and also reassure the established financial institutions that crypto is something they can associate themselves with. A government's willingness to invest and support blockchain technology and start-up companies also gains high ranking points, therefore a booming blockchain community rates higher in category points than simply low tax.
That said, the single top ranking crypto country for the world in Q1 2022 was Germany. Other top-ranking European countries include Switzerland, Netherlands, and France, which are all in the top ten of individual country rankings. However, Europe as a whole is held back by a number of countries that remain crypto laggards and these include Russia, which currently has a ban on spending crypto for goods and services – at least for individuals. Ukraine, for obvious reasons, loses ranking points having had its highly advanced blockchain community and crypto economy decimated by the war. There are also several other countries whose crypto economies are insufficiently regulated, such as Cyprus and Greece, or lack the progressive policies needed to create confidence within the crypto community, such as Denmark or Belgium.
Asian dynamism
The Asian continent, coming in at number five with a score of 6.1, comprises a number of rich and dynamic economies that have taken crypto to heart and which score highly in their own right as individual crypto economies. Leading the way as individual crypto powerhouses, were Hong Kong, Singapore, China, and Vietnam whose hi-technology economies and thriving fin-tech communities were fully engaged with crypto trading. These countries also had widespread crypto activity among the population which is keen on trading bitcoin and game-playing for crypto rewards – plus, inevitably, a substantial number of crypto frauds too. Singapore, a major financial hub in its own right, was formerly the number one crypto country on the Coincub rankings for Q4 2021, gaining high points across all categories from government outlook to trading volumes, blockchain adoption, and government policies. However, things have changed in Asia over the last year, most notably in China. China, despite the ambivalence of its government towards crypto, was formerly the number one mining country in the world; responsible for some % of the world's bitcoin mining volumes in 2021. It also had – and still has – a huge population keen to trade bitcoin. The Chinese government, out of all the Asian countries, is the one that has most regularly blown hot and cold on Bitcoin imposing bans and then relinquishing them in close proximity throughout the last five years or so. Currently, the country has a firmly controlled ban on cryptocurrency trading, including its use in buying and selling goods and services. Hitting the headlines, of course, was China's total ban on mining, which saw the country's bitcoin mining drop from the world-leading % mentioned above, to zero almost overnight. Conversely, prior to this latest ban, China was, and still remains, a world leader in the development of a central bank digital currency CBDC – in this case, nicknamed the 'digital renminbi', and the ban on traditional cryptocurrencies such as Bitcoin may well be a tactic to drive its own population towards adopting its CBDC. China's negative take on unadulterated cryptocurrency adoption is also a lurking threat to Hong Kong's crypto ambitions as it increasingly finds itself being at odds with the mainland's policies. Hong Kong, listed at number six in the individual rankings, has a completely different crypto outlook to mainland China, including a recent set of progressive tax advantages for crypto traders, all of which may (or may not) have to be revoked when Hong Kong is subsumed within the mainland. The continent is still one of the most dynamic and forward-thinking in the world and both Thailand and Vietnam are both keen crypto advocates within thriving blockchain communities Thailand, in particular, has favorable tax laws for trading. At the moment, however, China remains a huge drag on the continent's ranking in Q2 of 2022. Nb Evidence has recently shown that China is now mining again, and this will now be reflected in our Q2 global ranking.
African Optimism
The African continent scores highly and meets sixth place, but to date, our ranking only takes into account South Africa, the Central African Republic, and Nigeria which are achieving rankable data. Prior to the current fall-off in bitcoin prices crypto and blockchain, adoption was growing remarkably. New crypto startups were springing up, and more Africans were using exchanges. This was matched by the increasing confidence of governments wanting to get in on the action.
Undoubtedly the most publicized event of the last period as regards Africa was the decision by the Central African Republic CAR to designate Bitcoin as legal tender. This was in the hope that it would transform the economy, mirroring the decision made last year by El Salvador.  The optimistic words of the CAR president, have to be tempered against the fact that CAR has very low internet coverage despite having the advantage of abundant natural resources. So perhaps mining may become its leading crypto activity, if not the ability for its citizens to use trade and crypto.
Nigeria is the first African country to launch a CBDC. Once again, just as with El Salvador, the IMF has not given the decision its heartfelt backing – to say the least. Nigeria on the other hand has gone along a more conservative route by launching its own central bank digital currency CBDC, the e-Naira, and a digitized version of the Naira but not by any means a 'full-on' cryptocurrency. The e-naira makes Nigeria the first African country to do this. Nb way over in Asia, China has also launched its own CBDC on its population, but with very mixed results. Nigeria is perhaps further ahead than most African countries on creating a strong all-around crypto economy, It has its own plans for a CBDC, and has pulled back from a previous ban on banks and virtual asset service providers VASPs. A growing number of crypto startups and blockchain organizations have come into being, most notably AfroFutureDAO and crypto internet browser, Brave, each partnering to promote the work of African web3 creators and project their work to a global audience.
South Africa's westernized economy offers plenty of crypto advantages for investors, with 7.1% of the population owning crypto. The South African Reserve Bank is also considering launching a CBDC (who isn't?) and the so-called digital rand has already undergone some testing in collaboration with the central banks of Australia, Singapore, and Malaysia. As we continue to see, CBDC is still a concept mostly, a concept under review around the world, and the jury still remains out on whether it can or will be suitable for widespread use once launched. It must be remembered, however, that despite the relative crypto progressiveness of Nigeria and South Africa, as individual countries on the last Coincub Country Ranking for Q1 2022, they only ranked at numbers 38 and 27 respectively. Much remains to be overcome on the African continent, the latest crypto prices plunge notwithstanding. Basic problems with infrastructure remain and governments need to consolidate their crypto strategies regarding security, taxation, and inward investment.
Latin fervor?
The South American continent ranks at number 7 with a score of 7.3 comprising countries such as Mexico, Brazil, and Argentina all having widespread popular demand for peer-to-peer crypto activity.  For Brazil and Mexico with large emigrant populations working overseas, the attraction of cryptocurrency is that it can be sent via mobile phones through online exchanges without the need for a formal bank account – which in the case of the poorest communities is unaffordable anyway. Whilst the growth of cryptocurrency as a means of exchange is a powerful incentive for the poorer communities in South America, in Argentina, crypto currency offers some form of sanctity for investors who have seen their savings eroded by a persistently high rate of inflation and economic uncertainty. This, of course, despite the recent price falls. Brazil, at one point, was on the verge of declaring Bitcoin as legal tender, but pulled back from that particular decision and wisely has put forward more initiatives to regulate the industry. Talking of legal tender, it fell to El Salvador to be the first country in the world to declare Bitcoin as legal tender – much against the advice of the International Monetary Fund IMF. In this case, the country sees Bitcoin as a means to galvanize the economy and place the country at the heart of South America as a crypto-financial hub headed by the proposed creation of 'Volcano City', a township that can rely on plentiful 'thermal energy' to meet the country's Bitcoin mining requirements. Whether El Salvador's ambitions are curtailed by the drastic price falls of Bitcoin and the collapse of supposedly safe stablecoins during the Spring of 2022, remains to be seen. The jury is very much out.
Continental Drift
When it comes to ranking continents we find consolidation over crypto in many areas overall, such as anti-money laundering laws or the growth of Bitcoin ATMs. However, many factors reflect entirely different national (and inter-continental) characteristics. Continents, overall, display markedly different approaches in their approaches and outlook towards the adoption of cryptocurrency and blockchain.
For the purposes of the Coincub rankings, we assess seven continents, North America, South America, Europe, Africa, Middle East, Asia, Australia/Oceana – omitting Antarctica. Despite the huge land masses involved and numbers of countries within each continent, they broadly share common strategies and hopes for crypto according to their geopolitical situation, cultures, and stranding within the world at large.
European countries on the whole share a basic conservatism, not to say pessimism, towards crypto whilst many, especially Scandanavian countries, are concerned at the waste of energy consumed by mining. The EU has drafted a number of Directives aimed at combatting money laundering and terrorist financing. In the UK, the Bank of England could find no real advantages with a CBDC over and above the traditional payments system. Tax laws regarding crypto trading across Europe are unconsolidated and mostly inadequate. That said Germany and Switzerland are keen to pave the way by meeting crypto head-on and legislating for it. Germany has given crypto the green light as a legitimate long-term investment play for the nation's savers and the Canton of Lugano has Bitcoin as legal tender. Despite this, many nations in Europe, perhaps as mature financial centers lack the 'crypto optimism' apparent in Africa and Latin America.
Bonjour! Find the best way to buy bitcoin in France with various methods. Read this guide now to find out where to buy bitcoin in France. How to buy b...
Sometimes when things come along that are brand new and generating quite a buzz, like the metaverse, it's often as useful to know what they aren't...
Sponsored
Decentralized Finance, also known as DeFi, has experienced rapid growth in recent years. This innovation combines the best of blockchain techno...