5 top crypto to buy in 2022 before market recovers – Bitcoin, Ethereum, Solana, Cardano and Dogecoin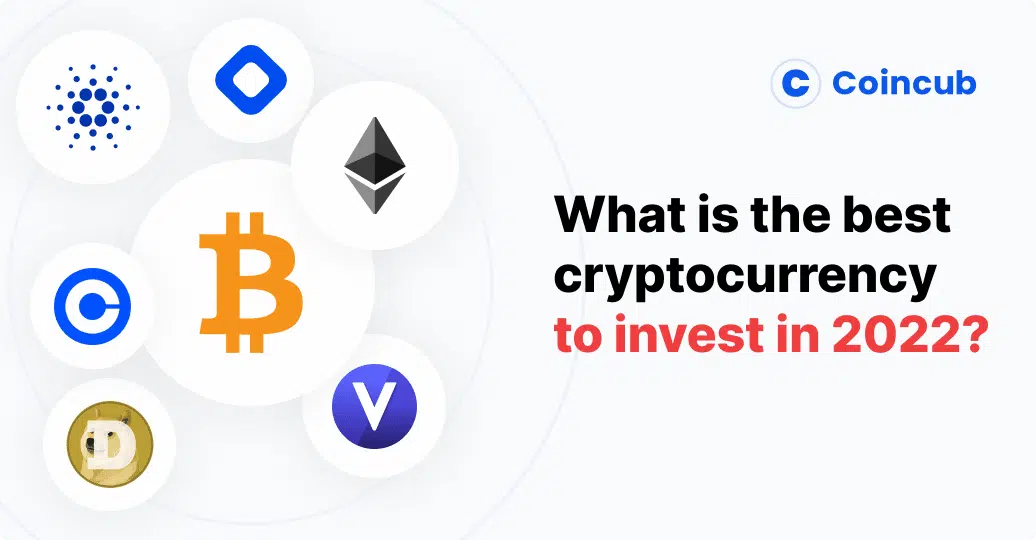 Before you dive in, this is not financial advice. We are just trying to answer the question of what is the best cryptocurrency to invest in in 2022. This usually raises usually some eyebrows, especially during a market downturn. But it might be the best moment to buy some stuff on the cheap. Nobody knows the future (except Jerome Powell of course) and these prices might seem high or low by Christmas, but if you think of investing here are some points to consider. There are like usual several new cryptocurrencies this year, but, you shouldn't probably risk all your savings before really understanding what you are doing (right?). New and trending does not equal profit. In this section, we will be considering what are some great crypto to invest in 2022 and where to buy them.
What is the best cryptocurrency to invest in right now
Let's give you a Q3 present, shall we? Here, we have put together a list of the top five best cryptos to invest in right now.
One of the most widely used cryptocurrencies is Bitcoin. It was the first blockchain-based money launched in 2009. Cryptocurrency investors have been attempting to determine which cryptocurrency is the next bitcoin or the best cryptocurrency to invest in; despite the recent emergence of a slew of new cryptocurrencies, BTC reigns supreme. Many cryptocurrency investors also favor bitcoin over other cryptocurrencies.
If you're thinking about what is the best cryptocurrency to invest in right now, Ethereum should be on your list. Smart contracts were initially introduced by Ethereum, which was the first major project to do so. Developers can use these smart contracts to build mobile and desktop decentralized apps (dApps) that run on top of the blockchain. The Ethereum network is home to various tokens, and it is these tokens that sparked the initial coin offering (ICO) frenzy. It is one of the best crypto coins to invest in 2022, and you should think about investing in it in August  2022 as the announced Merge in the autumn might give your portfolio a nice boost.
Want to add more to your portfolio? In August 2022, Solana is also one of the best cryptocurrencies to invest in. Its underlying blockchain network, like Ethereum's, serves as a platform for developers to create and host DApps. It is, however, still suffering teething issues, which have resulted in several outages. Nonetheless, its technology is gaining a lot of traction and is a top 10 crypto by CoinMarketCap.
Cardano is on our list of best cryptocurrencies to invest in right now. Cardano (ADA) hinges on the Ouroboros blockchain protocol, and it has been peer-reviewed. It's known to be a more secure and scalable means to keep decentralization alive. It has a multi-asset ledger and verifiable smart contracts, making it one of the best cryptocurrencies to buy right now. It's a technological platform that helps run financial applications in addition to being the hottest cryptocurrency on the market. It's one of the most promising cryptocurrencies to buy in August 2022.
Dogecoin (DOGE) was founded as a parody or meme cryptocurrency. Even though Dogecoin came into existence in 2013, its price only soared in 2021. Dogecoin was inspired by a Shiba Inu meme that became big on the internet at the time. Elon Musk, the CEO of Tesla, has spoken out on Dogecoin, which saw its value and popularity skyrocket before plummeting in the second part of the year. If the thing on your mind is what is the best cryptocurrency to invest in right now; many cryptocurrency investors are already placing bets on this cryptocurrency.
What is the best way to invest in cryptocurrency?
Buying cryptocurrencies is not a popular trend these days as it's seen as an unpredictable and hazardous investment. But if you want to get started here are some great ways to get started in crypto. 
Charity they say begins at home. If you're looking for what is the best way to invest in cryptocurrency, start with yourself. There are a variety of cryptocurrencies on the market with varying fundamental values. Advice for investors? They should know that cryptocurrencies might appear one day and vanish the next, rendering their investment useless. What's the solution? It's crucial to have a cryptocurrency investment strategy in place and understand how to limit your risk.
Beginner crypto investors should consider transaction costs, the types of cryptocurrencies accessible on a platform, educational materials, and other characteristics that align with their objectives. There are a lot of crypto exchanges at present. Binance, Coinbase, eToro, and Gemini, among others, aim to provide simple, safe, and easy-to-use platforms. They're most suitable for holding and trading crypto coins.
Before searching for what is the best way to invest in cryptocurrency, you need to consider how cryptocurrencies will fit into your overall portfolio. It's advisable to adopt a balanced approach to investing in crypto, dedicating just roughly 2% to 5% of your investment portfolio to the sector because of its volatility, which may trigger substantial price changes.
Crypto Exchange-Traded Funds (ETFs)
ETFs are popular financial vehicles that aim to get you exposure to hundreds of different investments in one go. As a result, they offer rapid diversification and are less hazardous than individual investments.
If you know what the previous paragraph means, search no more for what is the best way to invest in cryptocurrency. Cryptocurrency ETFs, which enable you to invest in many cryptocurrencies simultaneously, are in high demand. There are currently no cryptocurrency ETFs accessible for regular investors, but this may change soon. The Securities and Exchange Commission (SEC) is now considering three cryptocurrency ETF proposals from Kryptcoin, VanEck, and WisdomTree.
Invest in cryptocurrency-associated businesses
Thinking of more ways to invest in crypto? You should invest in cryptocurrency-associated businesses. If you want to invest in firms with actual products or services subject to regulatory control but still want exposure to the cryptocurrency market, you can purchase stocks of companies that utilize or own cryptocurrencies. Additionally, you can get the blockchain that enables them. To acquire shares of such public firms, you'll need an online brokerage account. Here are some interesting choices for you:
Nvidia is a graphics processor manufacturer firm that creates and sells graphics processing units (GPUs), which are the brains behind bitcoin mining rigs.

PayPal is an online payment service that gives customers the chance to purchase and sell various cryptocurrencies with their PayPal and Venmo accounts. It is a popular alternative for individuals buying things online or sending money to family and friends.
Best place to invest in cryptocurrency
Looking for the best place to invest in cryptocurrency? Here are our top three cryptocurrency exchanges and investing or trading platforms where you can buy cryptocurrency. 
Coinbase is one of the most renowned crypto exchanges. It allows you to invest directly in USD, has a large availability of cryptos like Bitcoin or Ethereum and you can earn additional interest on your USDT and token incentives by participating in different activities.
Voyager was one of the earliest publicly listed exchanges, making it a popular place to invest in cryptocurrency. What makes it one of the best places to invest in cryptocurrency? They operate through an app and have a commission-free trading platform. Not only that, Voyager accepts the most significant cryptocurrencies, has excellent customer service and interaction, and reasonable asset interest rates.
BlockFi is a crypto investing platform that allows you to lend your cryptocurrency and earn interest. Why is it one of the best places to invest in cryptocurrency? You can also borrow against your assets instead of selling your coins. If you have it in mind to keep your tokens, you can let them generate interest on their own.
Bottom line
Thinking of what is the best cryptocurrency to invest in 2022, what is the best cryptocurrency to invest in right now, and what is the best way to invest in cryptocurrency? Before investing in cryptocurrencies or specific firms, ensure you analyze your investment goals and present financial circumstances. Cryptocurrency prices can be incredibly volatile – a single tweet can send them plummeting – and it's still a precarious investment. It shows you should invest with care and attention.
Bonjour! Find the best way to buy bitcoin in France with various methods. Read this guide now to find out where to buy bitcoin in France. How to buy b...
Sometimes when things come along that are brand new and generating quite a buzz, like the metaverse, it's often as useful to know what they aren't...
Sponsored
Decentralized Finance, also known as DeFi, has experienced rapid growth in recent years. This innovation combines the best of blockchain techno...