Will bitcoin go up or down on Christmas?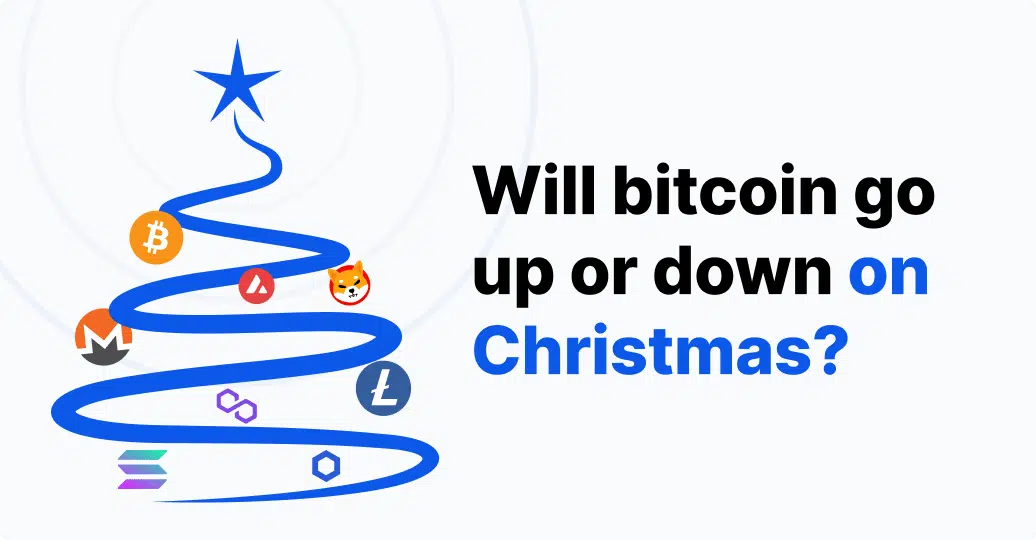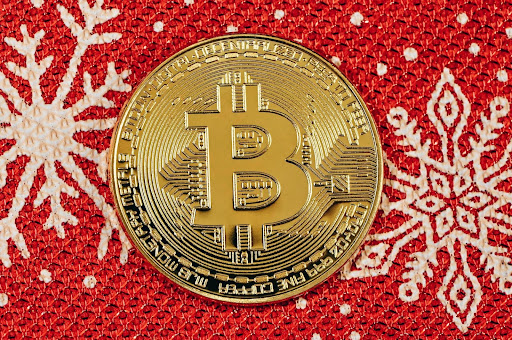 Will bitcoin go up or down on Christmas? Find out how the king of cryptocurrency will likely do this Christmas. Read more below.
Will bitcoin go up or down on Christmas?
Christmas is a time of joy and celebration. It is a time when you want to sit back, relax and enjoy all your hard work for the year. Naturally, you might want to even cash out from your crypto investments to have a little more money to spend with your loved ones. But, the cryptocurrency market can be extremely volatile: one minute you are planning on the next Lambo to buy, and the next minute, you are down so much you think you have lost it all.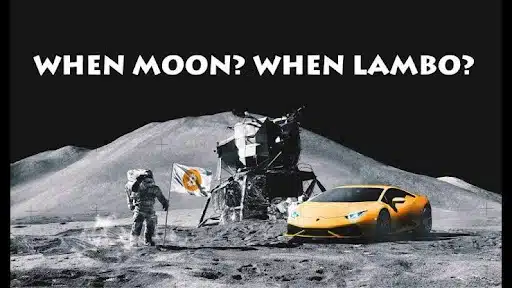 Well, we can all hope that bitcoin goes up this December so we can have some Christmas cash. Even if you do not want to cash out your bitcoin holdings, it will still be nice for you to see your investments throughout the year paid off. So, how do we know if bitcoin will go up or down on Christmas?
A good place to start is historical data. What do charts of the past say? Is December always a good time for bitcoin? 
How does bitcoin do in December?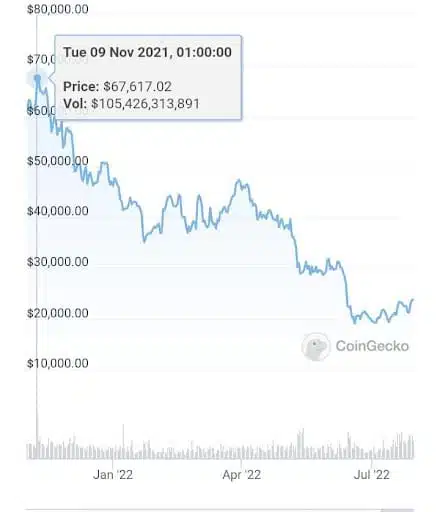 From this CoinGecko chart, we can see that bitcoin reached its ATH of $67,617 on November 9, 2021, just almost two months before Christmas. But did it go up even more for Christmas? No. It started going down. People thought it is just a normal correction in preparation for the holidays, but look what happened next.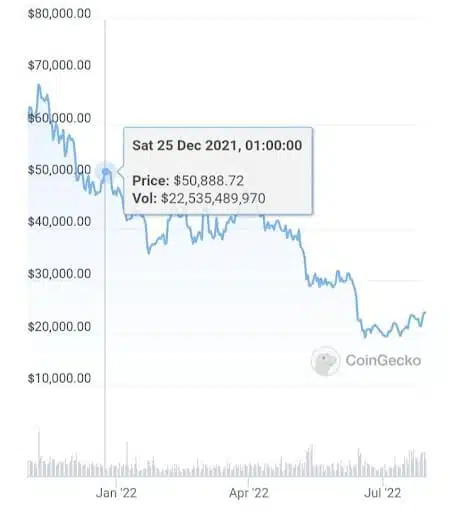 Bitcoin went further down! If you were holding 1 BTC in November 2021, you would have lost almost $10,000 of your investment. Crazy, right? Looks like Santa said no presents for crypto people last year. So, we can say bitcoin does not really do well in December.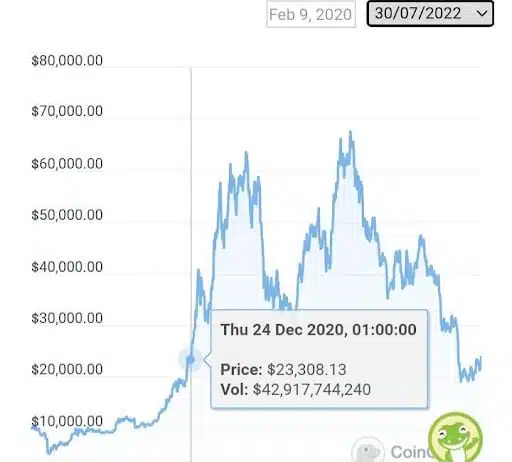 Here is a chart of bitcoin in December 2020. As you can also see, a price rally did NOT happen in December. Are you still confused about how does bitcoin do in December? Looking at the charts, we can say that crypto doesn't do very well in the last month of the year. But, will this Christmas be any different?
But, how about the earlier days of crypto? Crypto in general did well towards the end of the year, between 2015-2017. But, things started changing in 2018 when bitcoin entered into one of its longest bear rallies. In 2019, Christmas was red for a lot of bitcoin investors as the largest cryptocurrency let off a lot of steam as the year came to a close.
Will bitcoin go up for Christmas?
Last year, bitcoin and many other currencies reached new heights. You could even say that 2021 was one of the best years for crypto. But despite the bull run, we saw last year, bitcoin (and the entire crypto market) went on a downward swing and disappointed a lot of people.
In fact, you could say that the current bear market rally started right from when BTC hit that sweet spot of $67k+. Now this Christmas, many investors are wondering if they should expect a red Christmas or if will bitcoin go up from Christmas (a green Christmas). Ironically, these two colors are THE Christmas colors.
Glassnode does not think that we would see a price rally anytime soon. In one of its newsletters, the research outfit outline possible reasons why bitcoin might go up this year like bleak economic conditions and excessive leverage. 
"Against a backdrop of extremely challenging macroeconomic, and geopolitical turmoil, bitcoin is reaching peak investor saturation by high conviction HODLers, and it is becoming quite plausible that a genuine bottom formation could be underway." Will bitcoin go up for Christmas? It's not looking very possible.
Will bitcoins drop on Christmas?
Will bitcoins drop on Christmas or will bitcoin go up for Christmas? If you still believe that bitcoin could go up this Christmas, then this article from TIME might boost your faith a little. While it reads that $100k is still possible for bitcoin, BTC might not get there in December. So, it is likely that the price rally COULD happen before December, or at most before Christmas.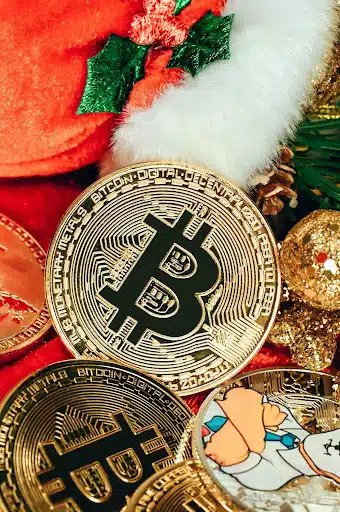 What does this mean for you? It means is it almost certain bitcoin will drop during Christmas, so if you want to cash in on your BTC, the best tie to do that will be before Christmas. Of course, we can not tell you exactly when this would happen. Like our CEO says, if we could accurately predict the market every time, then we would all be millionaires.
Will bitcoins drop on Christmas? Well, not like real bitcoins falling from the sky or anything but yes, bitcoin might drop in price this Christmas. A short user survey conducted by Benzinga shows that a large percentage of people do not even believe bitcoin will get to $40k! That is almost double its current price of $21,800.
Is bitcoin a good investment to hold till the end of the year? "Bitcoin has shown as steady a rise in value over the years as any other cryptocurrency on the market. It's only reasonable for bitcoin investors to be curious about how high it can ultimately go," says TIME.
So even if bitcoin does not do mad numbers this year, it will still guarantee you a decent return in the long run. Of course, we are not saying you should buy bitcoin because we said so, we are just giving our opinion.
Final thoughts on your bitcoin Cristmas
The cryptocurrency market can pop a surprise from time to time, so we can not really say 100 hundred percent if bitcoin would go up or down this Christmas. As a Bitcoin investor, you can choose to DCA till the leading cryptocurrency reaches an all-time high. Please note this article does not serve as financial advice and is only a research tool.
Bonjour! Find the best way to buy bitcoin in France with various methods. Read this guide now to find out where to buy bitcoin in France. How to buy b...
Sometimes when things come along that are brand new and generating quite a buzz, like the metaverse, it's often as useful to know what they aren't...
Sponsored
Decentralized Finance, also known as DeFi, has experienced rapid growth in recent years. This innovation combines the best of blockchain techno...