The Grim Reapers come for Do Kwon – South Korea's month in regulation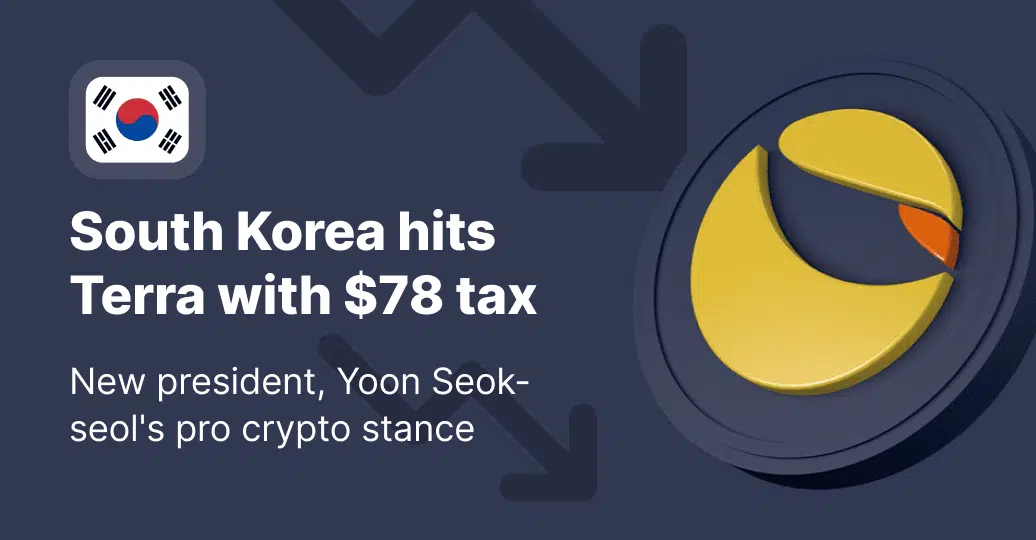 Summary
New president Yoon Seok-yeol is implementing crypto-friendly legislation
A leaked draft summary of the Digital Asset Basic Act (DABA) is a promising development for South Korea's crypto industry
Terra founder Do Kwon faces pressure from all sides as South Korean tax authorities hit him with a $78 million tax bill
DABA: a new era for crypto regulation 
Prior to his election, Korea's new conservative president Yoon Suk-Yeok promised voters that he would implement crypto-friendly regulation once in office. The biggest developments coming out of South Korea concern leaked information about the Yoon administration's proposed Digital Asset Basic Act (DABA), which provides a draft guide for South Korea's attitude towards crypto going forward. Details of the report were leaked to South Korean conservative news outlet Kukmin Ilbo, confirming that the Yoon administration is trying to push DABA through in 2023 so that enforcement begins in 2024. The Yoon administration confirmed that the leaked document is valid, but noted that it is not a final draft.
Highlights from the leaked DABA summary include:
The Yoon administration's plan to build infrastructure to boost investor confidence
The planned incorporation of virtual assets into the institutional system
A review of the Bank of Korea act that introduced a trial central bank digital currency (CBDC)
More virtual asset trading account issuers. Currently only four banks are authorized to provide real-name verification service and crypto trading accounts. If DABA is passed, that number will go up.
Inclusion of non-fungible tokens (NFTs) as virtual assets under the Virtual Asset Industry Act
An end to the the 2017 ban on ICOs
Stated intent to actively collaborate with the United States and the European Union on digital asset regulation
About face for Korea 
While there isn't much information on DABA circulating right now, things are looking up for South Korea's crypto industry. The Yoon administration's commitment to clear legislation that may provide a major boost to an already booming crypto economy. According to a study published late in 2021 by the Financial Services Commission, South Korea's crypto assets market is 55.2 trillion won, or around $44 billion, with nearly 5.58 million crypto users. The main exchanges in Korea are Upbit, Bithumb, Coinone, and Korbit. South Korea's crypto industry is large but mostly self-contained due to stringent regulation, though this may change as the Yoon administration attempts to integrate the country's digital assets regulation with that of the US and EU.
South Korea has a history of strict crypto regulation. Late in 2021, the implementation of Travel Rule shut down dozens of small cryptocurrency exchanges. The Travel Rule, implemented on March 25th, is a suite of guidelines that requires Korean virtual asset service providers (VASPs) to reinforce anti-money laundering measures, flagging any transaction over $820 and restricting the transfer any amount over that to verified wallets. The Travel Rule was issued by international watchdog Financial Action Task Force (FATF).
A possible freeze on crypto tax
Since he came into office on May 10th, Yoon has attempted to raise the tax threshold for crypto gains to 50 million won, or around $39,000. However, he is facing resistance from the National Assembly Research Service of South Korea (NARS) who stated in a recent notice that the tax threshold from crypto gains should be 2.5 million won, or around $1,980 with a provisional tax rate of 20%. New regulations on crypto taxes were introduced in December 2020 and set to take effect in 2022, but the implementation was pushed back a year to 2023 last December. Earlier in May, Yoon announced that his administration would defer taxation on crypto investment gains until DABA is enacted, likely until 2024.
Terra's Tax Blues 
Hot on the heels of Terra's crash, South Korea's national tax agency has hit Do Kwon and Terraform Labs with a 100 billion won, or $78 million, tax bill. According to a report in Naver news, Kwon attempted to liquidate his domestic holdings earlier in May and move to Singapore, raising suspicions that he was attempting to dodge tax. In June of 2021, the National Tax Service conducted an investigation into Anchor and Terraform Labs, which revealed that Kwon owned a 92% stake in Terra Singapore, the Singapore based arm of Terraform Labs.
According to South Korean corporate tax, the actual place of management (and therefore tax liability) determines the company's tax jurisdiction. Tax authorities were alerted to potential foul play when Terraform labs sent Luna from Terra Singapore to the Luna Foundation Guard (LFG) to dodge tax and make up for losses caused by the anchor protocol. Do Kwon has denied tax liability via tweet.
The Grim Reaper 
A special financial crimes unit, the Grim Reapers of Yeouido, was resurrected after 2.5 years to investigate the Terra crash and Do Kwon. Yeouido refers to the financial center of Seoul. The team was disbanded by previous president Moon Jae-in's administration. A report from SBS news confirmed that this is the first case the reformed joint financial and securities crime investigation team will cover. The team consists of 48 people, 7 prosecutors, and employees from the Financial Services Commission and the Financial Supervisory Service. Since it was established in 2013, the Grim Reapers of Yeouido opened 965 cases and arrested 345 people. The Yoon administration is clearly getting out the big guns. LKB & Partners, a law firm in South Korea representing Luna, UST investors filed criminal and civil cases against Kwon. Terra's in-house legal team resigned shortly after the Terra collapse.
Lee Ye-rin and Kim Dae-young at Munhwa reported that disgruntled Luna and Terra investors are going online to organize action against Do Kwon. The moderator for the "Terra/Luna Coin Victims Association" on Naver Cafe posted a notice stating that they plan to submit a complaint against co-founders Do Kwon and Shin Hyun-seong to the Seoul Southern District Prosecutor's Office, applying charges of fraud and violation of the Act on the Regulation of Similar Receiving Behavior. Users are also organizing in group chat rooms on Kakao Talk, with 16 dedicated chat rooms and 1,104 participants discussing further legal action. It's likely that Kwon will be hit with several suits.
Despite Luna's spectacular losses of nearly $42 billion, some South Korean speculators are purchasing massive amounts of the collapsed cryptocurrency. Regulators are concerned, with South Korea's Financial Services Commission warning investors against investing in Luna. According to the Korea Times, the ruling People Power Party held an emergency seminar with officials from the Yoon administration, the financial industry, and the government meeting to discuss urgent investor protections.
FAQ
When will DABA be enacted? 
We'll likely have to wait until 2024 for DABA to go through, if it goes through at all.
How much money did Terra lose? 
According to current estimates, the collapse of LUNA and TerraUSD (UST) cost investors around $42 billion USD.
Bonjour! Find the best way to buy bitcoin in France with various methods. Read this guide now to find out where to buy bitcoin in France. How to buy b...
Sometimes when things come along that are brand new and generating quite a buzz, like the metaverse, it's often as useful to know what they aren't...
Sponsored
Decentralized Finance, also known as DeFi, has experienced rapid growth in recent years. This innovation combines the best of blockchain techno...