United Arab Emirates crypto adoption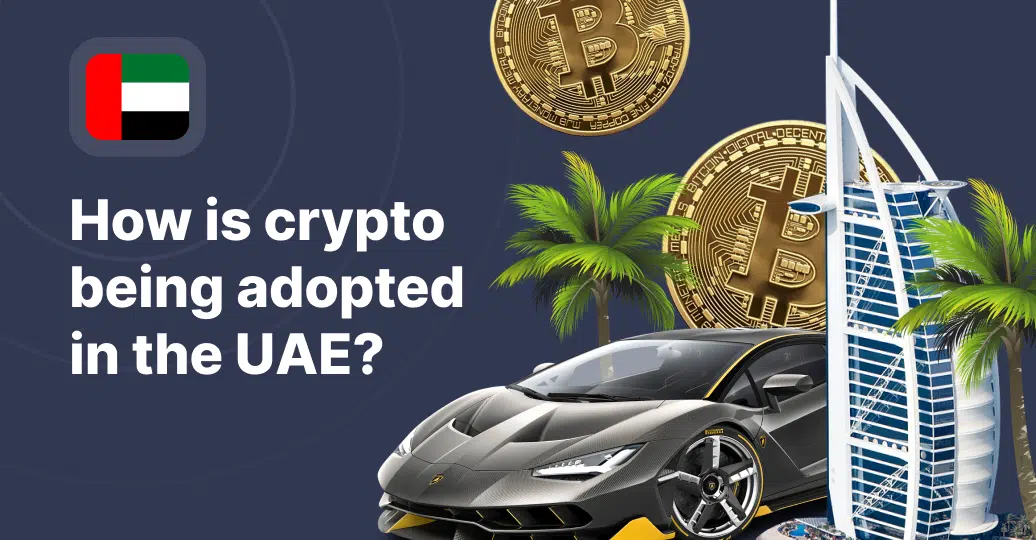 How has crypto been adopted in the UAE?
Summary:
– UAE has an investment tax rate of 0%, including cryptocurrency
– Differing Regulations in the Dubai International Financial Centre and the Abu Dhabi Global Market
– How to set up an OCAB in the UAE
– How will you be taxed?
– The future of cryptocurrency in the UAE
In another one of our crypto guides, we look at what the situation is for cryptocurrency in the United Arab Emirates. In this area of the world, there isn't, unlike some countries, one regulatory framework for the whole country.
There are several factors affecting those who wish to conduct a crypto activity, including trading, in the country. Firstly, regulations differ, whether you are in the country's "Financially Free zones" or not.
The country's main regulator, outside of those zones (more to be explained further down), is the Securities and Commodities Authority. This body, as recently as September 2021, put its support behind the trading of crypto assets, such as Bitcoin (currently worth almost 107,000 AED (Emirati Dirham). As such, people in the areas of the country covered by this main regulator can trade or HODL (Hold on for dear life) all they like, as of late last year.
This regulation covers the majority of the country, making regulation for the majority of people reasonably simple. However, coming back to those Free Zones, there are currently only two relating to financial services. These are the Dubai International Financial Centre and the Abu Dhabi Global Market, according to the website of the UAE Ministry of Economy.
They are, to a certain extent, self-governing, with their regulators – the Dubai Financial Services Authority (DFSA) and the Financial Services Regulatory Authority (FSRA) in Abu Dhabi. These regulators have their own rules on cryptocurrency-related activities, as detailed below.
Regulations in the Dubai International Financial Centre 
Up until October 2021, there had been little crypto regulation in this Free Zone at all. However, on October 25th last year, the regulator, the DFSA published a regulatory framework for cryptocurrency investment tokens.
This was the first framework of its kind in this area of the country and stipulated that any activity concerning cryptocurrency needed prior authorization from the regulator and yes, this affected individuals, as well as cryptocurrency exchanges.
Cryptocurrency investments fall into two different categories; securities and derivatives. The rules are different in these categories, however, these rules are still in development.
At the time of the announcement of the intention to regulate, Bryan Stirewalt, the Chief Executive of the DFSA, said:
"The proposal for the regulation of Security Tokens is a key milestone in paving a clear and certain path for those issuers who wish to raise capital in or from the DIFC using DLT and similar technology, and for those firms who intend to be involved in this market, by conducting or providing financial services."
His full statement can be found here.
Regulations in the Abu Dhabi Global Market
Regulations in this region are rather more developed, coming under the Financial Services and Markets Regulations 2015. These are kept in check by the Financial Services Regulatory Authority. However, the regulations put slightly more trust in those dealing with these virtual assets. The value of the assets being dealt with is left to market forces and the agreement between those selling and those buying. Rules for trading such assets can be found in the Conduct of Business Rulebook (COBS). These are particularly complicated, however, Thomson Reuters, the multinational media conglomerate, has published the full rulebook which can be found here.
The FSRA, in addition to the rulebook, produced a guide to specific cryptocurrency regulations, which is still thirty-four pages, indicating the complexity of the regulations. This can be found here.
There is one very clear thing, however, and that's what you need to do to deal with these sorts of assets in the area. The individual or business wishing to trade in crypto assets must have one of the following:
Be licensed or approved by the FSRA to trade in one or more of the accepted list of cryptocurrencies, as stated by the regulator.
Have OCAB status, entitling you to be "Operating a Crypto Asset Business".
The latter generally applies to exchanges themselves, negating the need for individuals to concern themselves with this. A guide on how to apply for approval under the former can be found here.
How to set up an OCAB in the UAE
Step 1: Fill in a Cryptocurrency license application form and send it to one of the Free Zones for consideration
Step 2: Submit details of shareholders (which can be just yourself), including a copy of your passport and pictures
Step 3: Produce a short business plan and some share capital to get yourself started with
Step 4: Find and rent an office space to your liking
Step 5: Make the necessary payments for your Crypto license and rental payments
Shortly after this, providing that there are no complications, your license should be approved, at which point you can apply for a residency visa if you don't already live in the Free Zone and open a corporate bank account to operate your crypto activity through.
We would, however, recommend consulting information provided by your chosen Free Zone before going ahead. While it's unlikely, changes to what you need to do to set up can occur at any time.
How much will you be taxed?
The tax policy in the United Arab Emirates is extremely appealing. If you have set yourself up as a crypto trading company, you can expect a tax rate of 0%. That's right, you did read that correctly. Just establish a tax-free crypto trading company and you do pay 0% tax.
If you don't set yourself up as a company, however, there is still very little taxation on crypto traders. In the UAE, a lack of any sort of income tax means that there is only one tax that, as an individual, you would have to pay. Value Added Tax, the country's only tax that would apply to you if you trade as an individual, is only five percent.
The future of cryptocurrency in the UAE
While nothing is certain in the world of the Blockchain, it is likely that, in the next year or so, consultations on regulation will be completed in all of the Free Zones and clearer regulations across all of the country implemented.
In a country that handles cryptocurrency and investments differently in some areas than in the rest of the UAE, regulation is still in development, making laws and taxes confusing, to say the least. However, their great tax advantages make it an appealing choice for where to set up shop, so to speak.
It remains to be seen how much any further regulation would affect the attitude to cryptocurrency in the country but judging by current regulations in the majority of the country, crypto traders may be in for an easier ride than expected.
Sometimes when things come along that are brand new and generating quite a buzz, like the metaverse, it's often as useful to know what they aren't...
Which continents lead the way in crypto adoptions, and which are falling behind? Do continents display individual traits and characteristics? And is ...
In this book, we've cautioned against holding large amounts of money in online exchanges. The reasoning behind that has a long and storied history o...