Top ten ways to earn cryptocurrency right now
Sponsored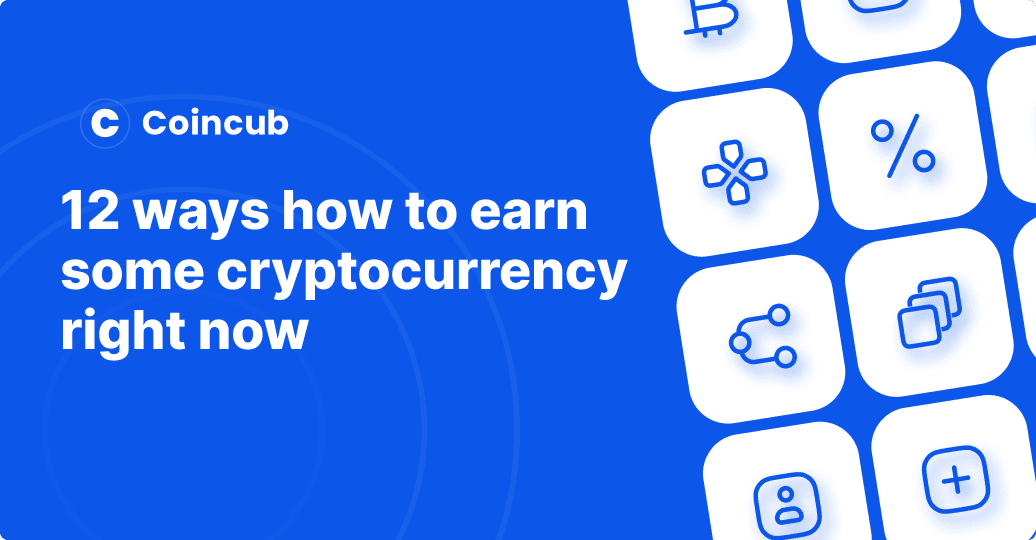 Coincub.com's latest ranking shows you the top ten ways to earn cryptocurrency…interested? Buying cryptocurrency is simple, but what about earning it? As the crypto industry develops, more and more people are eager to get compensated in cryptocurrency for their work. We look at the top ten best ways you can currently earn cryptocurrency – and don't worry, mining it is only one of them.
Even if mining is not your thing, most routes require you to contribute something in exchange. Usually, it's your time or attention.
However, there are still situations where an up-front payment is necessary if you want to earn passive income with cryptocurrency. Whether the projects you support are sustainable over the long term is something to look out for too. So if you want to get on board, here's how.
1. Taking part in online and offline games
At number one it must be gaming. It's not only fun, but one of the most developed ways today to earn crypto. There are many games where you may earn or generate virtual cryptocurrency. Playing games is the simplest and quickest method to earn cryptocurrency online. 
Most gaming platforms feature their own in-world money, which you can purchase with or convert back to cryptocurrency. So, how can I earn cryptocurrency as a beginner?
There are several online games that you can play and start earning cryptocurrency. There are countless games that give sign-up, greeting, membership, deposit, payout, and other cryptocurrency incentives. 
Blockchain-based online games
Popular games feature cryptocurrency games for smartphones. They include CryptoWorld, Alien Rampage and Abundant, Super Satoshi, and Cryptocurrency Aliens. Since they began in 2014, they have given thousands of free cryptocurrency tokens.
Games that aren't on the blockchain
These are mostly battle games not centered on blockchain but include cryptocurrency payouts. It all depends on the degree played or rewards. 
These games allow you to prepare your plan and earn free cryptocurrency while playing. For example, "Spells of Genesis" will enable you to acquire, exchange, and use orbs to create gaming decks and compete for free BTC.
These games allow you to receive satoshis by responding to earn cryptocurrency online from broad segments.
Another example is "Satoshi Quiz," where the awards differ from exam to quiz. Anyone can withdraw after achieving 11,000 tokens in the shortest amount of time.
2. Cryptocurrency dividends
A passive way to invest $1000 and earn cryptocurrency is through dividends. All you have to do is buy some brand-new cryptocurrencies and hold them for a while. 
Developers will sometimes compensate you in digital currency for holding their assets. Since non-KYC (Know Your Customer) anonymity is among the top priorities, along with the APY, which can be as as high at 10 percent at times. Please do your due diligence before. 
https://twitter.com/wallstmemes/status/1566794763453562883
3. Credit cards
Using a crypto credit card is like any other reward credit card, except that you will receive crypto instead of cash or points. Credit cards with cryptocurrency incentives are in the works at several Fintech firms, including BlockFi, Upgrade, and Gemini.
4. Bitcoin faucets
Before mining became widespread, one of the few ways to get Bitcoin was through a Bitcoin faucet which dispensed BTC after a user accomplished a basic job.
You can still earn cryptocurrency online using Bitcoin Faucets. They are services that offer customers free crypto for performing simple actions. 
It might be anything from typing in the captcha, playing games, watching ads, to answering quizzes and surveys. After that, you receive crypto as payment.

5. Referral bonuses
Some cryptocurrency exchanges provide sign-up or referral bonuses to entice new users or encourage word-of-mouth advertising. 
For example, a former Coinbase sign-up bonus gave new users $5 to invest in cryptocurrency. The exchange gives you and your friend $10 when they create an account and trade at least $100. 
6. DeFi yield farming
Similar to cryptocurrency mining, decentralized finance projects require human labor. Yield farming is a strategy for securing funds while still allowing a DeFi token access to the liquidity market. The incentive is some digital token.
7. Influencer favorite: day trading crypto 
The business model of crypto day trading, centers on the short-term trading of cryptocurrencies. In this market, users can buy, sell and trade cryptocurrencies on the same day. 
Successful traders use various resources to maintain tabs on investor sentiment, and stock and bond prices. Also, the value of multiple commodities and currencies. 
Swing trading allows you to make investments over a period that is less than an entire trading cycle, often a few days to a few weeks.
8. Borrowing crypto
As with traditional savings accounts, you can earn interest by choosing to lend cryptocurrency. Every month or week, depending on the terms of the agreement you enter. 
You will get interest payments to provide a loan. A cryptocurrency-based savings account is a variant where you can earn interest on the crypto you loan out by having others use your private keys for a set time.
9. Cryptocurrency mining
Those who consider themselves tech-savvy can try their hand at cryptocurrency mining. Back in the day it used to be an easy way to earn cryptocurrency. Although mining crypto presents specific challenges, it is not impossible. 
To verify batches of transactions, "miners" use advanced computers to work through complex mathematical puzzles. When a miner cracks a protocol with valid keys, it releases the cryptocurrency it generated into circulation.
10. Create a new cryptocurrency
You could create your own cryptocurrency by building your 'new' coin on top of an existing blockchain. Plenty of people have done, but which coins become successful only time will tell. 
The Ethereum blockchain provides a simple, step-by-step guide for creating your coin, leaving you the crucial task of promoting it and encouraging its widespread use.
—-
Our top ten features direct ways to earn cryptocurrency. You could, however, take some alternative routes. Here are three more:
11. Crypto broker
The role of a crypto broker is similar to a traditional broker. They both function as middlemen between the crypto markets and investors. If you wish to become a crypto broker, you can provide traders with access to derivatives products, where they can form contracts to speculate on the price of cryptocurrencies.
12. Buy and hold
Investors employing the "buy and hold" method make a cryptocurrency purchase and keep the asset in their portfolio until the price rises to turn a profit. Sometimes they'll even buy more when prices decrease to stock up before their value inevitably soars.
13. Get a job in crypto
If you're passionate about blockchain technology there are a lot of lucrative positions out there. Here is a trending thread from @shivsak with expected salaries for several types of jobs.
How much $ can you make working in web3?

🧵 👇 pic.twitter.com/atSX4ejw8f

— shivsak (@shivsakhuja) September 19, 2022
To find a job in crypto you can use LinkedIn or some crypto-specific job boards out there like Cryptocurrencyjobs.co or some newer ones like cryptojobster.com. Being paid in crypto is something that employers might have available so do check during the interview process.
Do you want to know more about the best ways to money in the cryptoeconomy? Subscribe to our newsletter below.
Bonjour! Find the best way to buy bitcoin in France with various methods. Read this guide now to find out where to buy bitcoin in France. How to buy b...
Sometimes when things come along that are brand new and generating quite a buzz, like the metaverse, it's often as useful to know what they aren't...
Sponsored
Decentralized Finance, also known as DeFi, has experienced rapid growth in recent years. This innovation combines the best of blockchain techno...