Fidelity to attract 18-35 year olds with Metaverse gig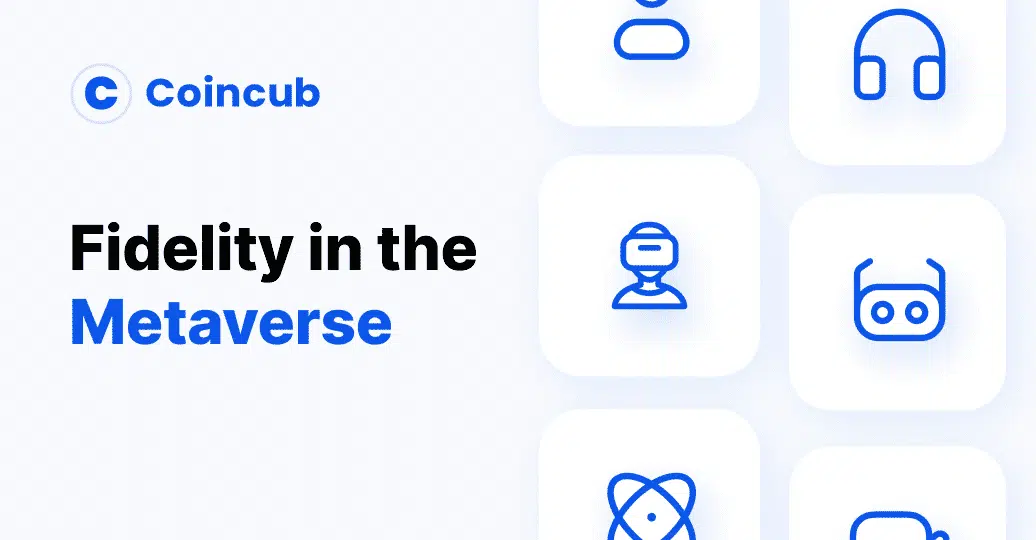 The investment giant Fidelity launched a Metaverse outpost in Decentraland in April
The move was calculated to bring attention to two new ETFs: the Metaverse ETF (FMET)  and the Crypto Industry and Payments ETF (FDIG)
Financial literacy in the Metaverse
The investment company Fidelity opened up an outpost in Decentraland in late April – the Fidelity Stack, a virtual building offering financial education tips. Visitors are encouraged to walk through the eight stories, collecting orbs and interacting with plaques containing financial literacy tips scattered around the digital building. The building has a dance floor and is topped with a rooftop sky garden where you can chat with other pixelated metaverse enjoyers.
Our Fidelity Stack walkthrough 
We visited the Fidelity Stack and found it completely empty – only a month after it launched, not a single solitary soul was there. This was nice because we didn't need to worry about bumping into anyone else, but somewhat concerning for the project's longevity. While hype was fierce when the project was first announced, it appears as though attention has dwindled. A recent YouTube recap of the space has less than 100 views.
The Fidelity Stack offers a gamified approach to financial literacy. The orb-collecting is part of a game called "invest quest," where users go floor to floor and learn about ETFs while collecting orbs. During your invest quest, you can walk around and click on little green plaques to get insight into what a mutual fund is, what stocks are – the Fidelity Stack clearly isn't designed to cater to high powered investment bankers. According to David Dintenfrass, chief marketing officer and head of emerging customers at Fidelity, the Fidelity Stack is open to all but aimed mostly towards 18-35 year olds.
Down with the kids 
If the attendance was any indication, Fidelity Stack is destined to crash and burn. According to Forbes, this isn't a surprise – other attempts to engage young people with interactive financial literacy have met with scant success.  JPMorgan also launched a metaverse presence in January; a lounge in Decentraland established by Onyx, JPMorgan's blockchain unit. According to Forbes, the metaverse lounge was opened to call attention to a report on the potential financial opportunities of the metaverse. In Fidelity's case, it looks like the Fidelity Stack was a stunt designed to alert investors to the Metaverse ETF.
The real reason for the Fidelity stack? 
The Fidelity Stack was launched alongside the Fidelity Metaverse ETF (FMET), an exchange-traded fund that offers investors exposure to the metaverse ecosystem. The FMET ETF invests at least 80% of assets in securities included in the Fidelity Metaverse Index. In a statement from mid-April, Fidelity said that the FMET ETF "can help investors invest in the evolution and future of the internet by providing access to companies that develop, manufacture, distribute, or sell products or services related to establishing and enabling the metaverse, such as computing hardware and components, digital infrastructure, design and engineering software, gaming technology and software, web development and content services, and smartphone and wearable technology​."
In addition to the FMET ETF, Fidelity launched the Crypto Industry and Payments ETF (FDIG), which delivers "the opportunity to invest in companies that support the broader digital assets ecosystem, including those involved in crypto mining and trading, blockchain technology, and digital payments processing." At least 80% of assets in the FDIG will be invested in equity securities included in the Fidelity Crypto Industry and Digital Payments index, which is designed to reflect the performance of the global crypto and digital payment economy. This ETF, however, does not offer direct exposure to crypto.
Fidelity's crypto track record 
Fidelity has a history with the crypto economy. The investment giant began bitcoin mining in 2014, and launched the Fidelity Digital Assets platform for custody and trade execution in 2018. In 2020, they launched a private bitcoin fund available to accredited investors. While the Fidelity Stack might be a one-time gimmick, the ETFs it is designed to promote are likely here to stay.
FAQ
What is an ETF? 
An ETF (exchange traded fund) is a basket of securities that, unlike mutual funds, can be sold on a stock exchange like a regular stock. ETFs typically track a specific index. Investing in an ETF means that you have access to a bundle of assets you can trade during market hours.
Where can I find the Fidelity Stack in Decentraland? 
Type "/goto -27,28" in the chat box and hit enter – you'll be transported directly to the Fidelity stack.
Where can I find out more about Fidelity's new crypto and metaverse ETFs? 
You learn more about the FMET ETF and the Crypto Industry and Digital Payments ETF (FDIG) on Fidelity's website.
Bonjour! Find the best way to buy bitcoin in France with various methods. Read this guide now to find out where to buy bitcoin in France. How to buy b...
Sometimes when things come along that are brand new and generating quite a buzz, like the metaverse, it's often as useful to know what they aren't...
Sponsored
Decentralized Finance, also known as DeFi, has experienced rapid growth in recent years. This innovation combines the best of blockchain techno...