Bitcoin, blockchain and banks: navigating the world of crypto friendly banks
Banking on Crypto!
Crypto may sell itself on being decentralized (no nasty institutions to get in the way of pure financial transactions) – but crypto businesses need banks, and it is becoming the case that banks also need crypto. Without banks, crypto companies struggle to integrate fiat payments. So, while crypto started as an effort to ditch banks as intermediaries, the rise of a growing regulated crypto industry in Europe – and elsewhere – means that traditional banks are now more than ever required partners.
From being viewed as a threat to banking, crypto may soon become one of the potential biggest future earnings contributors to the banks that are nimble and agile enough to accommodate it.
The banking traumas in the USA may have left the political classes with an even more negative view of crypto, but there are plenty of other countries willing to take up the running. The UAE, Singapore, and Hong Kong are all tempting ports of call. But once again, as with jobs, however, we see European banks better positioned to become crypto-friendly.
The current landscape of crypto-friendly banks contains three groups: traditional banks, fintech and digital banks, and crypto-focused banks. The situation is evolving every day, but at the time of writing, there are 58 traditional banks that provide services to the crypto industry, 46 fintech and digital banks, and 19 crypto-focused banks. This suggests that there is a growing trend of mainstream banks adapting to the crypto industry, with both traditional banks and newer fintech players looking to capitalize on this emerging market. At the same time, crypto-focused banks are also playing a vital role in supporting the industry, providing tailored services specifically for crypto-related businesses and individuals.
Generally, though, a crypto-friendly bank is one that allows its customers to make transfers to exchanges, make payments, or even purchase crypto on credit. But for crypto businesses, especially, such banking is still hard to find. Yet in Europe, already the world's largest crypto region, national governments across the continent are scrambling to match regulation with demand. The EU's Markets in Crypto Assets (MiCA) regulation would establish a coherent regulatory regime for crypto businesses. Outside of the EU, but still in Europe, of course, Swiss banks are positioning themselves as successors to SVB, Silvergate, and Signature, albeit with competition from Hong Kong, Singapore, and the Middle East.
🚀🚀Did you know 🇪🇺Europe is the absolute Crypto Banking leader? The region has almost 2x more crypto-friendly banks than 🌏Asia or North America?

Read the full report: https://t.co/jkKZLqd07Y pic.twitter.com/gNN1d8Fzk9

— Coincub (@Coincub_) April 11, 2023
Banks offering regulated crypto services are underway in France, Germany, Estonia, Malta, and Liechtenstein, with Switzerland. Indeed Germany has the highest number of crypto-friendly banks in the EU. Neobanks such as N26, Fidor, vivid, and Solarisbank all provide some level of crypto services, and DZ Bank, Germany's second-largest lender, is partnering with crypto firm Metaco for a digital asset service. France too is very active in crypto licensing (that old European rivalry we mentioned earlier, perhaps coming into play). In 2022, French bank, Delubac & Cie, became the first in the country to offer regulated crypto services focusing, in part, on institutions offering secure digital asset custody services to customers. This was excellent news for French crypto businesses looking for a banking partner. Across the world, the crypto-friendly bank is also an increasingly sought-after option in many countries ranging from Singapore and South Korea to Brazil – but as a region Europe outguns them.
Europe's strength could be in its regulatory scope and cohesiveness – ranging across a number of traditionally established economies. As a major trading block and having an established banking infrastructure – a consistent regulatory landscape for digital assets could cement its position as the pre-eminent crypto region for some time.
The rise of crypto friendly banks
As we dive deeper into the rise of crypto friendly banks, it's important to understand what exactly we mean by this term. A 'crypto friendly bank' refers to a bank that embraces cryptocurrencies, either by allowing its customers to transact in digital currencies, or by offering products and services directly related to cryptocurrencies. These banks have accepted the paradigm shift brought about by blockchain technology and are proactively seeking ways to adapt their banking models and services to meet the changing needs of their customers.
In the rapidly evolving landscape of digital finance, crypto friendly banks can take on various forms. They can be traditional banks that have adapted their services to accommodate cryptocurrencies, fintech startups and neobanks that have been designed from the ground up with cryptocurrencies in mind, or dedicated crypto banks that cater specifically to crypto businesses and investors. Each type of crypto bank has its unique advantages and challenges, and their growth and development are shaping the future of banking and finance.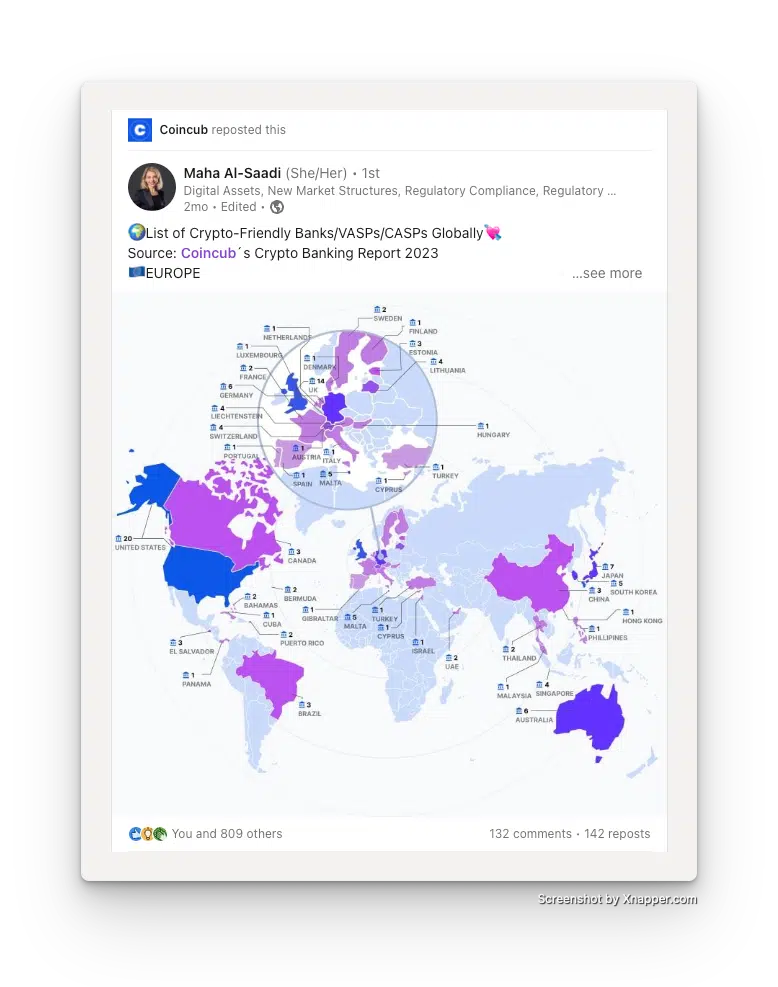 The rise of crypto-friendly banks can be seen as a response to the growing demand for crypto banking solutions. As cryptocurrencies become more mainstream, individuals and businesses are looking for ways to integrate their crypto and fiat financial activities. Crypto friendly banks fill this gap by providing a range of services that cater to crypto users, from basic account services to more sophisticated offerings like crypto lending and investment services.
Key features of crypto friendly banks
What sets crypto friendly banks apart from traditional banks is their ability to offer a suite of services tailored to the needs of crypto users. These can include the ability to deposit and withdraw cryptocurrencies, exchange between crypto and fiat currencies, invest in crypto assets, and even take out loans using crypto as collateral.
One of the key features of crypto friendly banks is the integration of crypto wallets. This allows customers to store, send, and receive cryptocurrencies directly from their bank accounts. Some banks even offer multi-currency accounts that can hold both fiat and digital currencies, enabling seamless exchange between the two. This feature is particularly beneficial for individuals and businesses that frequently transact in cryptocurrencies, as it eliminates the need to use separate platforms for their crypto and fiat banking needs.
Another important feature of crypto friendly banks is their focus on security. Cryptocurrencies, by their very nature, are susceptible to cyber threats. Crypto friendly banks, aware of these risks, invest heavily in cybersecurity measures to ensure the safety of their customers' assets. This includes the use of cold storage for crypto assets, two-factor authentication for account access, and regular security audits.
Crypto friendly banks also provide access to a variety of crypto investment products. This can include crypto funds, exchange-traded products (ETPs) linked to cryptocurrencies, and other types of structured products. These investment options allow customers to diversify their portfolios and potentially benefit from the high volatility of the crypto market.
Finally, crypto-friendly banks often offer crypto lending services. Customers can use their crypto assets as collateral to take out loans in fiat currencies, allowing them to leverage their crypto holdings without having to sell them. This can be a valuable tool for crypto investors, particularly in times of market volatility.
Advantages of crypto banking
The advantages of crypto banking are manifold, and they extend to both individuals and businesses. For individual investors, the most apparent benefit is the ability to manage their crypto and fiat assets through a single platform. This simplifies their financial management and can save them time and money on transaction fees.
Crypto-friendly banks also provide a level of security and reliability that many standalone crypto platforms cannot match. Banks are heavily regulated entities, and they are required to meet strict standards in terms of security, transparency, and customer protection. This gives customers peace of mind knowing that their assets are safe and that they have recourse in case of any issues.
Crypto banking offers a myriad of benefits for both individual users and businesses. Here are a few key advantages:
Ease of Transactions: Crypto banking significantly reduces the barriers to sending and receiving money across borders. Cryptocurrencies are decentralized and do not rely on traditional banking systems, making transactions fast, cheap, and efficient.
Security: Cryptocurrencies use blockchain technology, which offers a high level of security. All transactions are encrypted and can be tracked, providing transparency and reducing the risk of fraud.
Potential for High Returns: Cryptocurrencies have shown potential for high returns, although they come with high volatility and risk. Crypto banking allows users to take advantage of these potential gains.
Accessibility: Crypto banking can be a boon for people in underbanked regions where access to traditional banking services is limited.
Innovation and Services: Many crypto banks offer unique features not found in traditional banks, such as earning interest on crypto holdings, cash back in crypto, and the ability to spend crypto with a debit card.
How to choose a crypto-friendly bank
When choosing a crypto-friendly bank, consider the following factors:
Services Offered: Look at the services the bank offers. Some banks allow you to buy, sell, and hold cryptocurrencies, while others offer crypto-backed loans. Choose a bank that provides the services that align with your needs.
Security: Ensure that the bank follows robust security measures to protect your funds. Check if they have insurance for digital assets, use cold storage, and maintain proper security protocols.
Fees: Be aware of the fees for buying, selling, and storing cryptocurrencies. These can vary widely among banks.
User Experience: The user interface and experience should be intuitive and easy to use. Check if they have a mobile app and what features it offers.
Customer Support: Look for banks with good customer support. You want to be able to get help quickly if you have any issues.
Regulation and Compliance: Check if the bank is regulated and compliant with the laws of the jurisdiction in which it operates. Regulation can provide a level of security and trust.
Reputation: Look at reviews and recommendations to gauge the bank's reputation. Be cautious of banks with many negative reviews or those involved in scandals or legal issues.
Buy a full database of crypto-friendly banks here.
Bonjour! Find the best way to buy bitcoin in France with various methods. Read this guide now to find out where to buy bitcoin in France. How to buy b...
Sometimes when things come along that are brand new and generating quite a buzz, like the metaverse, it's often as useful to know what they aren't...
Sponsored
Decentralized Finance, also known as DeFi, has experienced rapid growth in recent years. This innovation combines the best of blockchain techno...