8 best crypto services for June 2022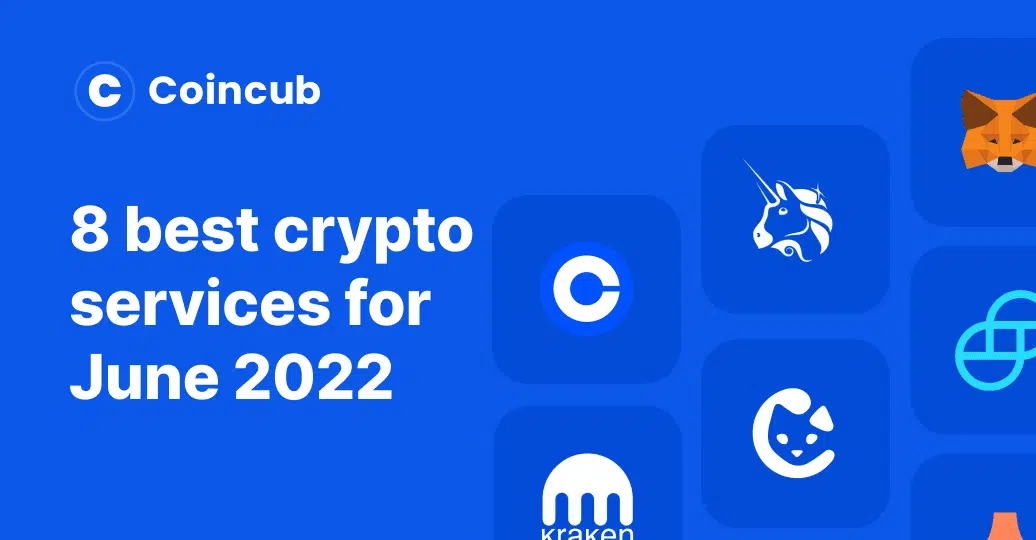 Trying to choose the right crypto services can be an unending black hole that mercilessly takes up all of your time. There are so many exchanges, wallets, and apps that finding one that's a. not a scam and b. doesn't require a degree in computer science is often difficult. And yet, you need somewhere to put all of those tokens. Considering the sheer volume of opportunistic hackers out there, it's best to put those tokens somewhere that is guaranteed to be safe.
Coincub's Best Of list is a resource designed to help readers find the best solutions. All of our recommendations are verified by independent users and crypto veterans. If we've recommended something, that's because it's genuinely one of the best. Coincub does not receive any financial compensation for writing these guides.
US exchange: Coinbase 
Coinbase is the biggest crypto exchange in the world, and it's easy to see why. With a friendly user interface, solid array of trustworthy tokens, and substantial security, Coinbase is a solid choice for beginners and professionals alike. Coinbase is currently available in every US state except Hawaii.
Website:  https://www.coinbase.com/
Fees: https://help.coinbase.com/en/coinbase/trading-and-funding/pricing-and-fees/fees
Deposit fees from $0.00 – $10.00, depending on the method
Withdrawal fees from $0.00 – $25.00, depending on the method
Trading fees range from 0.00% – 0.60%
Deposit methods: ACH, Wire (USD), SEPA (EUR), Swift (GBP), crypto
Current promotion: $5 in free bitcoin when you join
Hawaiian exchange: Gemini 
Gemini is one of the few crypto exchanges currently available in Hawaii. The exchange is currently regulated by the Hawaii Department of Commerce and Consumer Affairs. Gemini has solid security, an easy to use interface, and a small but well-curated selection of tokens. Overall, it's a good choice for Hawaiians looking to trade crypto.
Website:  https://www.gemini.com
Fees: Up to $2.99 for trades under $200, or 1.49% for trades over $200.00
Countries: 61 countries across the world
Deposit methods: ACH (USD), Wire, debit card, crypto
Current promotion: New users get $50 in bitcoin when they trade $500 within 3 days of signing up.
Exchange with the best security: Kraken 
Kraken's security measures are some of the best in the industry. The platform makes it easy for users to secure their accounts by offering 2-factor authentication, email confirmations for withdrawals, configurable account timeout, and many other measures. They also offer comprehensive security resources for customers.
On the exchange side, Kraken is doing the most to prevent hacks. 95% of deposits are kept in air-gapped cold storage. Bug bounties, regular penetration testing, and surveilled servers are all testament to the exchange's focus on security. The results are undeniable: Kraken has never had a security breach or hack, unlike some other exchanges.
Website:  https://www.kraken.com/
Fees: Trading fees range from 0.00% – 0.20%, depending on pair and volume
Instant buy fees range from 0.9% to 1.5%
Payment fee ranging from 0.5% – 3.75%, depending on the method
Countries: Kraken operates in 48 US states and 175 countries
Deposit methods: Debit, credit, ACH, SEPA, SWIFT, and many others.
Decentralized exchange (DEX) for Ether: UniSwap 
If you want to trade Ether without relying on a centralized third party, Uniswap is the exchange for you. Uniswap's mascot is appropriate, considering that a decentralized exchange (DEX) that actually works (and works well) is a bit of a unicorn. Uniswap has the largest trade volume for any DEX. It recently hit the $1 trillion trade volume milestone and has facilitated over 94 million trades since it was launched late in 2018.
Website:  https://uniswap.org/
Fees: 0.3%
Countries: Available around the world
Deposit methods: Crypto only
Decentralized exchange for bitcoin: Bisq 
Bisq is a non-custodial decentralized bitcoin exchange (DEX) network that allows users to make secure, private, and censorship-resistant trades. Bisq has been making a name for itself as the best bitcoin DEX. Features like mandatory security deposits, default use of Tor, and automatic multisig authorization mean that Bisq is an excellent choice for the privacy-focused crypto trader.
Website:  https://bisq.network/
Fees: 0.1% for makers and 0.7% for takers in addition to mining fees
Countries: Available around the world
Hardware wallets: Ledger 
Ledger hardware wallets are at the top of the industry for consumer tech. The wallet supports over 1,800 cryptocurrencies and has an incorporated exchange along with a mobile app for ease of use. Ledger Live allows customers to buy and exchange crypto securely, without forfeiting control over their assets. It even offers staking and DeFi functionality. Hardware wallets are always the best choice for long-term crypto storage, and Ledger is one of the best out there.
Website:  https://www.ledger.com/
Browser wallet: Metamask 
MetaMask is one of the most popular mobile wallets, and it's easy to see why. The interface is brilliantly simple to use, and the app's seamless integration into browsers allows for easy access to blockchain apps of all kinds. It's important to note that we wouldn't recommend MetaMask for long term storage of crypto assets – any wallet that's connected to the internet is automatically vulnerable. However, for quick transactions and interacting with the metaverse, MetaMask is hard to beat. With 30 million users, it's clear that the sentiment is common.
Website:  https://metamask.io/
Mobile ETH wallet: Argent 
Non-custodial mobile wallets can be a pain to use, but Argent's straightforward user interface makes looking after your crypto a breeze. Their website also offers tons of helpful tips for beginners looking for more information from a trusted source. The app is reasonably secure for a mobile wallet, and can be used in conjunction with hardware wallets. Notably, Argent has social recovery mechanisms that allow those who have lost their keys to regaining access to their wallets. Argent mainly focuses on Ether and offers support for over 240 Ethereum-based tokens.
Website:  https://www.argent.xyz/
Bonjour! Find the best way to buy bitcoin in France with various methods. Read this guide now to find out where to buy bitcoin in France. How to buy b...
Sometimes when things come along that are brand new and generating quite a buzz, like the metaverse, it's often as useful to know what they aren't...
Sponsored
Decentralized Finance, also known as DeFi, has experienced rapid growth in recent years. This innovation combines the best of blockchain techno...