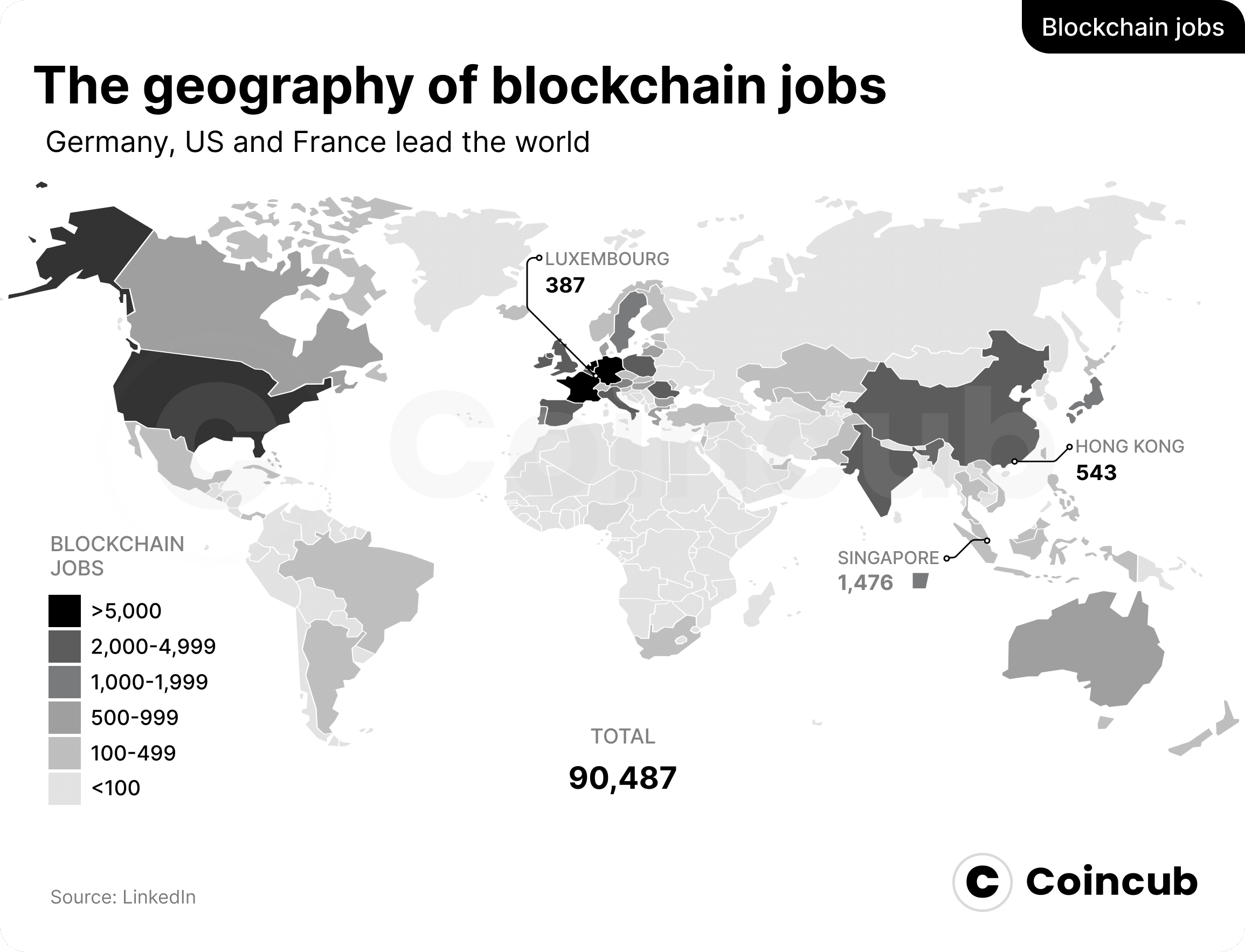 Coincub, the leading source for off-chain insights, has released its 2023 Blockchain Jobs Report, providing an in-depth examination of the blockchain job market's current landscape.
The report highlights a surprising trend: despite a worldwide decline in blockchain jobs in 2023, the industry continues to gain pace. Europe, in particular, has emerged as the hotspot for blockchain jobs, accounting for 67.8% of the global total, significantly outpacing North America and Asia, which hold approximately 14% each​.
In the wake of job losses in 2022, the blockchain job market has shown resilience, with job demand recovering and even exceeding some projections. Germany leads Europe with 13,302 blockchain jobs, followed closely by France with 11,701 jobs.
Despite a global reduction of about 40% in blockchain jobs, Japan, Uzbekistan, and Australia have seen a significant increase in blockchain-related jobs in 2023. These increases are largely attributed to national policy shifts, increased adoption of blockchain technology, and strategic investments in blockchain infrastructure.
A notable shift in regional rankings for blockchain job creation, due to a drop in jobs in the U.S. and growth in Japan. North America, with 12,833 jobs, lost its second place to Asia, which now hosts 12,845 jobs in the fields of blockchain, cryptocurrency, and Bitcoin.
The report also notes that while blockchain jobs are on the rise over a long-term projection, jobs directly related to cryptocurrency remain a smaller portion of the overall market. For instance, less than 10% of blockchain jobs in Germany are directly related to cryptocurrency.
Ireland stands out for its per capita jobs in Blockchain, ranking third in the world after Malta and Luxembourg, with around 2,053 blockchain jobs in 2023.
Coincub's report provides a comprehensive look at the state of the blockchain job market, underscoring the industry's resilience and potential for growth despite setbacks in the wider crypto industry.
For more information read the full Blockchain Jobs Report 2023.
You can download the Blockchain Database now.
About Coincub
Coincub is an award-winning off-chain insights platform that offers bespoke information, guidance, and analysis on the workings of the crypto economy for both new and experienced crypto investors on a uniquely country-by-country basis.