The best crypto exchange apps for September 2022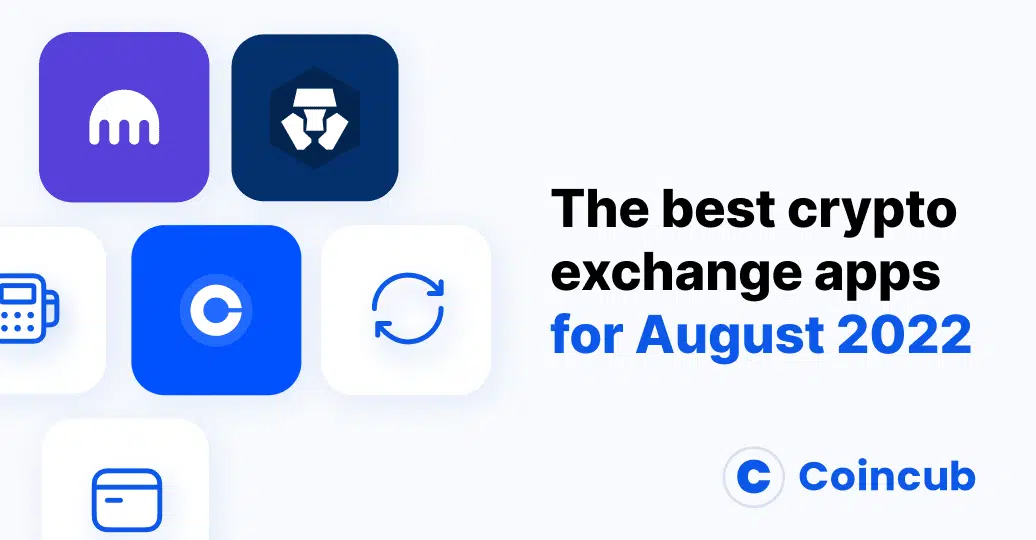 What's the best crypto exchange app? This list answers that question, explaining everything you need to know about top crypto exchanges and the most popular cryptocurrency exchange apps available today. Keep reading to learn how you can get started trading on one of these apps today. 
What is cryptocurrency trading?
Cryptocurrency trading is defined as a person or group buying and selling cryptocurrency. The opposite of that would be someone who buys something with cryptocurrency rather than by paying cash or by credit card. Cryptocurrency trading consists of people buying, selling, investing in and holding cryptocurrencies such as Bitcoin, Ethereum, Ripple and Litecoin just to name a few. Cryptocurrency exchanges are websites where you can buy these coins for fiat currency (government-issued money) or other cryptocurrencies.
What are cryptocurrency trading platforms?
With so many cryptocurrency trading platforms, it can be hard to decide which is best for you. Fortunately, there are some different options available that offer different features and benefits depending on your needs. From low fees to multi-cryptocurrency support and strong security protocols, each platform has something special to offer in its own way.
What are some considerations when choosing a cryptocurrency exchange?
When choosing a cryptocurrency exchange, one major consideration is what payment method you want to use to fund your account. For example, if you are looking for a mobile app to purchase your first BTC, then look for an exchange that accepts credit cards. If you prefer bank transfers and/or wire transfers, find out which exchanges offer those funding options so that you can quickly and easily transfer money into your account when it is time to buy bitcoin or another cryptocurrency.
With a smooth trading interface and a variety of well-integrated mobile apps, Coinbase overall has a very pleasant user experience. Coinbase is a secure platform available both online and as an app for buying, selling, transferring and storing digital currencies. It provides access to crypto such as Bitcoin (BTC), Ethereum (ETH), Litecoin (LTC), Ripple (XRP), Cardano (ADA), and 50+ others. Coinbase offers a wallet service that can be accessed as a mobile app on Google Play or the App Store or as a web app via Chrome. The Coinbase wallet supports 500+ tokens, NFTs, and access to decentralized exchanges, or DEX. 
For more information on Coinbase, read the Coincub exchange review here: https://coincub.com/exchange/coinbase-review/. 
Crypto.com's services are mainly accessed via the mobile app. The app itself can be a little cluttered as a consequence of the number of features. The app homepage has broad market overviews, as well as Crypto.com news. Users can trade from the app. The app also has a Pay feature, where users can send money, top up phones, and get gift cards. There is also an Accounts sub-page with a broad overview of the wallet. Users can buy crypto directly in the Crypto.com app with fiat using credit/debit cards and bank or wire transfers, depending on their location. Make sure to double-check that you can buy your intended cryptocurrency; users in the US, Hong Kong, and Singapore may face location-based restrictions. 
Read Coincub's in-depth review of Crypto.com here: https://coincub.com/exchange/crypto-com/
Kraken users can currently access the exchange via an app available on Android and iOS, or the website. One major feature is Kraken's excellent language selection – users can opt for English (US or British), Spanish, Filipino, French, Italian, Portuguese, Russian, Vietnamese, Turkish, Ukrainian, Chinese, Japanese, and Korean.
The app offers frequent opportunities to provide feedback, something which is reflected in the seamless UX. The Kraken Pro app is well-designed and easy to navigate, though it does go hard on the corporate tech art style and bad Kraken puns. Blessedly, the app supports Dark Mode for those of you who want to trade after hours. The app also offers a stealth mode so users checking their finances can be demure about exactly how much crypto they own.
While it's possible to have a relatively uncomplicated experience on both the app and the site, the sheer amount of features might confuse newcomers. Both the website and the app appear safe and trustworthy. Users should take advantage of the two-factor authentication feature to keep their accounts and funds safe.
Read Coincub's in-depth review of Kraken here: https://coincub.com/exchange/kraken-review/
Want to find out more about crypto exchanges or read in-depth reviews of crypto exchange apps? Then visit https://coincub.com/exchanges.

Or read about one of our over 70 country guides and learn how the cryptoeconomy is growing in Germany, Portugal, Switzerland, or Romania.
Bonjour! Find the best way to buy bitcoin in France with various methods. Read this guide now to find out where to buy bitcoin in France. How to buy b...
Sometimes when things come along that are brand new and generating quite a buzz, like the metaverse, it's often as useful to know what they aren't...
Sponsored
Decentralized Finance, also known as DeFi, has experienced rapid growth in recent years. This innovation combines the best of blockchain techno...