How to create an NFT work of art in 6 easy steps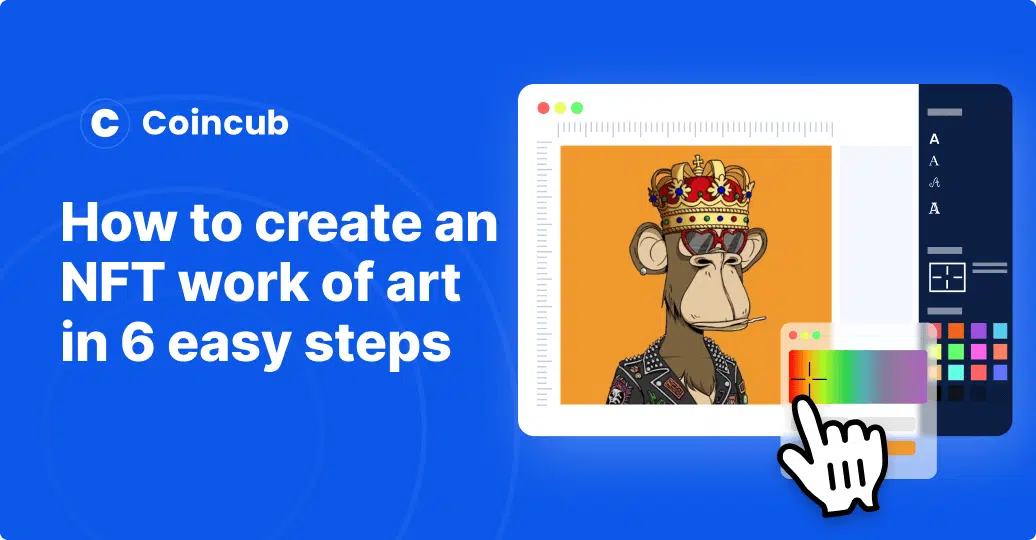 If you are an 'investor' looking to get a fast return then you are about one year late. But if you are interested in art and the web3 potential of NFTs, and the role they might play then you probably have the interest to read on.
Regular auction houses like Christie's have held NFT art auctions involving enormous sums of money, while major firms like Nike and Warner are cooperating with artists and designers to build NFTs as part of their metaverse goals.
As an artist, creating NFT art can open up a world of possibilities or run you into a ditch of despair. NFTs can be sold online from anywhere in the world, with quick payments and no expensive exhibits required. Technically you may be able to get royalties on future sales as well.
Learning to make NFT art is a good approach to future-proof your work, especially with the popularity of NFTs being a young technology with future potential. Knowing how to make NFT art is quickly becoming a necessary talent for both businesses and artists as more and more brands get engaged. If you're still unsure about NFTs (which is reasonable), read our post on NFT art.
If you're ready to start making NFT art but don't know where to start, keep reading for a step-by-step tutorial on how to make and sell NFT art. Utilize the power of AI to rapidly and easily create artwork that can be sold as NFTs.
What is NFT art and how do you create it?
You may have considered making your own NFT art as the popularity of NFTs continues to grow. You might be hesitant to take the next step because of all the technical language around NFTs. You might have even thought to yourself, "What if it's too difficult?" What if you lack the freedom to be innovative? Or, to put it another way, where do you even begin? 
Steps for creating your first NFT
Step 1 – Time and budget
The first step in learning how to make NFT digital art, as obvious as it may seem, set yourself a budget. For many international artists, transforming their work into NFTs is a fascinating prospect, but it may not be the best option for everyone.
While many NFT marketplaces can help you create NFT art for free, every transaction on the blockchain, notably on the popular Ethereum, is subject to fees. These charges are referred to as 'gas' and you will be charged gas when you sell or transfer your NFTs.
Step 2 – Ecosystem understanding
The second step is to try to understand the technology and the differences between networks. There's also the issue of NFTs' ecological cost to consider. Minting, storing, and transferring NFTs on the blockchain consumes a significant amount of energy, and some blockchains, such as Ethereum, have a significant carbon footprint. Some people choose Solana or Polygon, as the networks are carbon neutral as of 2021 and have vowed to remain so through carbon offsetting initiatives. A single Solana transaction uses only 1.4 percent of the energy required by the Ethereum network.
Step 3 – Choose the type of NFT
If you're certain you want to make NFT art, the next step is to figure out what you want to make an NFT out of. This must be a digital file in a format that the marketplace or minting service you intend to utilize accepts (more on that later).
NFTs can be anything, but photos, photographs, and audio files are among the simplest and most popular alternatives. Spend some time creating something that you believe will attract people's attention. If you're not an artist but still want to sell an NFT, you could hire a freelancer – just make sure you own all of the rights to the work.
Step 4 – Blockchain decision
After you've created your art, the next step is to decide which blockchain you want to use to generate your NFT. This will have a direct impact on the NFT marketplace where you can offer your items. All of the major blockchains have alternatives, and we encourage completing thorough research on each one before making a decision.
Ethereum gas costs are normally higher, though you can sometimes get better deals during slower times of the week, such as weekends. Tezos, Tron, Binance Smart Chain, and Polkadot are among the other blockchains that enable NFTs.
You should evaluate which cryptocurrencies your potential buyers are likely to own in addition to transaction fees. Cheaper blockchains, such as Solana, Flow, and Polygon, are a less expensive alternative to Ethereum – but your potential buyers won't be able to pay in Ethereum, which may deter some NFT collectors.
Step 5 – Marketplace
After you've chosen a blockchain, you'll need to find an NFT marketplace that supports it. Raible, Magic Eden, Nifty Gateway, SuperRare, Foundation, and NFT ShowRoom are some of the options.
Through 'lazy minting,' some NFT platforms, such as OpenSea and Raible, make it possible to generate Ethereum NFTs for free. Your artwork is recorded on the blockchain through a process called minting. The NFT is generated and listed for free with lazy minting, and the minting fee is charged to the customer once your art is acquired.
However, you may have to pay a charge to set up your account before you can sell NFTs or withdraw your NFT from the market. Once your artwork sells, you may be required to pay a commission as well as a processing fee for transferring the funds. Because of the volatile nature of blockchain and cryptocurrencies, it might be difficult to predict exactly what these costs will be in advance, thus there is some risk involved.
Step 6 – Your crypto wallet
After you've decided on an NFT platform, you'll need to create a crypto wallet to store your NFTs and get payment in cryptocurrency when they sell. Your wallet must work with the blockchain you've chosen. Set up a Phantom wallet for Scorpio, which is Solana's crypto wallet. For other platforms, you could want to look at Coinbase or MetaMask, both of which are extensively accepted.
Regardless of the wallet you use, it's critical to keep the passkey you're given safe so you can access your wallet when you need to recover your account or install the program on another device. You might want to use a password manager or store numerous physical copies of your passwords in safe places. After you've set up your wallet, you'll need to fund it with cryptocurrency to cover any fees. You can generally do this in your wallet by clicking 'Buy' or anything like that.
Takeaway
The entire NFT market was only worth £30 million a few years ago. However, the market has risen last year to over £300 million, as the excitement surrounding non-fungible tokens has grown, and notable personalities and institutions such as Mark Cuban, the National Basketball Association (NBA), and others have jumped in the bandwagon last year. 
The NFT market is still in its infancy but has lost a lot of steam lately, with Opensea seeing big declines in sales. But these down markets are a great time to build and there are truly fantastic projects that are being built right now. Creating an NFT is quite straightforward but selling and advertising it, gothering a community and looking at ways to add value to your community through usability is another story. We will cover that in one of our next articles, so stay tuned. If you like this article subscribe to our newsletter or leave a comment below.
Bonjour! Find the best way to buy bitcoin in France with various methods. Read this guide now to find out where to buy bitcoin in France. How to buy b...
Sometimes when things come along that are brand new and generating quite a buzz, like the metaverse, it's often as useful to know what they aren't...
Sponsored
Decentralized Finance, also known as DeFi, has experienced rapid growth in recent years. This innovation combines the best of blockchain techno...