Crypto regulation in Q1 2023: What to expect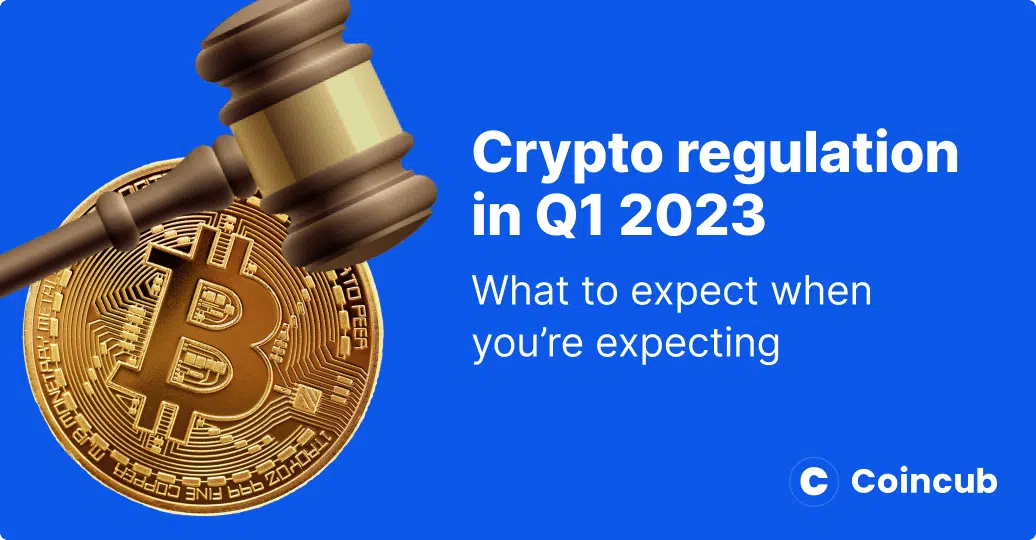 Hey Coincubs!
2023 is going to be a wild ride. Just make sure you buckle up because most countries are steaming ahead with cryptocurrency regulation. Following the crash of FTX, Terraform Labs, and Celsius last year, jittery governments are belatedly jumping into action to create effective regulations that are crucial for the mainstream adoption of bitcoin and crypto in a secure way. So let's dive in!
North America
US Regulators warn banks of cryptocurrency risks: 'Don't get caught holding the digital bag"
US regulators have issued their first-ever joint warning to banks about the risks associated with the cryptocurrency market. In a statement, the US Federal Reserve, Federal Deposit Insurance Corporation, and the Office of the Comptroller of the Currency urged financial institutions to be wary of potential fraud, legal uncertainty, and misleading disclosures by digital asset firms. Banks were also cautioned about the "contagion risk" from the sector and encouraged to take steps to prevent problems in the digital asset market from spreading to the wider financial system.
Bank of Canada calls for stablecoin regulation as legislation stalls
The Bank of Canada has released an analytic note on stablecoins, also known as fiat-referenced crypto assets. The note expresses support for further regulation of stablecoins, stating that they have the potential to bring efficiencies and greater competition to payment services, but also pose significant risks to the stability of the financial system without safeguards. The note notes that concentration is a significant risk, as the top three stablecoins have 90% of the market, and the top 1% of investors hold 90% or more of the total supply of the major stablecoins. Despite guidance from international standards-setting bodies, the note states that "most existing regulatory regimes, in Canada and abroad, are not presently fit for purpose" and calls for a "timely and comprehensive regulatory approach in Canada." This comes as the Canadian House of Commons failed to consider cryptocurrency regulation legislation.
In other news from Canada, local governments declare war on bitcoin mining
Multiple local governments in Canada have started to make it difficult for bitcoin miners to operate in the country. In late 2022, Hydro-Quebec proposed that the Canada Energy Regulator suspend the allocation of 270 megawatts requested by cryptocurrency miners. Manitoba announced plans to halt any new electric grid connections for cryptocurrency mining operations for 18 months, while British Columbia placed an 18-month moratorium on accepting any new requests for electrical grid connections exclusively from bitcoin mining companies. The stated reason for these measures is to assess the environmental impacts of cryptocurrency mining operations. Despite these developments, Canada has long been a global hub for cryptocurrency growth and bitcoin mining activity, with an estimated 7% of the global hash rate operating within its borders.
Europe
France wants tighter licensing requirements for crypto companies
The Bank of France's governor, Francois Villeroy de Galhau, is calling for stricter licensing requirements for crypto companies in the country. Villeroy believes that France shouldn't wait for the European Union's crypto laws to enact mandatory licensing for local digital asset service providers (DASPs). Currently, crypto businesses providing trading and custody must be "registered" with the Financial Markets Authority (AMF), but a DASP license is optional. None of the 60 AMF-registered crypto firms are currently licensed as a DASP. Villeroy's call for stricter licensing requirements comes after an amendment was proposed in December to eliminate a clause allowing companies to operate without a license.
Ukrainian pharmacies enable crypto payments with Binance Pay amid ongoing conflict with Russia
Amid the ongoing conflict with Russia, Ukraine has found solace in the use of cryptocurrencies. The Ukrainian pharmacy organization, ANC, has announced that it will accept cryptocurrency payments through the Binance Pay app, making it the first pharmacy organization in Europe to do so. Customers will be able to purchase pharmaceutical supplies through the app and pick them up at a nearby ANC store. With over 1100 pharmacies in 138 Ukrainian cities, the partnership with Binance will allow Ukrainians to buy pharmaceutical goods without having to exchange their bitcoins for fiat currency. The use of cryptocurrencies has made payments to Ukrainian companies quicker and tools like airdrops have been utilized to reach large audiences. The adoption of decentralized payment methods in Ukraine through the use of cryptocurrency may bring some relief during these trying times.
Switzerland' Lugano says now you can live there using only Bitcoin
Now, shock-horror, here's some positive news for crypto! Switzerland is pushing ahead with its crypto valley strategy, as it is now possible to live solely on bitcoin in the Swiss city of Lugano, thanks to the hundreds of merchants in the city that accept the cryptocurrency. The Plan ₿ foundation recently tweeted a map showcasing these merchants, stating that "now you can live in Lugano just using Bitcoin!" Lugano made bitcoin a de-facto legal tender in March 2022 as part of the Plan ₿ initiative, a city project designed in collaboration with Tether to attract wealth, smart minds, and opportunities to the city. The Plan ₿ foundation recently partnered with GoCrypto to onboard multiple merchants to accept bitcoin, including McDonald's (how long before we hear about a Bitcoin Burger with cheese?) and various art galleries. It is now possible to pay for a range of goods and services, including food, drinks, art, fashion, jewelry, cars, watches, tattoos, real estate, municipal taxes, and services, using bitcoin in Lugano.
Now you can live in Lugano just using #Bitcoin!
Find out all you need to enjoy your stay in Lugano through the map with all Lugano's Plan ₿ merchants 🍔👕🎓🏝

👉 https://t.co/Hzdkd45VAk #LuganoPlanB pic.twitter.com/btf8NQmD1h

— Lugano Plan ₿ (@LuganoPlanB) January 4, 2023
Italy: crypto tax of 26% approved on the 2023 budget law
The Italian Parliament has approved the Budget Law 2023, which includes a new tax system for cryptocurrencies, referred to as "crypto-assets" in the legislation. Prior to this, there was no specific law regulating the tax regime for cryptocurrencies in Italy, leading to confusion and uncertainty. The new law applies a 26% tax rate on capital gains from the sale of cryptocurrencies, but with an exemption for capital gains below €2,000 ($2,421). There is also a 14% tax rate available for those unable to calculate the exact amount of capital gains due to difficulties in finding purchase prices. The new rules also require the declaration of crypto asset holdings, with a €1,000 fine for failure to do so. Non-fungible tokens (NFTs) are treated as works of art for tax purposes, with a 12% tax rate applied to capital gains above €500. A stamp tax of €200 is also applied to crypto transactions over €5,000. The new tax system for cryptocurrencies in Italy aims to provide clarity and reduce uncertainty, but there are still some challenges to be addressed.
The Netherland's Bit-tulip
Dutch tulip farmers are taking a page out of the crypto miner's handbook and turning to Bitcoin mining to heat their greenhouses and save on energy costs. Looks like it's time for the tulip market to bloom with a new cryptocurrency: the Bit-tulip!
The Netherlands has a relatively permissive approach to Bitcoin regulation. The Dutch central bank, De Nederlandsche Bank (DNB), has issued statements indicating that it does not consider Bitcoin to be a threat to financial stability. The Dutch Authority for the Financial Markets (AFM) has also stated that it does not see the need for additional regulations on Bitcoin at this time. The Dutch tax authorities have issued guidance on the tax treatment of Bitcoin transactions, stating that Bitcoin and other cryptocurrencies should be treated as a form of property for tax purposes. This means that Bitcoin transactions are subject to capital gains tax and value-added tax (VAT).
In addition, the Netherlands has a number of Bitcoin-related businesses operating within its borders, including exchanges, wallet providers, and mining companies. These companies are subject to the same regulations and oversight as traditional financial companies. In general, the Netherlands has a relatively open attitude towards Bitcoin and blockchain technology, and its government has been supportive of innovation in this area. There have been no major announcements from the government in 2023, so the Bit-tulip might become a reality (although Bitcoin and Dutch tulips might not be the best association).
ASIA
Hong Kong official proposes turning CBDC into stablecoin for Web3 adoption
Hong Kong authorities are considering turning their central bank digital currency (CBDC), the Hong Kong digital dollar (e-HKD), into a stablecoin. Lawmaker Wu Jiezhuang believes that such a move would address the risks associated with virtual assets in Web3, help authorities gain investors' trust in the industry, and protect users from issues like hacks. Wu Jiezhuang also suggested that the stablecoin could be connected to decentralized finance (Defi) to provide better access to Web3 ecosystems. The proposal comes after several stablecoin projects failed in 2022, leading to a domino effect on the crypto market.
India's RBI head warns of cryptocurrency causing the next financial crisis
The head of the Reserve Bank of India (RBI), Shaktikanta Das, has warned that cryptocurrencies could potentially cause the next financial crisis. Das cited the lack of regulation and the potential for abuse as major risk factors for the use of cryptocurrencies. He also pointed out the potential for cryptocurrencies to be used for illegal activities, such as money laundering and financing terrorism. Das emphasized the need for strong regulation of cryptocurrencies to prevent a potential financial crisis.
The Indian government's implementation of a 1% tax on all cryptocurrency transactions has caused a significant drop in trading volumes across Indian exchanges (no surprises there). The tax, known as TDS (Tax Deducted at Source), requires exchanges to deduct 1% of the transactional value from the buyer and pay it as taxes to the government. Since the tax's implementation on July 1, 2022, the daily trading volume on exchanges such as WazirX, ZebPay, and CoinDCX has fallen by at least 50%. In addition to this, the Indian government also imposed a 30% tax on all cryptocurrency-related income in February 2022. These taxes have prompted some firms to look to set up shop in crypto-friendly countries such as Dubai and Singapore, while others have already made the move, including the co-founders of WazirX and crypto trading firm CoinDCX, which has established a Singapore arm called "Primestack Pte.
The governor of the Reserve Bank of India (RBI) is reportedly likening cryptocurrency trading to gambling. He warns that crypto "will undermine the authority of the RBI and lead to the dollarization of the economy." In response, the crypto community has started calling for the governor to be replaced with a Crypto-Governor, one who is well versed in the crypto world and can lead the country's economy to new heights. The community has even started a petition to make this happen, with the hashtag #ReplaceRBIGovernorWithCryptoGovernor trending on social media.
It's not clear if the petition will succeed, but one thing is for sure: the crypto community is not taking this ban lying down. They're determined to fight for their right to trade and invest in cryptocurrencies, and they won't stop until they win.
Israel Securities Authority seeks to regulate cryptocurrencies
The Israel Securities Authority (ISA), the body overseeing the securities market in Israel, is taking steps to incorporate rules for digital assets into existing legislation. The ISA released a draft proposal that would define the legal status of cryptocurrencies in the country by amending existing securities laws to apply to digital assets. According to the ISA, cryptocurrencies should be covered by the regulatory framework and placed under its oversight because they are often used for investment, and are similar to traditional securities in many cases. The ISA's proposal seeks to provide adequate protection for investors while regulating the industry that deals with these assets. The public has until mid-February to provide feedback and comments on the proposal, which is expected to enter into force six months after its approval.
Indonesian government to launch regulated Bitcoin exchange for 300M people
The Indonesian government is reportedly planning to launch a regulated bitcoin exchange for its 300 million citizens. Indonesia has been a Bitcoin hot spot for some time, the people just love it, but this move follows the recent tightening of Indonesia's crypto regulatory policies and the reform of its financial sector regulations to include crypto regulations. The nation's financial services authority (FSA) will now oversee crypto asset trading, taking over the responsibilities previously held by the commodity futures trading regulatory agency (Bappebti). Despite the recent "crypto winter," there has been a rapid surge in the number of crypto holders and exchanges in Indonesia in the past two years. For example, the number of users on Indodax, one of the country's top crypto exchanges, has increased by over 100% in the past year.
Thailand
Thailand's SEC is cracking down on crypto custodians by issuing strict regulations for managing digital wallets and keys. They want to make sure your crypto is safe and sound, so they're making sure all crypto custodians have a solid plan in case of any hiccups. It's like they're saying 'we've got your crypto's back, no need to worry, unless of course a meteor hits and destroys the earth, then all bets are off.
Latin America 
El Salvador – the place we all want to be
It looks like El Salvador is at it again, making waves in the Bitcoin world! The country, which was the first to recognize Bitcoin as legal tender, has now approved a law to regulate the issuance of other digital assets. The ruling party is hoping to attract investors and create new financing opportunities for citizens, companies, and the government. It's like El Salvador is building its own little crypto utopia, complete with a "Bitcoin City" powered by geothermal energy from a volcano. And let's not forget, they even have their own version of "crypto bonds" or "volcano bonds".
And it did not stop there with one of the biggest rebrandings in history. El Salvador doubled down on the Miss Universe stage! Miss El Salvador, Alejandra Guajardo, turned heads during the National Costume Competition by walking the stage in a glimmering Bitcoin suit. The dress, designed by El Salvadoran artist Francisco Guerrero, showcases the evolution of currency in the country from cocoa to colón, the US dollar, and now Bitcoin. It's not just a fashion statement but an excellent way to lock together the new branding of El Salvador to the Bitcoin world. 
It's exciting to see this small Central American country making big moves in the crypto space, with its President Nayib Bukele even launching a national Bitcoin office in November to coordinate various crypto-related initiatives. And with Miss El Salvador bringing the spotlight to Bitcoin on the Miss Universe stage, El Salvador is not shying away from this new technology and defying the naysayers.
Miss El Salvador wears #Bitcoin outfit to Miss Universe 2023 🇸🇻 pic.twitter.com/n1TWo1xoGt

— Bitcoin Magazine (@BitcoinMagazine) January 12, 2023
Argentina's bitcoin-friendly candidate
Argentina is set to elect a new president in October 2023 and there is a possibility that a pro-Bitcoin candidate, Javier Gerardo Milei, will be elected. Milei, a federal deputy from Buenos Aires, is a self-proclaimed "anarcho-capitalist" (yes, we tried looking this term up but didn't get anywhere), who preaches the Austrian school of economic thought and has been compared to former U.S. President Donald Trump and Brazilian President Jair Bolsonaro.
Argentina will elect a new president in October 2023, and there is a real chance that Javier Gerardo Milei, a pro – #Bitcoin candidate will be elected as the new head of state.
pic.twitter.com/8zj7ukj7MJ

— Alejandro.₿tc⚡️ (@Alejandro_btc) January 6, 2023
In a recent interview, Milei called the Central Bank a "scam" and said that Bitcoin represents the return of money to its "original creator: the private sector." He also stated that Bitcoin is the "natural reaction" against central banks and a way to make money private again. Milei is currently leading the La Libertad Avanza coalition and has the support of 24% of respondents in an October 2022 poll. However, the outcome of the election is still uncertain as coalitions have not officially announced their candidates.
Brazil legalizes crypto as a payment method
The South American nation has officially approved a comprehensive regulatory framework for virtual assets, allowing for the use of bitcoin and other cryptocurrencies as means of payment and investment. This is big news for Brazil, as it sets the stage for more widespread usage in financial transactions and puts the country on the map as a hub for cryptocurrency adoption.
Africa
Nigeria could recognize cryptocurrency as investment capital
Nigeria could recognize cryptocurrency as investment capital, according to a local report. A new bill being considered in Nigeria could recognize cryptocurrency as capital for investment and outline the supervisory roles of the Central Bank of Nigeria and the Securities and Exchange Commission (SEC) with respect to digital currencies, according to Babangida Ibrahim, chairman of the House of Representatives Committee on Capital Market and Institutions. If passed, the Investments and Securities Act, 2007 (Amendment) Bill would be a significant shift for the country, which banned institutions from facilitating cryptocurrency transactions in 2017. Ibrahim did not specify a timeline for the passing of the bill.
For the past weeks, we have been working on the 2022 Q4 global crypto ranking and it's on its way soon. We've included all the juicy updates on regulation, adoption, and more. We're keeping a close eye on how governments around the world are getting along with bitcoin and other cryptocurrencies. Stay tuned for the lowdown on which countries are embracing the digital economy and which are still on the fence.
Bonjour! Find the best way to buy bitcoin in France with various methods. Read this guide now to find out where to buy bitcoin in France. How to buy b...
Sometimes when things come along that are brand new and generating quite a buzz, like the metaverse, it's often as useful to know what they aren't...
Sponsored
Decentralized Finance, also known as DeFi, has experienced rapid growth in recent years. This innovation combines the best of blockchain techno...