Portugal's new dawn on crypto trading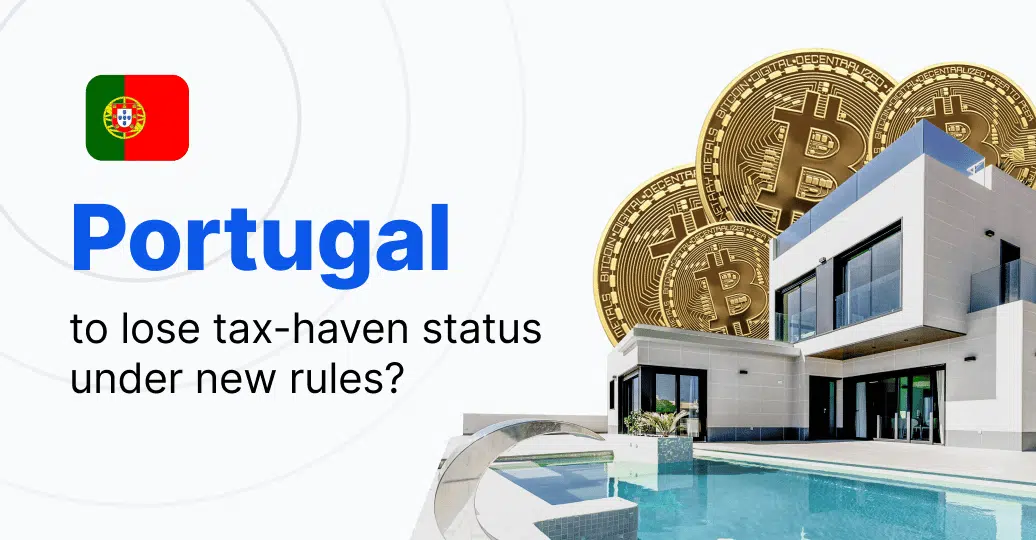 Summary
Portugal to lose tax haven status under new tax rules
Portugal's first crypto license is given to Bison Bank
Pioneer bitcoin-purchase home
Portugal has witnessed a meteoric rise in crypto trading popularity in the past couple of months. An influx of Bitcoin families and incredible growth in the Bitcoin-run real estate industry speak volumes. However, a recent announcement by the Portuguese Finance Minister Fernando Medina on future crypto taxations might burst the bubble for investors eager to capitalize on a favorable tax environment.
Amid an unpredictable crypto environment recently, Portugal takes pride in a couple of optimistic advancements that focus on enhanced tax collection and creating an attractive platform for crypto investors.
No longer a tax haven
Fernando Medina's statement, released in May 2022, confirms earlier speculation on Crypto new tax rules. As reported by the news outlet Sapo, Antonio Mendes, the Secretary of State for Tax Affairs, supported the Finance Minister on the move. "The government aims to close this vacuum and begin a legislation process on the matter soonest." As the State sets on releasing the effective date for the rule to commence, the development may shatter the dreams of most cryptocurrency investors. After all, unlike most European countries, Portugal has always enjoyed a zero-percent tax on personal crypto transactions. This reverses a 2016 tax law that barred surcharges on crypto.
Whether the new policy strikes a chord with the local and international market remains a mystery. Nevertheless, a new legal structure may guarantee fairness in taxation and the country's global competitiveness. Altogether, there is a huge possibility that it might halt the recent influx of foreign investors and affluent families.
First crypto license to Bison Bank
The pioneering crypto license granted to Bison Bank in April 2022 by Banco de Portugal is a sure win for the country. Undeniably, this is a plus to a renowned brand famous for its high-end depository, investment, and wealth management banking services. Most impressive, it enables Bison to run as VASP (virtual asset service provider). Sapo reported that the financial institution will launch a unique business division, the Bison Digital Assets.
Bison is the pioneer entity authorized to offer Portugal crypto trading and custodian services. "Customers will enjoy a fresh set of services and heightened market demands that match international needs on virtual and financial assets. Bison Digital Assets target extremely high-end investors, although the bank is still tentative on the choice of cryptocurrencies they intend to use in these transactions. Banco de Portugal's central role is to counter and supervise activities against money laundering and terrorism financing. The regulation does not broaden to the supervision of crypto service providers on market conduct or prudential areas.
Pioneer Bitcoin-purchase home
Even before the government introduced new tax rules officially, Portugal made its first bitcoin real estate deal on May 5, 2022. The beauty, no conversion to Euros, was involved in the transaction of the two-bedroom house in Braga worth three Bitcoin. At that moment, the value of three Bitcoins reported on Idealista was approximately €110,000. Before then, real estate purchases required investors to convert assets to Euros. Investors are now over the moon with the new and easier way to buy and sell real estate. Zome, the mediator in the transaction, says that the deed symbolizes a momentous milestone in the industry thanks to a new Order of Notaries approved in April.
The new rules offer an in-depth verification procedure that guides real estate agents on acts for sales made on digital properties. For instance, the creation process necessitates additional details not included in standard contracts. Other requirements include a network address, evidence of the crypto transaction, and the payer's bank account details. Zome currently has more than 3000 Bitcoin-listed properties on display. Additionally, Vanguard Properties, another luxurious real estate company, boasts at least ten new sales to 'crypto families' last summer. Some of these newcomers are well-known crypto personalities like Didi Taihuttu, who flooded Portugal for its sanguine crypto market arena. The future of this optimistic growth remains vague if the new rules pass.
Under construction- Europe's first bitcoin hostel
The nice weather and affordable cost of living make Portugal the hostel capital of Europe. It is no doubt that the construction of the first Bitcoin hostel in Portugal's shores reflects a thriving trend of digital-focused business ideas.
Cointelegraph interviewed the founders Valeria Pandimiglio and her boyfriend Berliners Wolfram in April on the role of Bitcoin from the building model and planning to structural design. "The hostel has a home away from the home appeal and only accepts Bitcoin payments." Through the 'spirit of Bitcoin,' the hostel also shares the development process and takes into account advice or requests from Bitcoiners in an open-source plan
Original physical bitcoin shop
The best part about a physical store is that it allows you to do face-to-face discussions and meet other Bitcoin enthusiasts in your local community. BitBase opened its pioneer physical shop in Lisbon, Portugal, on January 24, 2022. Based on a report done by ECO publication, this was one of two stores set to operate in Portugal, plus a couple of Bitcoin ATMs.
BitBase Spaniards planned to open the second store in Porto later in the year. These stores act as the point of contact for customers to enjoy a safe, secure, and convenient environment to buy and sell through ATM-like machines. Also, they offer an ideal platform for Bitcoin users to learn more about the new technology.
FAQ – Popular questions on Portugal and crypto
Is Portugal ideal for crypto investors?
A nation previously known for Zamora's sausages and Port wine is fast coming up as a hotbed of cryptocurrency activity. The secret is that Portugal creates a terrific environment for international entrepreneurs to earn from crypto trading without paying hefty taxes. Crypto is only taxable in Portugal for registered businesses at 28%.
Is it possible to cash out crypto in Portugal?
It is easier for EU citizens to capitalize on the NHR or non-habitual residence program compared to Non-EU individuals. This program helps individuals shift their tax residency to the nation enabling cashouts on cryptocurrency without taxes. Non-EU citizens can enjoy the same benefits via D7 Visa or Golden Visa.
Why has Portugal been considered a tax haven?
Portugal is home to some of the biggest companies that have been in serious trouble with the IRS and other taxing authorities. While many countries have some amnesty programs, Portugal offers a more permanent solution by helping such companies, especially crypto investors, relocate and operate through the NHR tax regime.
Bonjour! Find the best way to buy bitcoin in France with various methods. Read this guide now to find out where to buy bitcoin in France. How to buy b...
Sometimes when things come along that are brand new and generating quite a buzz, like the metaverse, it's often as useful to know what they aren't...
Sponsored
Decentralized Finance, also known as DeFi, has experienced rapid growth in recent years. This innovation combines the best of blockchain techno...