How to make money in the metaverse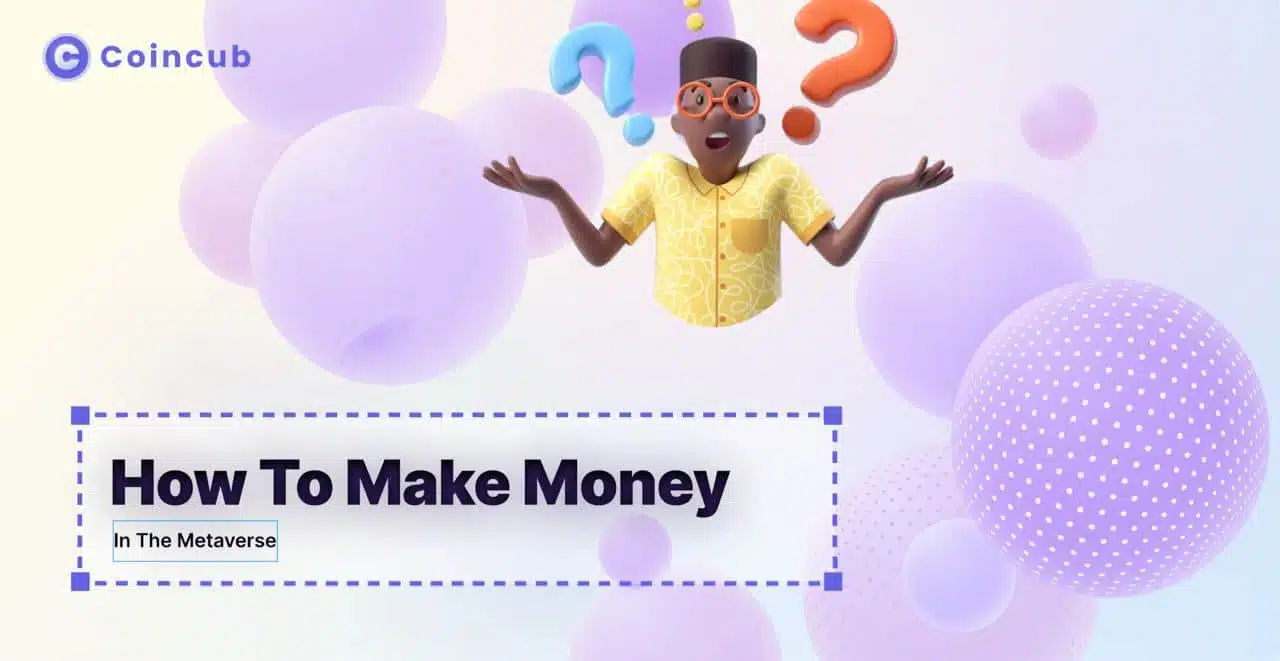 A new era of virtual reality is here; the metaverse. It is an evolution of the internet that has created a virtual space for people to connect, work and play. The metaverse is a digital way to connect with people but feels as if you are physically in the world.
Today, people can trade and preserve digital assets around a dynamic real-world economy inside this virtual space, allowing them to live graciously through their avatars.
High tech businesses and average users are investing heavily in the metaverse. For instance, Decentraland, one of the best performing metaverse cryptocurrencies, doubled in value over one year. You too can join the club, and it's so easy, more than you can imagine. So, are you ready to get your share of the pie? Stick around and learn how to make money in the metaverse.
Make Money in the Metaverse
Metaverse allows you to go into virtual reality and do things via your digital avatars. In your avatar form, you can play games, enter into a meeting, sit with your friends to catch up, attend a live concert and even buy or sell virtual plots through the 3D experience. The metaverse technology lets you be just about anyone you want.
Metaverse can make you money too. The technology combines virtual reality, augmented reality, and social networking, fueled mainly by crypto. The metaverse's current valuation stands at $47 billion and projected revenue of $1 trillion in a few years.
Can You Make Money in the Metaverse?
The short answer-absolutely!
The earliest people and businesses to invest in the metaverse are making juicy gains.
Billions of real money have already been exchanged on the platform. For instance, Tokens.com, through its subsidiary, Metaverse Group, has already bought parcels of land in Decentraland valued at $2.4 million.
They have leased the land to Thrivo Technologies Inc, Groundbreak Ventures, and two more companies. They are generating millions of dollars in recurring revenue.
And celebrities are not being left out. Snoop Dog sold a piece of land to an NFT collector for $50,000. You, too, can buy virtual land, hold it and sell it for twice or thrice the price.
The metaverse is a high-risk investment; hence, you should be cautious, especially if investing in the short term. Facebook has invested billions of dollars in the metaverse. However, Zuckerberg states that it is an investment whose profits may not be realized soon.
7 Ways to Make Money in the Metaverse
Can I make money in the metaverse? We answer you by outlining the seven best ways to make money in metaverse technology.
Create and Sell NFTs
People, especially those in the art industry, are tapping into the metaverse by creating and selling NFTs.The non-fungible tokens represent ownership of digital art and make them valuable and rare. In other words, NFTs are digital items that hold value, similar to how physical art pieces are of great value, but they earn artists' loyalties on future sales. Any reproduced digital file can be stored as an NFT to represent the original file and form of ownership.
You can create EFTs out of art, music, memes, tweets, and photography, set them up for auction, and make good money. If Christie auctioned digital art through NFT and pocketed more than $69 million, you too can earn more dollars.
Invest in Real Estate
There are several opportunities to take in the metaverse real estate space. One of them is real estate flipping. Real estate flipping is the purchase of virtual land and selling it at a higher price. You get to buy low and sell high. You can also make millions by connecting virtual land buyers with sellers or offering real estate advice.
Additionally, you can buy virtual land, build a house, and rent, just like in the physical world. The property can earn you good money, especially in a high-end area. You can also make a lucrative business by becoming a real estate manager. Overseeing other people's properties is a brilliant way to earn through the metaverse.
Gaming
Play-to-earn games are perhaps the most popular way to earn money in the metaverse. These gaming activities let you earn tokens in the form of NFTs. The collected tokens can be sold or exchanged for other digital assets such as art or land. Additionally, you can also monetize the amount of time you spend playing.
Make sure the gaming site is fun and delivers your expectations. Your creativity can also earn you money if you build our gaming platform that will excite your target audience. For instance, think of end-to-end games in VR. The games do not require technical skills to design and publish but are suitable for monetization.
Tourism
Virtual tours have become a reality, especially since the onset of the covid-19 pandemic. Metaverse is taking the space over by redesigning the physical world into the virtual world. As a result, many opportunities are being created.
For instance, visitors touring a virtual destination would require the help of a tour guide to navigate or a tour agent to help them plan for their trip. You can tap into the opportunity and offer the services for a fee.
Event promotion
Event promotions in the virtual world will be as crucial as in the real world. Metaverse will be taking entertainment to the next level and will need promoters to push for events and hosts. However, event promoters will have to learn how to use the new platform to reach their target audience. They must form a community in the metaverse and give their audience a place to connect beyond Facebook and LinkedIn. But once they lay down the strategy, they will build a strong brand, attract gigs and make good revenue.
Advertising
Businesses are embracing the marketing platform presented by the metaverse. It is projected that 110 million people will be using metaverse by 2023. Businesses, small and big, want to get noticed by millions of people and transform them into prospects.
You can create metaverse billboards and help companies increase their presence in the virtual world with that in mind. The best part is that virtual billboards are easy to make and do not limit you to what you can do.
Fashion
Fashion designers can now make money through the metaverse platforms such as XANA. XANA allows designers to create, customize, and equip avatars according to their preferences.
They also allow designers to upload their designs and accessories on the platform and sell them to make revenue. The wearables can also be recorded as NFTs and rented according to market demand.
Sometimes when things come along that are brand new and generating quite a buzz, like the metaverse, it's often as useful to know what they aren't...
Which continents lead the way in crypto adoptions, and which are falling behind? Do continents display individual traits and characteristics? And is ...
In this book, we've cautioned against holding large amounts of money in online exchanges. The reasoning behind that has a long and storied history o...