China vs. US: A blockchain patent approach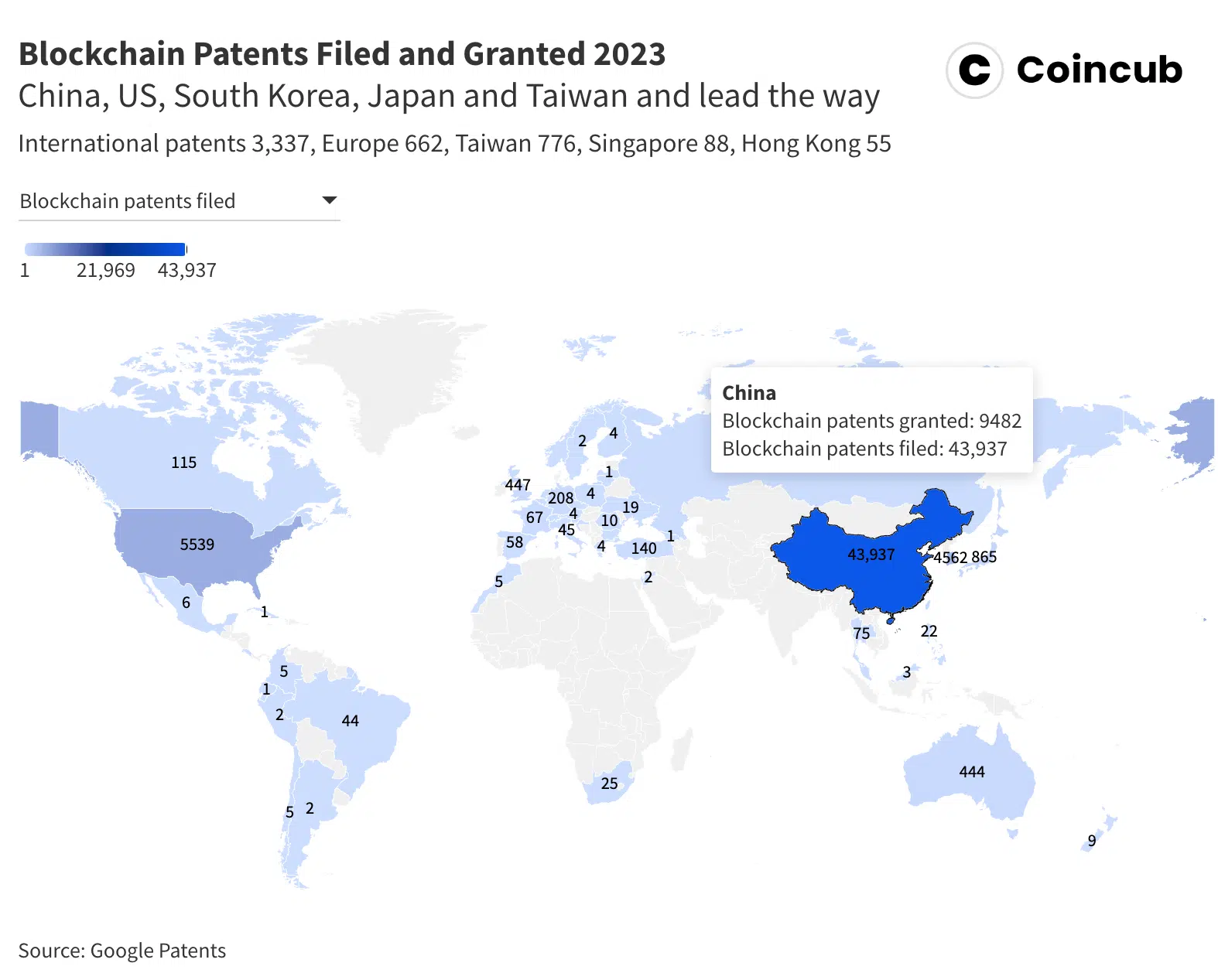 The Decline of Blockchain Patents in America: A Regulatory Dilemma?
The United States, once a beacon of innovation and a player in the blockchain patent space, is witnessing a significant downturn in its blockchain patent filings. The numbers are stark: a sharp reduction in filings in 2023 compared to 2022. With only 51 patents filled in 2023, compared to 585 in 2022, the blockchain patent landscape in the United States appears to be rapidly declining.
This downturn is not just a statistical anomaly; it reflects a broader trend of dwindling innovation in America's blockchain and cryptocurrency space. The main cause? "Regulation by enforcement" – a regulatory environment increasingly hostile to blockchain and cryptocurrency innovation.
The U.S. Securities and Exchange Commission (SEC) has been particularly active in its enforcement actions against blockchain and cryptocurrency companies. The agency's approach has raised concerns among startups and established companies alike. The fear is that the SEC's aggressive stance could stifle innovation and drive companies to more blockchain-friendly jurisdictions. 
The impact of this regulatory environment is not limited to startups. Even established companies are feeling the heat. The uncertainty and perceived hostility of the regulatory environment are causing these companies to think twice before investing in blockchain technology. This is reflected in the declining number of blockchain patents filed by these companies.
So is 'crypto dead in America'? It sure looks like it. The United States, with its rich history of technological innovation, has the potential to be a leader in the blockchain space. However, a more balanced and supportive regulatory environment is needed for this to happen.
The Cryptocurrency Open Patent Alliance (COPA): A Beacon of Open Innovation
The Cryptocurrency Open Patent Alliance (COPA) is a pivotal cornerstone in the crypto-technology landscape. As a non-profit consortium, COPA unites industry giants like Kraken, Coinbase, MicroStrategy, Bitbank, Uniswap, Stacks, and Worldcoin under a singular ethos: democratizing crypto-technology patents. Members of COPA pledge to abstain from using their patents offensively against any entity, making these intellectual properties freely accessible for communal benefit. This pledge is geared towards defensive utilization, ensuring patent wars do not stifle innovation.
While leading U.S. Bitcoin companies often align with COPA's community-centric spirit, the same cannot be said for certain Chinese firms. Despite holding a significant number of crypto-technology patents, these companies have yet to demonstrate adherence to COPA's open-access philosophy. This divergence underscores the global variance in approaches to crypto-technology patent management and raises questions about the future trajectory of open-source innovation in the crypto space.
China's Blockchain Dominance: A Unique Approach and Implications for the World
China's dominance in blockchain patent applications is striking. According to Blockchain Patent Report 2023, the country accounts for 90% of all blockchain applications filed in 2023. This surge in patent applications aligns with China's active promotion of blockchain technology over the years.
China is indisputably leading the world in using and developing blockchain technology. The country has filed the most blockchain-related patents globally, and many of the biggest names in the blockchain and cryptocurrency community are Chinese firms. Furthermore, blockchain development is a national priority, included in the nation's 13th Five-Year Plan, and endorsed by President Xi Jinping as a driving force for innovation.
The Penn Wharton China Center's roundtable discussion on blockchain confirmed this national focus. Chinese firms hold two-thirds of blockchain-related patents, and China has done 90% of the blockchain fillings this year. The government's position is clear: China aims to dominate the global blockchain space.
Blockchain, not bitcoin or crypto
However, China's approach to blockchain presents a conundrum for the West. Blockchain, the underlying ledger technology of bitcoin, was created to be a decentralized system with no central authority in control. This concept contrasts with China's political system. Chinese official Xu Hao clarified that blockchain in China is not about decentralization but "de-intermediarization," eliminating the middleman but not the central authority. Did they make up a word? Yes, yes they did.
While the West views decentralization as a libertarian haven, China does not share this goal. Blockchain can build trust and usher in greater prosperity for the Chinese, but it is not for undermining the state. The Cyberspace Administration of China (CAC) issued regulations governing blockchain companies, including giving authorities access to stored data, requiring users to provide real identities, and mandating providers to oversee content and censor information prohibited by law.
Blockchain with Chinese characteristics
This approach, termed 'blockchain with Chinese characteristics,' explains why the government can enthusiastically support blockchain while cracking down on cryptocurrency speculation and initial coin offerings. Curbing crypto speculation is seen as a social good in China, and a ban also gives the government control over cryptocurrencies.
China is attracted to blockchain's efficiency and its potential to generate cost savings in transactions. As a digital ledger, the blockchain records transactions in a way that makes them impossible to change. Each user gets a copy of the transactions, ensuring transparency. It negates the need for a middleman between two parties that don't trust each other, and removing intermediaries also removes their fees.
China's dominance in blockchain technology is clear, driven by a unique approach that aligns with its political system and national priorities. China's digital yuan, where the central bank developed the digital national currency on a curated version of a blockchain with full control over its functioning, rather than using the traditional distributed network approach.
In 2019, President Xi Jinping urged citizens, tech companies, and stakeholders to actively participate and innovate with blockchain technology, emphasizing its crucial role in the future of the next industrial revolution. Following this endorsement, Chinese companies filed 4,435 blockchain patents within a year. From 2015 to June 2021, China accounted for approximately 60% of the world's blockchain patent applications, followed by the United States and South Korea.
However, despite the high number of applications, the approval rate is relatively low, with only 19% of total filed applications getting approved. This highlights the stringent patent approval process in China, ensuring only the most innovative and viable blockchain technologies receive patents.
Blockchain Innovation and Collaboration in China and the United States
A 2021 academic study employed social network analysis to examine the development and collaboration in blockchain technology in China and the United States, using patent data as a basis. The findings suggested a rapid increase in blockchain patent applications in China, largely driven by the Chinese Government's consistent national strategies for blockchain technology.
Interestingly, both countries exhibit notable agglomerations of blockchain development in specific geographical areas or cities. However, the nature of collaboration differs. In the United States, universities and enterprises have broader and deeper cooperation. In contrast, Chinese universities and enterprises tend to cooperate within blocks, resulting in more isolated blocks.
The study also examined the factors influencing patent attributes and the importance of node cooperation. In China's cooperation network, cooperative inventors or important patents have a higher degree of cooperation. On the other hand, in the United States, enterprises exert a greater influence than universities or individuals.
Bonjour! Find the best way to buy bitcoin in France with various methods. Read this guide now to find out where to buy bitcoin in France. How to buy b...
Sometimes when things come along that are brand new and generating quite a buzz, like the metaverse, it's often as useful to know what they aren't...
Sponsored
Decentralized Finance, also known as DeFi, has experienced rapid growth in recent years. This innovation combines the best of blockchain techno...