Are crypto-backed mortgages the future?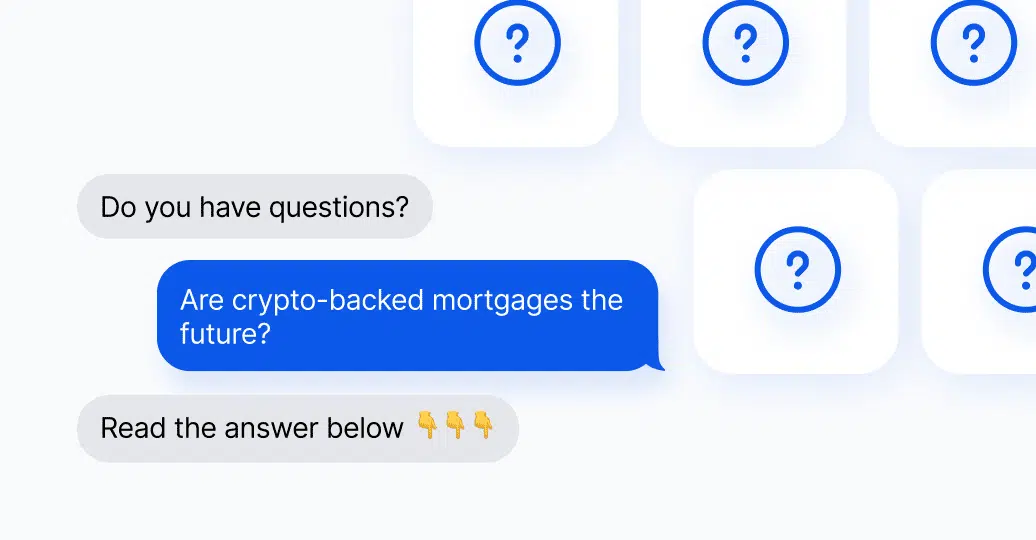 Once upon a time, sub-prime mortgages were the bright, new kids on the block…and we all know what happened there. Now, some 20 years on with interest rates at record lows (at least for the time being) and bricks and mortar still a potent investment, it was inevitable that crypto-backed mortgages, in some form or other, would appear. Grabbing the headlines is the news that Goldman Sachs has provided a Bitcoin-backed loan and a small but growing number of blockchain-driven property agents are offering crypto-backed mortgage products. Is this the brave new mortgage world we are heading for?
Two of the most popular cryptocurrencies, bitcoin and ethereum have increasingly moved into the mainstream of leading economies. The news underpinning this is of Germany's vast savings institution, the Sparkasse, and Fidelity, the venerable keeper of the Americans' work pensions. Both now allow Bitcoin to become a hefty percentage of their respective savers and investors' portfolios. Equally significant is the news that Goldman Sachs has offered its first Bitcoin-backed loan.
Collateralizing a loan with cash, shares and other strategic assets is nothing new, but in the latest cases, news that mortgages may be in part collateralized with Bitcoin marks a new potential direction for the homeowner marketplace. Having crypto holdings accepted for mortgages will be a sea-change within the most traditional financial sectors. Price volatility is both the great strength and weakness of crypto and the latest round of Bitcoin price falls appears not to have affected its allure, or its validity, in underpinning long-term loans in the cases mentioned above. If the price of Bitcoin drops dramatically, presumably any loan collateralized with it will need an equally significant 'Bitcoin top up'.
Crypto mortgages for the masses?
Goldman Sachs has been active in the crypto sector with a digital assets team and heralds a  positive stance towards cryptocurrencies or 'digital assets' generally, along with other denizens of Wall Street. Asset management firm BlackRock has launched an exchange-traded fund (ETF) driven by blockchain, for example. Risky as loans may be on paper – everything depends on the terms for alleviating that risk. While crypto-collateralized loans appear to offer a viable option for organizations looking to raise capital, such organizations are also more experienced in hedging against future market conditions and anticipating risks. But can such crypto-backed products be made to work for everyday mortgages?
In one instance, real estate specialists Propy are to offer its customers home loans in part backed by cryptocurrency holdings. Having the deposit partly or fully collateralized by an applicant's crypto holdings as an alternative to the usual lump cash sum seems reasonable but whatever the extent of the crypto exposure, traditional features of homebuying, such as credit records, earnings, underlying property value, and loan to value (LTV) will remain crucially important for the ultimate lender of any mortgage.
On the plus side, it's arguable that a partly crypto collateralized mortgage would be any more – or less – secure financially than the sub-prime mortgages that were lent on little more than an earnings projection (or no-earnings declared at all). As the price of the selected crypto rises, of course, then everything in the garden gets very rosy indeed as that crypto holding begins eating away at the value of the loan. But then again, compensating for the total value of the loan was what endowment mortgages were supposed to do and in many cases didn't.
Crypto mortgage for the few?
Conceivably, the future mortgage landscape will be filled with products that are packed with a mixed bag of risk aversion features including insurance, crypto investments, shares, cash, and property value, most probably with blockchain technology conducting the legal issues of title, deeds and loan repayments. Even with technological advancements that would seem to favor more tech-savvy, nimble challenger brands in the marketplace, it's highly unlikely that traditional banks won't feature heavily; or simply develop their own blockchain-driven mortgage products. The days of the widespread crypto-backed mortgages are probably some way off (caveat – but things change very rapidly in the crypto world) and those that are issued will be heavily insured or hedged against future dramatic losses. For now, the crypto-backed mortgage is most likely to be an option for wealthy, above average earners, whilst still having those traditional long-term loan strings attached. Crypto or no crypto, ultimately everything hinges on the value of the property in question (let's not forget that little fact), something that did for the sub-prime mortgage.
Bonjour! Find the best way to buy bitcoin in France with various methods. Read this guide now to find out where to buy bitcoin in France. How to buy b...
Sometimes when things come along that are brand new and generating quite a buzz, like the metaverse, it's often as useful to know what they aren't...
Sponsored
Decentralized Finance, also known as DeFi, has experienced rapid growth in recent years. This innovation combines the best of blockchain techno...