2021 in review: NFTs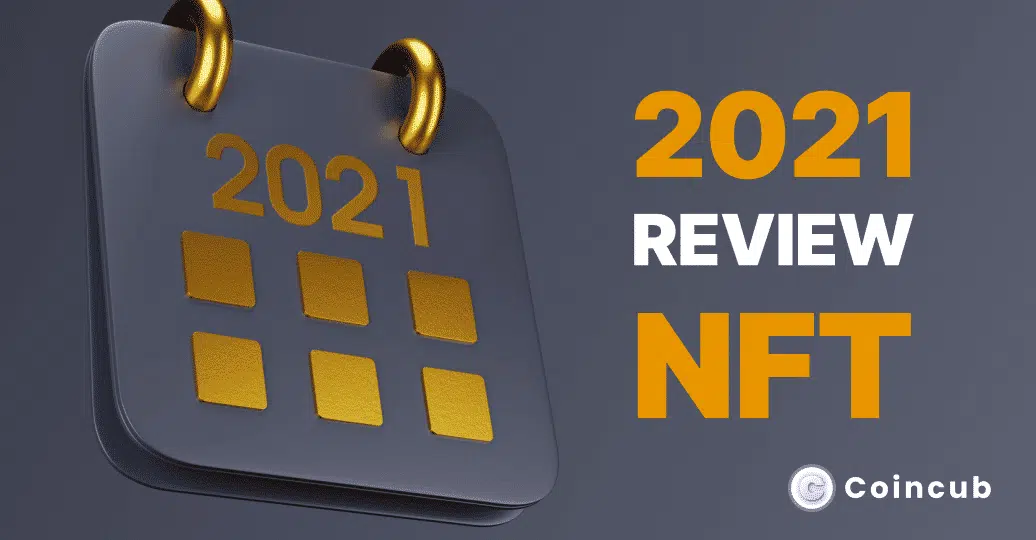 What year did cryptocurrency indelibly enter mainstream consciousness? Something magical happened in 2017. One day, it seemed like cryptocurrency was everywhere. This was during the ICO boom, where everyone and their mother realized they could tokenize just about anything they wanted and make insane amounts of profit.
Suddenly, internet money was an undeniable force. Sure, the long-haulers, the OG Bitcoiners, the Ethereum presale chaps were scoffing and saying they'd known all along. But the rest of us woke up to a strange new world where anyone could get wildly rich with a few well-placed clicks and a lot of luck.
2021 will likely go down as the year that NFTs made the same leap from niche fad for the crypto wealthy (see the response to crypto kitties) to economic juggernaut. At the start of 2021 NFTs could still be passed off as a fluke, beanie babies for people with too much ether. Now, one month into 2022, it's clear that NFTs will be with us for the long haul.
NFT trading volumes surpassed $13 billion in 2021, an increase of over 42,000% compared to trading volumes in 2020. There were a few key moments in 2021 that encapsulate the meteoric rise of the humble NFT to cultural prominence and its acceptance by the upper echelons of the cultural elite along with the masses.
This is on every crypto year-end list, and it's on ours too for good reasons. On March 11th, an NFT titled EVERYDAYS: THE FIRST 5000 DAYS by astonishingly prolific digital artist Beeple was sold at Christie's for the highly memeable sum $69 million USD.
This is a shocking price even for the world of fine art auctions, making Beeple one of the most highly paid living artists. This was also the first time a major auction house offered an NFT for sale.
Christie's and its rival auction house Sotheby's are the world's major points of sale for fine art. An NFT auction at Christie's signifies that the art establishment is willing to add an air of legitimacy to NFTs (in exchange for a cut of the profits.)
Even Art Review one of the art world's taste-leading publications decided to weigh in non-NFTs – specifically ERC-721, the Ethereum spec that invented the NFT as we know it. A bit of hyper specification that's typical of the art world, and a reflection of how NFTs have upended the art market and ossified ideas about class, taste, and who gets to buy art.
The biggest shocker in his department was probably Snoop Dogg's claim to be @CozomoMedici, a relatively popular NFT Twitter account.
While they never reached the dreaded heights of 2020, gas prices have been slowly but steadily rising, forcing NFT investors to get crafty about when they mint.
While not specifically to do with NFTs, The company formerly known as Facebook (FKA Facebook, if you want to stay accurate while discussing this with people not in the know) rebranded to Meta.
How do you know something's made it big? When it's the subject of a massive heist, that's when. On December 30th, gallery owner Todd Kramer tweeted about the theft of 15 NFTs from an Ethereum hot wallet. The total value of the loss? $2.2 million USD.
Buyers and OpenSea were able to retrieve several of Kramer's NFTs, sparking controversy over what was seen as centralized meddling in what is supposed to be a decentralized technology. The lesson Kramer learned? Put your valuables in cold storage.
Collins Dictionary voted to make NFT one of the words of the year, along with climate anxiety, double-vaxxed, metaverse, pingdemic, neopronoun, and cheugy.
Fashion goes non-fungible
Brands have long known that people will fork over a lot of money for digital clothing (think skins on Fortnite.) The fashion industry is facing its own internal crisis over human rights violations and environmental concerns. Some tech-savvy consumers are moving their wardrobe updates to the metaverse. Digital native brands like The Fabricant sell NFT garments for thousands. Streetwear behemoths Adidas and Nike are also in on the NFT hype. Adidas is collaborating with iconic NFT project Bored Ape Yacht Club, and Nike recently announced their acquisition of NFT sneaker brand RTFKT Studios.
Bonjour! Find the best way to buy bitcoin in France with various methods. Read this guide now to find out where to buy bitcoin in France. How to buy b...
Sometimes when things come along that are brand new and generating quite a buzz, like the metaverse, it's often as useful to know what they aren't...
Sponsored
Decentralized Finance, also known as DeFi, has experienced rapid growth in recent years. This innovation combines the best of blockchain techno...